Huanglong Travel Guide
Last updated by fabiowzgogo at 2017/6/19
Huanglong Overview
Huanglong ("huang" = yellow, "long" = dragon"*) Scenic and Historic Interest Area is located in the northwestern corner of Sichuan Province. It is an area of exceptional scenic beauty and historic interest that is also globally environmentally important as it is home to the Giant Panda and the Golden Snub-Nosed Monkey, both endangered species. The area – which includes Huanglong Valley, Muni Gorge (with its Zhaga Waterfalls and Erdao Lake), Danyun Gorge, Red-Star Cave Scenic Area, Snow Treasure Peak at Xuebaoding, and Songpan Ancient City – is also marked by unusual forest ecosystems, waterfalls, hot springs, and snow-capped mountain peaks as well as glaciers. The Huanglong area was declared a state scenic district by the Chinese Government in 1982, and was extended official legal protection by the Sichuan Provincial Government in January 1987. In 1992, it was listed as a UNESCO World Natural Heritage Site.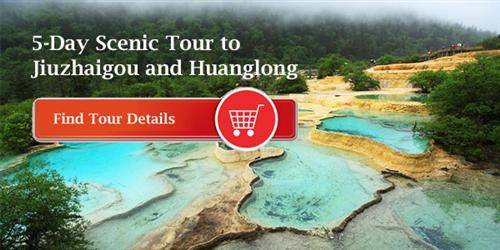 The city of Huanglong is situated in the southern part of the Minshan mountain range, about 150 km from the province's capital, Chengdu. The total area occupies 1340 sq km. Huanglong Scenic and Historic Area is located at the foot of Xuebaoding Hill, the major peak of Minshan Mountain in Songpan County. Huanglong Valley itself is 7000m in length, and 300m in width. There are over 3400 natural pools scattered about the valley, some of which are quite large and some of which are no larger than the size of a soup bowl. The sides of the pools are golden in hue, and the water is clear (not muddy), albeit brightly colored.
The Huanglong Temple Fair, which takes place from the 12th to the 15th of July every year, is not to be missed. Huanglong Scenic and Historic Interest Area is one of the two shining pearls in the West-Sichuan Plateau (the other is the Jiuzhaigou Valley Scenic and Historical Interest Area). With its many stunning geological formations, its unusual ecosystems and its unique wildlife habitats, it is no wonder that Huanglong Scenic and Historic Interest Area has been dubbed "A Fairyland on Earth".
* The yellow of "yellow dragon" stems from calcite deposits that foster algae growth and the formation of diverse minerals, the result of which is a variety of blue, green, yellow, and orange hues, of which the yellow hue was apparently dominant in earlier times, while the dragon of "yellow dragon" refers to the shape of the valley when viewed from above.