Hongcun Village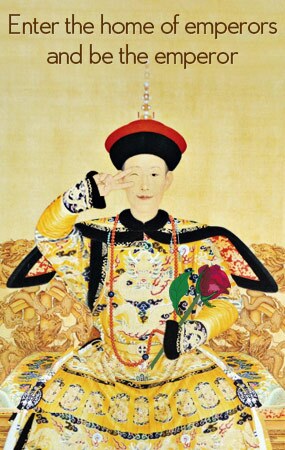 Being famous as Anhui style buildings, Hongcun Village(宏村) is known as one of the best villages in China. Located in the southeast of Huangshan City, Hongcun Village has been a World Heritage Site of UNESCO since 2000. The best time to visit an extremely beautiful Hongcun Village are March, April and the beginning of November. Large scales of cole flowers are open during March and April.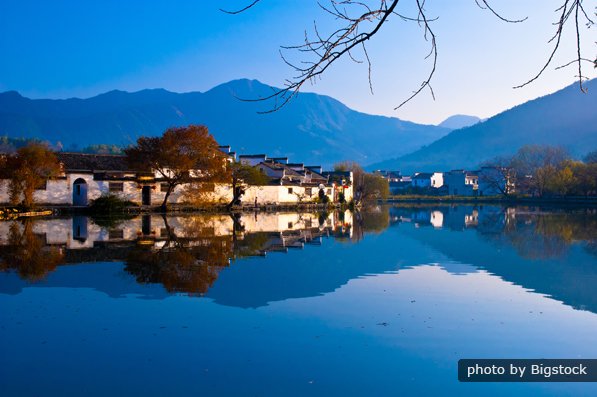 At the beginning of November, thousands of red leaves decorate the village. Travelers can enjoy a quiet countryside journey far away from busy city life and see picturesque ancient village scenery. As a representative of Hui Residential Buildings, Hongcun is located at northwest corner of Yixian County. It becomes into a famous village because of Crouching Tiger, Hidden Dragon (2000) decorated by Ang Lee. So it is reputed as a village in Chinese paintings.
Highlights
Ancient Hui Residential Building
Well-preserved ancient Anhui style buildings are unique local houses which are very different from Suzhou gardens and Beijing royal gardens. It makes Hongcun Village attract numerous photographers to head to the village.
Cole flowers Fields in March and April
Hongcun Village in March and April is a sea of yellow cole flowers. Famers plant cole in a large scale of fields and it turns beautiful natural scenery when the flowers open. It is Hongcun Village's most beautiful time. The village is one of top spring destinations to visit in China.
Colorful Autumn Scenery in November
In November, the village turns into a colorful world consisting of red, yellow, green leaves. Colorful leaves make Hongcun Village popular in autumn. Less crowded than Fragrance Hill in Beijing, it also is a marvelous place to see autumn scenery.
Hongcun Village was named Hongcun Village(弘村)with a meaning of being developed. It is 11 kilometers away from Yixian County. Firstly built in the Southern Song Dynasty, the village has an about 900 years' history. The early name was changed into Hongcun(宏村)-a different Chinese character in the Qing Dynasty. It was a habitation of people who had the same family name-Wang(汪).
There are about 140 well-preserved ancient houses in the Ming and Qing Dynasties. Chengzhitang was called the folk palace because it is the best ancient residence among ancient buildings in the south of Anhui Province. So travelers should not miss the ancient house. Together with the lake, the houses and hills are extremely beautiful. Wandering among the ancient village, travelers can forget troubles and unhappiness quickly and enjoy a quiet and peaceful countryside life.
The man-made water system in Hongcun Village is a unique talented project. In order to keep away from fire and water plants, ancient people in the village created a water buffalo shaped artificial water system during the Southern Song Dynasty. The water project makes Hongcun Village more outstanding than other villages. Nowadays, the village has been one of the world's historical and cultural heritages because of the water system.
Hongcun Village is easy to reach when travelers want to visit the Yellow Mountain. It is a great village which should not to miss on the way to the Yellow Mountain. Travelers can also visit Xidi Village which is similar village compared with Hongcun Village.
Solo Adventure Tips:
Location:

Hongcun Village, Yixian County, Huangshan City, Anhui Province(安徽省黄山市黟县宏村镇)
How to Get There?

From the city of Yixian, one can take a special tricycle taxi (must be tried to be appreciated!) or rent a vehicle.
Travelers can take a bus from Yixian County(黟县) with a 15-minute journey.
From the Yellow Mountain: There are regular coaches in the Yellow Mountain Scenic Area Coach Station near the south gate of the spot. And coaches from Tangkou(汤口) to Hongcun Village are still available.
Ticket Price:

104 Yuan. 
Opening Hours:

Best time to visit in the daytime: 07:30-17:30
In fact,the village can be visited at any time, though one should respect its current residents. The buildings that offer public access observe the usual official opening hours.
More Tips:

Yellow Mountain (Huangshan) International Tourist Festival is held each year in the month of October.
4-hour travel line is suitable for people who are not fond of too much walking. And the other one is for travelers who want to see all the attractions and view the whole village's beauty.

If travelers want know more about the village, to stay for 2 to 3 nights is a good plan. The landlords are helpful to lead travelers to walk around the village and visit truly local houses.