Huangshan Shopping
Huangshan Local Products:
Huangshan Maofeng Tea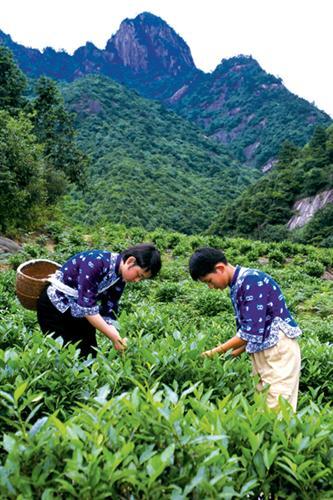 To the uninitiated, all Mao Feng (Furry Peak) teas are created equal. Nothing could be farther from the truth! Huangshan Mao Feng Tea, formerly called Huangshan Cloud Tea due to the height at which it is grown on Huang Shan, or Yellow Mountain (i.e., at altitudes of over 700 m), and probably best known as Yellow Mountain Furry Peak tea, is the third-best Chinese green tea, and the fourth-best tea in all of China (the two best Chinese teas being green teas, while the third-best Chinese tea is actually an oolong tea, which is a slightly fermented tea lying somewhere between a non-fermented green tea and a fully-fermented black tea*). Though the color of the brewed tea is jade green, the leaves of Mao Feng tea themselves are covered with a fluffy, silvery down, or fur. Not a scented tea, Yellow Mountain Furry Peak tea nevertheless has an apricot flavor and a fragrance reminiscent of magnolia blossoms. Its leaves can be brewed repeatedly; according to tea lovers, Huangshan Mao Feng
Tunxi Green Tea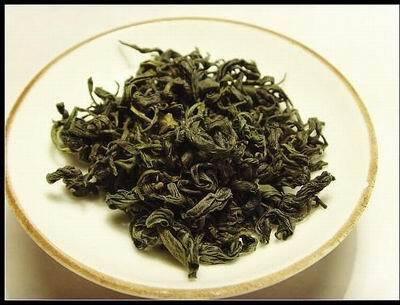 First, a word on what distinguishes green tea from its more common sister, black tea... Tea, or the product that is plucked as leaves from the tea plant, or >camellia sinensis> (think of Meryl Streep in the role of Karen Blixen, the Danish-cum-Kenyan tea plantation owner during the first quarter of the 20th century in the Hollywood film, >Out of Africa>), is the same whether it forms the basis of green tea or black tea. The difference lies in how the product is processed. Black tea is allowed to ferment, then dried. It yields a denser flavor which, in some varieties, can please the palate of even diehard coffee drinkers, i.e., can serve as a substitute for coffee for some. Green tea, on the other hand, is not fermented. Hence, its flavor is lighter and more delicate, and therefore green tea more easily allows the nuances of the local flavor of camellia sinesis to shine through, since tea grown in one clime will differ from tea grown in another, just as grapes grown on one mountainsi
Huizhou Chrysanthemum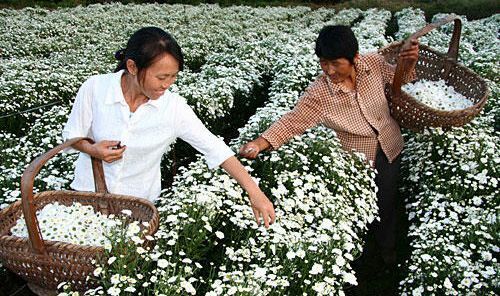 Huizhou chrysanthemum is an excellent breed of the chrysanthemum varieties. It is one of China's four famous chrysanthemums, the other three being Hangzhou white chrysanthemum, Chu chrysanthemum, and Bo chrysanthemum. Function Huizhou chrysanthemum can be used to brew tea and wine by first drying it in the sun to create a purely natural drink. Drinking chrysanthemum tea can help one rid ones body of heat, moisten the liver, refresh and make ones eyes brighter, clean the five viscera, eliminate toxins, maintain good health, live longer, and grow more beautiful. Story Epidemic conjunctivitis supposedly went around Beijing City during the Guangxu Period of the Qing Dynasty. The emperor ordered a good doctor and medicine. The magistrate of Huizhou presented Huizhou dried chrysanthemum, which cured all of the suffers. This chrysanthemum became famous in Beijing City and came to be called Huizhou Chrysanthemum as a tribute to its healing powers.
Qimen Black Tea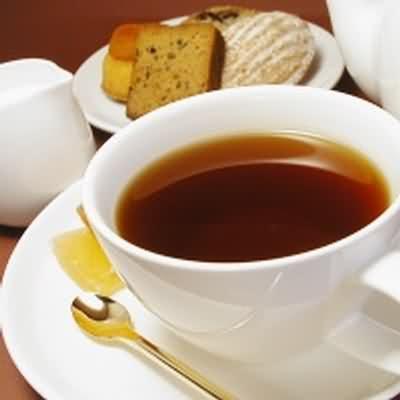 Qimen black tea is a treasure of China's traditional teas. It's slim. The tea is very red. The aroma can last for a long time, which seems like the aroma of fruit and like the aroma of orchid. Whether its brewed solely or added some milk and sugar, it makes people have an aftertaste. Its not only one of China's ten famous teas, but also one of worlds three famous Gaoxiang teas (the rest two is Big Jilin of India and Wufa of Sri Lanka). Honor: since the advent of Qimen Black tea, it has won international prizes three times. It has some reputations of Hero of teas, The Best Fragrant Tea. etc.
Huangshan Shops and Stores:
Tunxi Ancient Street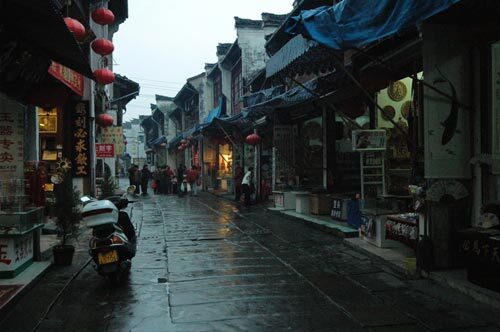 Tunxi Ancient Street is the most distinctive street in Huangshan. Tunxi Ancient Street is situated in the center of Tunxi District, at the foot of the Mt. Huangshan, the location of Huangshan City Government. The street starts in the west at Zhenhai Bridge and ends in the east at the Memorial Archway. It is paved with maroon flagstones with a total length of 1,273 meters (about 1,392 yards), of which 895meters (about 979 yards) is the pedestrian commercial street. In this ancient city some of buildings date back to the Song Dynasty over 700 years ago. More noticeable are the buildings from the Ming and Qing Dynasties (1368-1911).Most of the buildings are only three stories high, stone-based and brick-laid. They are decorated with small green tiles, wood carvings in the Hui style, ancient shop signs, and red-lacquered with double eaves on the roofs. They are simple and elegant, magnificent and clean. The pavement is 5 to 8 meters wide, laid with large red flagstones. The shop names in
Huangshan Tea City
Mt. Huangshan is a famous tea producing area in China, tea from this area is well known overseas for the high quality of green-tea, such as Huangshan Maofeng which is regarded as the top ten green-tea of China. Huangshan Tea City is the largest and highest tea trade center in south Anhui Province. You can not only buy every kind of tea but can also experience tea culture first hand in tea history hall; you can have a tea taste at tasting tea hall and appreciate tea ceremony in any of the existing performance halls.
Dragon Well Market In Huangshan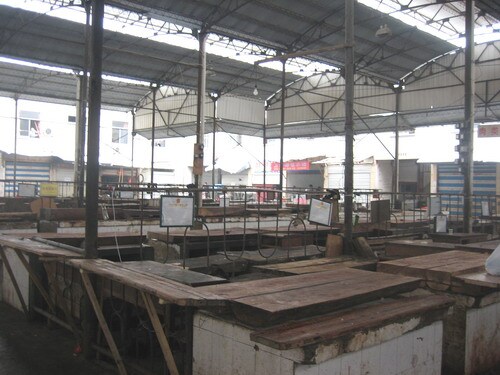 Located in Beihai North Road, Huangshan District, the Dragon Well Market has a construction area of 4,195 square meters, including a trading shed of 1.588 square meters, 360 stands. The market is well arranged, spacious, and elegantly shaped. The market mainly engages in wholesale of agricultural and sideline products, plus the catering and service trade.
Recommended Tours: