Huangshan Weather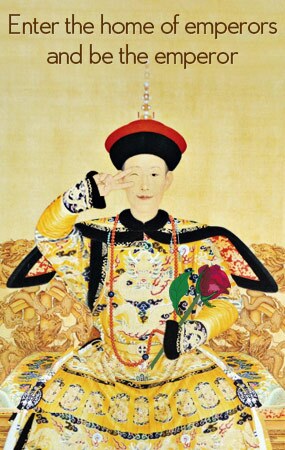 Huangshan is in the north of the central subtropical zone, enjoying a humid subtropical monsoon climate, with relatively short spring (mid-March to mid-May) and autumn (mid-September to mid-November) and comparatively long summer (mid-May to mid-September) and winter (mid-November to mid-March).

Overview
Huangshan features four distinct seasons, with lots of rainy days and sometimes murky weather. There is no extreme heat in summer, though it gets pretty cold in winter.
The hottest weather comes in summer, with a highest temperature of 27℃ (80.6℉). The coldest weather falls in winter, with a lowest temperature of -22℃ (7.6℉).
The annual average temperature is 8℃ (46℉). The average annual number of rainy days is 181, mainly from March to August, with about 33 snowy days. The annual precipitation is about 2,400 millimeters.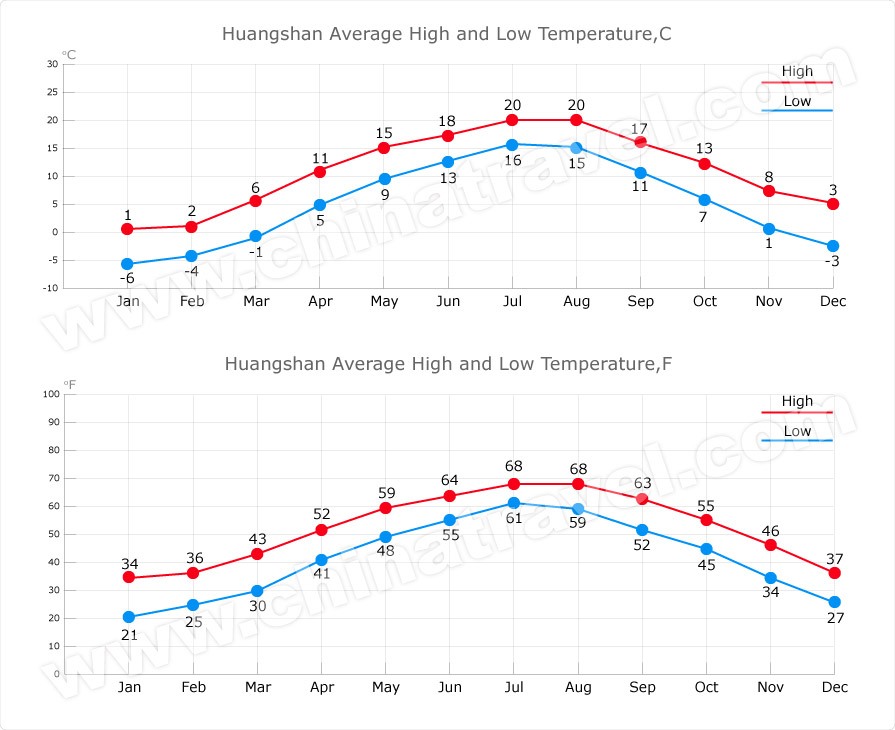 Best Time to Visit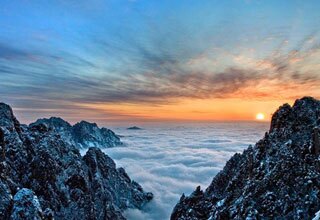 When is the best time to visit Huangshan? All year round!
The breathtaking Yellow Mountain can be appreciated all year round, due to its unique seasonal scenery across four seasons:
1. Trees turning green and flowers blooming in spring,
2. Waterfalls and a sea of clouds rolling over in summer,
3. Red maple leaves falling and pines retaining verdant needles in autumn, and
4. Snowflakes floating and rime on trees in winter.
The peak tourist season lasts from mid-March to mid-November. July and August rank as the best periods (they are also a peak travel time for Chinese students) for visiting Huangshan. Meanwhile, many tourists regard winter as the most beautiful season, thanks to the snow-covered landscape and fresh air.
Spring (Mid-March to Mid-May)
Huangshan has a relatively short spring, lasting from mid-March to mid-May, with flowers in full bloom and very fresh air. The average temperature ranges from -1 to 6ºC (30-43℉) in March, from 5 to 11ºC (41-52℉) in April, and from 9 to 15ºC (48-59℉) in May. In spring, Huangshan is characterized by cloudy and rainy days.
Remember to pack raincoats, antiskid shoes and warm clothes in case of low temperatures while climbing the mountain.
Summer (Mid-May to Mid-September)
Summer lasts long on Huangshan, from mid-May to mid-September. In summer, many tourists come to Huangshan for their holidays to avoid excessive summer heat, due to the cool and cloudy weather on the mountain.
Rainy periods last from May to August, with monthly rainfall of about 305 millimeters. Thanks to the rainfall, summer can be ranked as a unique period for appreciating the breathtaking scenery, namely the sea of clouds.
The hottest days fall in July, with an average daily temperature of 20ºC (68℉) and a nightly low temperature of 16ºC (60.8℉).
Tourists had better not bring umbrellas due to the thunderstorms during the summer period. Besides summer clothing, raincoats and sun cream are also necessary.
Autumn (Mid-September to Mid-November)
Autumn in Huangshan is quite short, from mid-September to mid-November. It's the best time for appreciating the natural landscape, such as verdant pines, rocks, red maples and wild chrysanthemum.
Thanks to its favorable weather conditions, autumn is also ranked as the best period for traveling to Huangshan. In October, try to avoid the Chinese National Day holiday (from October 1st to 7th), when it is usually overcrowded and not convenient for traveling in China.
Pack long-sleeved coats and sweaters.
Winter (Mid-November to Mid-March)
Winter, from mid-November to mid-March, is ranked by many hiking enthusiasts as the best period for visiting Huangshan, for appreciating the spectacular snow-covered landscape.
The coldest days fall in January, with an average daily temperature of 1ºC (34℉) and an average nightly temperature of -6 ºC (21℉). As winter is the low travel season on Huangshan, it's not so crowded and relatively convenient for traveling.
Pack warm clothes, such as down jackets, cotton-padded shoes and thermal underwear.
Our local experts are always ready to create you a hassle-free tour. Get an authentic experience by contacting one of our travel advisors.