Jiayuguan Shopping
Jiayuguan Local Products:
The main local products of Jiayuguan City are Facai (a kind of algae) and camel hair. In addition, visitors can also buy handicrafts and souvenirs, such as Yeguan Cup (Night Glittering Cup), carving products, camel hair painting, jade carving, Jiayu inkstone, and fresco rubbings.
Yeguan Cup (night Glittering Cup)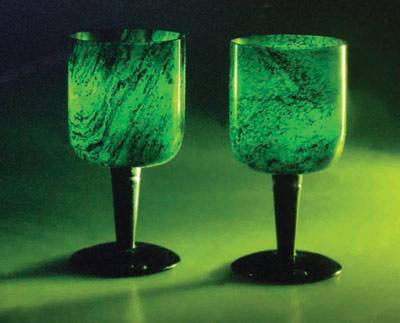 Yeguan Cup has been well-known since ancient China. It gets its name because when it is filled with wine, moonlight is able to penetrate into the cup and makes it glittering. In the reign of King Muwang of Zhou Dynasty, the local rulers in west China once presented Yeguan Cups to the court. This is recorded in the book Haineishizhouji (The Ten States in China) written by a famous writer Dongfang Shuo of Han Dynasty. According to the book, the cup is made of white jade and it glitters during night.
Jiayu Inkstone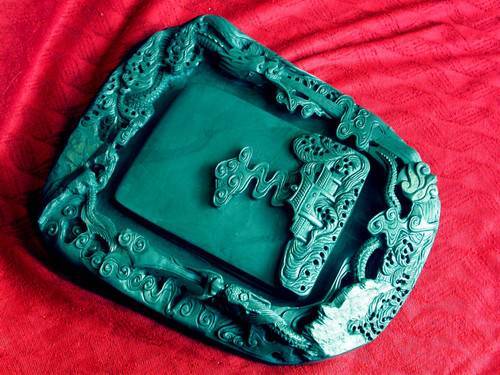 Jiayu inkstone is made of the stones taken from the mountains, which are the ideal materials for making inkstones. It is moisty and colorful. Even though there are carved patterns on the inkstone, it still looks simple and unsophisticated. The making of inkstone has a history of about 1700 year. It is one of the local treasures of art products.
Water Melon
The water melons produced in Jiayuguan is big in size and thin in peel. Their flesh is sweet and tasty. They are sold in a dozen of provinces.
Jiayuguan Shops and Stores:
The shopping places are mainly distributed in Xinhua Road and Yingbin Road. There are Jiayuguan Department Store, Wanhuiyuan Shopping Mall, Renmin Shopping Mall, Hualin Shopping Plaza, and Xiongguan Plaza. Besides, there are many markets in the city, such as Jianshe Market on Jianshe Road, Jingtie Market on East Jingtie Road, Fuqiang Market on Fuqiang Road and Vegetable Wholesale Market on Yingbin Road.
Night Street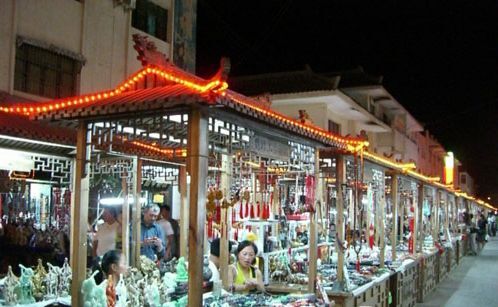 The most distinctive shopping street is the night street in the downtown area near the walking street in Jiayuguan. There are many vendors who sell Stone Carvings, assorted Carpets and Ink stones. What is more, these vendors also provide many fascinating souvenirs which are made locally.
Recommended Tours: