Jinan Shopping
Jinan Local Products:
As a land of rich culture and long history, it has a variety of crafts and special local products. There are the crafts of Jinan, such as the black pottery, wooden knocker stone, Dough Figurines, feather painting and silk flower. And its native products are Minghu Lotus, Pingyin colla corii asini, North Park calamus plant, Dahuo hawthorn, walnut, and Tai Mount small Chinese white pear. Among them, Pingyin colla corii asini is a kind of luxurious Chinese medicine, the prices of which can be varied from dozens Yuan to hundreds Yuan according to the quality.
Shandong (lu) Embroidery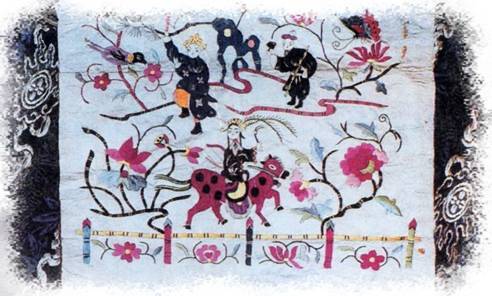 As an important cultural heritage of the Chinese, Shangdong embroidery is not only one of the four major types of embroidery in China but also the earliest one recorded in historical documents. Shandong embroidery has played a very important role in Chinese history of arts and crafts. Famous in Spring-Autumn and Warring-State periods, "the satins of Qi state" and "the white silk of Lu state" were much more popular for their high quality. According to the historical records, "all the women in the capital of Qi (today's Linzi, Shandong) were able to embroider, even the stupid were skilled at it". The most representative genre of Shandong embroidery is hair and skill embroidery which are hand-made of human hair and silk threads. With exquisite skills and superb craftsmanship, only the Shandong embroideries can manifest Chinese calligraphy and paintings so vividly and true-to-life. Therefore, Shandong embroidery distinguishes itself from other types of embroidery, such as Su Embroidery a
Black Pottery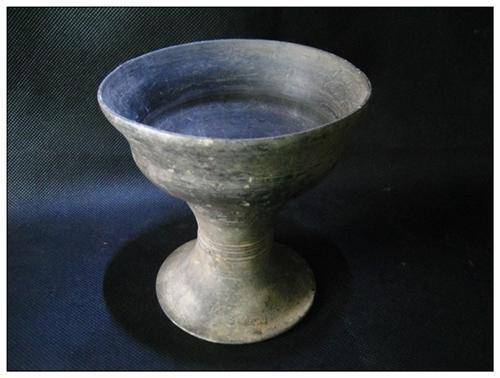 Originating from ancient pottery in China, black pottery is an important mark separating the Neolithic Age from the Paleolithic Age, as a symbol of Longshan Culture. The black pottery occurred 5,000 years ago and was regarded as another culture after the painted pottery culture appeared in the central plains area of ancient China. Discovered in Longshan Town, Zhangqiu City, Shandong Province, it's called the masterpiece of Longshan Culture or hailed as "National Treasure". Made on traditional kick wheels, the black potteries are burnt into different shapes through high temperature carbonization techniques. With the style of slimness, exquisiteness, erectness and unsophisticatedness, the black pottery features,"as black as lacquer, as bright as mirrors, as hard as porcelains, and sounds like Qing( the flat stone pieces in different sizes hang on a rack to make music in ancient China). As thick as 0.3 millimeters and even 0.1 millimeters at the thinnest parts, the egg shell black potte
Ejiao(egelatin)
According to The Compendium of Material Medica, Ejiao was first recorded in Shennong's Classic of Materia Medica. Taohong Jin, a Taoist of Southern Dynasties, once wrote in his Collected Commentaries on Shennong's Classic of Materia Medica,Ejiao is produced in Dong'e, hence its name. Dong'e is where Dong'e Town, Pingyin County is located nowadays. With a long history of over 2,500 years of making Ejiao, Dong'e Town boasts advantaged geographical and natural environment. Since Dong'e produces high quality Ejiao, it is designated asHometown of Ejiao in Chinaby the government. In 1950, the first state-owned Ejiao factory was established in Dong'e Town. Incorporating all the famous old workshops of making Ejiao, the factory is located before the Shier Mountain and beside the Langxi River.
Jinan Shops and Stores:
Quancheng Road is the most bustling commercial street of Jinan. Besides, the south gate and People's shopping malls are also bustling commercial districts. Jinan shopping areas are mainly distributed from the People's shopping malls to Quancheng Road with lots of malls such as Isetan, Wal-Mart and Ginza underground mall. There are also many franchised stores, such as Nike, Yishion, and Dataipei. Things in Renfang are good with various clothes in diversified styles. Shoe, purse, jewelry, nail cosmetic are all available and of high quality. The style of Shanshi Road is suitable for civilian populations and young people. Most of the shops sell clothes, hairdressing, shoe, bags, and other popular things.
Guihe Shopping Center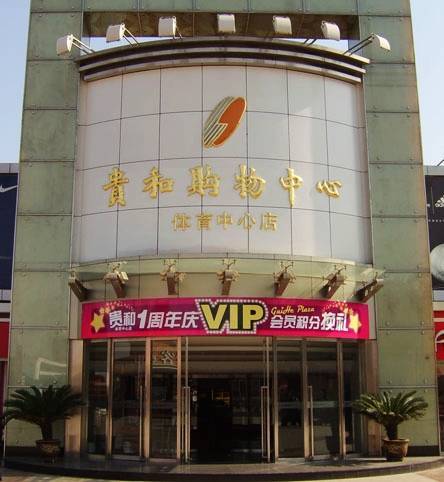 Guihe Shopping Center serves famous brand name commodities both home and abroad. In order to satisfy the needs of individual customers and to highlight the important status of the customers, Guihe Shopping Center provides Guihe Membership Service. The Guihe staff workers receive their customers warm-heartedly at the gate early in the morning and seeing the customers off late in the evening. The Guihe Shopping Center promises free exchanges of purchases in the case of quality issues which reduce the shopping risks to zero. Following the principles ofSelling high-quality goods with high morality,Winning the customers is as important as gaining profits, the Guihe staff supplies their customers with standardized services. Combining the cultural flavor with business ambiance, Guihe Shopping Center forms its unique management skills and the top-grade image of, timeliness, geographical advantage,highly-respected, auspiciousness and harmony.
Quancheng Lu Commercial Center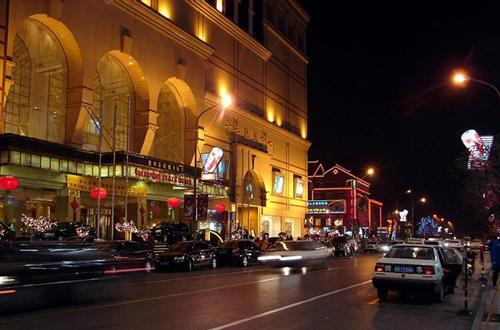 Located in the busy shopping center, Quancheng Lu Commercial Center, has a long history and is well-developed in commercial trade. It plays an important role as the golden cross street, for it is the principal axis of Quancheng development from the east to the west, the center of four fountain groups and the meeting-point of natural landscape of the North and the South. It abuts the Daming Lake, the Baotu Spring, the Quancheng Square and other scenery spots and connects to the Furong Street and Qushuiting ancient city town. With such a good position, it becomes a significant pedestrian commercial street.
Dongmen Wholesale Market
Dongmen Wholesale Market was built in 1994 and brought out by Yihuan Group as the successful example of Yihuan's going into commerce circle. It is Located in the west end of Dongguan Street, neighboring Daming Lake and close to the Huancheng Park. Such a superior geographical position makes it easily accessible and the convenient transport takes more people there. Hence, it had been the business converging place since ancient times. You can buy all kinds of things there, including small articles of daily use, home appliances, clothes, shoes, plastic products, bedclothes, study or office supplies, and so on.
Daguanyuan Commercial Center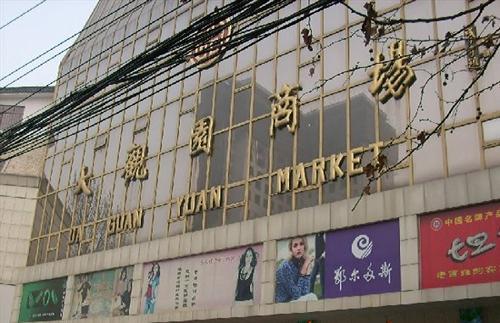 Daguanyuan Commercial Center is the most characteristic local shopping place of Jinan. Located in the prosperous Jingsi Street, it has an advantageous location, and convenient traffic facilities with more 20 buses and trolleybuses passing by. This center, with the 32,000-squaremeters total building area has become an integrative modern shopping center gathering shopping, entertainment and sight-seeing in one body. It was first built in 1931 and has a history of 60 years.