Datang Xinqiao Mini Skirt Miao Village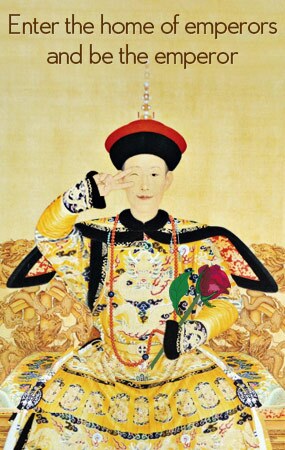 Datang Miao village is renowned for peculiar mini-skirts and special hair ornaments. In this village, visitors could sense the typical traditional customs left by the Tang Dynasty, the most magnificent period in feudal society.
(Chang'an, now known as Xi'an, was the capital of Tang Dynasty.) The hair styles of females in Datang Miao village are just like females' in Tang Dynasty.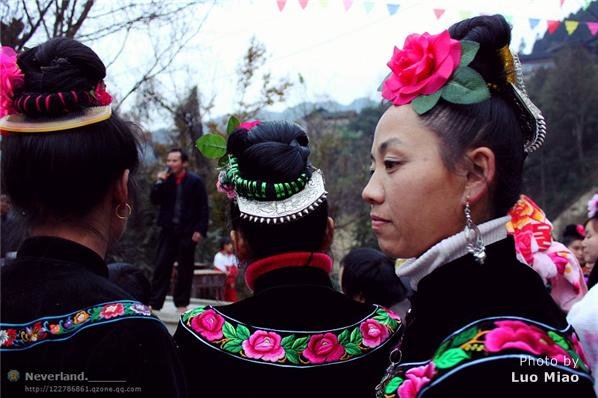 Local people now call this village Xinqiao which is about 13 kilometers away from Lei Shan Country and about 70 kilometers away from Kai Li. There is no entrance fee of Datang Miao village and it opens all day. Visitors could take shuttle mini bus from Lei Shan Country to Datang Miao village and the fare is 3 yuan.

Mini-skirts in Datang Miao village are different from modern fashionable mini-skirts but they are prevailing in this village. Girls and women have a tradition of about 6 hundred years to wear such skirts which are only more than a dozen centimeters. It would cost over 20 days for making one skirt because the craftsmanship of these skirts is complex.

Miao people are friendly to foreign visitors. You may be able to have a meal with a Miao family. The food there is very tasty and spicy. Most travelers would have a taste of sour fish soup.
Architecture
Another star attraction in this field is a little barn built up off water. Each barn possesses only two to three square meter. It is grand when there are around 50 barns in front of you. These barns are up off water, so food in them could be protected from fire, rats and insects. It is said that this kind of unique architectural structure has experienced a period over 6 hundred years and architects compliment this as unmatched architectural structure in the world.

Additionally, the Miao style buildings, namely Diao Jiaolou stand for the typical feature of Miao's architecture. Residential buildings also have unique style: most of them are traditional wooden architecture.
Lusheng Festival
Lusheng Festival is the grandest festival in Datang Miao village. It is held once a year from January 16th to 21st in Chinese lunar calendar. People from Datang and Gun Yu villages get together in Datang to celebrate good harvest and to greet the New Year, which attracts hundreds of thousands people around to enjoy them.

Some folk events are held during the festival including a Lusheng dance competition and buffalo fighting, and so on. There are a lot of opportunities for visitors to take photos and enjoy the colorful minority customs.

Dressing up in a lot of ornamental silver jewelry and wearing traditional costumes, thousands of girls and women go down from the villages to sing and dance. This festival provides opportunities for some youngsters to express their admiration to the one they love.

If you are interested in other Miao villages, you may see Matang Village , QingmanMiao Village ,Zhouxi Miao Village, Ji Dao Long Skirt Miao Village, and Nahui Village.
Our local experts are always ready to create you a hassle-free tour. Get an authentic experience by contacting one of our travel advisors.