Lying in Guizhou, China's southwestern province, Jidao Miao village possesses idyllic surroundings and is populated by Miao people. There are several Miao Ethnic groups, like Short Skirt Miao- Datang Miao and Long Skirt Miao-Jidao Miao. Jidao Miao village is known as Jidao Long Skirt Miao as females in this village wearing traditional long skirts which makes it different from other Miao Ethnic groups.
Jidao Miao village is a typical minority village without the flood of outside vanity, that is to say it is still original tranquil and peaceful.
Jidao Long Skirt Miao village consists of two parts: Shangzhai, namely, Upper Village and Xiazhai, namely, Lower Village. Shangzhai, with about 100 households and 530 Miao inhabitants, takes mountains as background and is adorned with limpid river. Xiazhai, smaller than Shangzhai, is home to 70 households and 450 Miao people.
These hospitable and friendly villagers are adept at singing and dancing. Before getting into the entrance of the village, guests are usually served several cups of home-made rice wine and offered wonderful shows.
Architecture
There are many traditional and well-designed wooden stilts, namely, Diaojiaolou in Jidao Long Skirt Miao village, some of which have a history of more than 100 years. Stilts usually have several storeys, domestic fowls living in the first storey and inhabitants living in the upper storeys.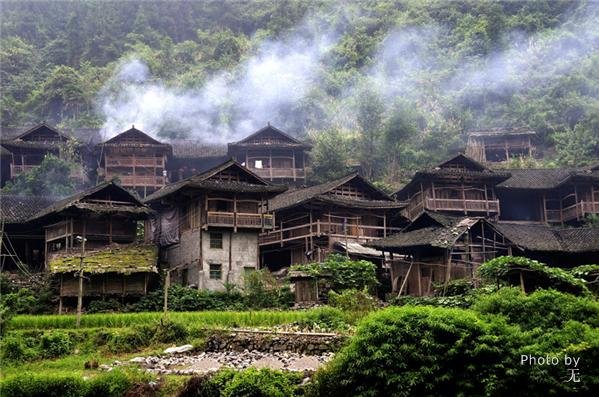 Festivals and Celebrations
There are many traditional festivals in Miao ethnic areas. New Rice Eating Festival is in the 3rd lunar month. The Miao New Year or Miao Nian, a very important traditional festival marking the beginning the Miao New Year, is held in the 10th Chinese lunar calendar month. Another significant festival is Miao Guzang Festival, which is held once every 13 year regularly.
The Miao females would wear ornamental silver-large necklaces, earrings, bracelets, beads and sheaths during festival days. Miao people are renowned to the world for their dancing and singing that have been handed down from generations to generations. Visitors may watch them dance and sing and enjoy them.
History
It is said that approximately 3.5 million Miao people dwell in Guizhou. Back to Qing Dynasty, Qing Empire was trying to surpress Miao people, so there were several wars between them. The last war between them happened during the Taiping rebellion in the middle 19th century. Once they got lost, they moved from their territory in Guizhou to southeast China. The Miao Ethnic Minority there is called Hmong.
Directory
Jidao Miao village is about 25 kilometers away from Kaili City. Travelers may take bus from Kaili to Jidao. It is very convenient and the bus fare is about 5 RMB.
It would be advisable to take umbrella for the weather in there is changeable.
There is no entrance fee to the village. It is a real village so it opens all day.
2 hours tour is suggested. Accommodation in the village is also a good choice, the average fee to which is about 80 RMB one night.
Food there is tasty and spicy. Many visitors would have a taste of sour soup with fish.
See our Datang Xinqiao Mini Skirt Miao Village, Matang Village , QingmanMiao Village , Zhouxi Miao Village , if you are interested in different Miao village style.
Information accuracy:
We try to make the information on China Travel accurate when we write/edit it. If you find any outdated information, please inform us.