Kashgar Shopping
Kashgar Local Products:
Traditional folk handicrafts with unique local style are abundant in Kashgar. It is the reason why Kashgar is called "the centre of traditional folk handicrafts". There are handicrafts like carpets, Yingjisha County Knife, Multicolored Caps, Aidelaisi Silk, and Wooden Model Colored Calico.
On the other hand, Kashgar is called "fruit village", so fruits like Pomegranate, Almond, Fig, and Grape should be added onto your shopping lists. Don't forget to taste the sour and sweat pomegranate, which cannot be bought from elsewhere.
Yingjisha County Knife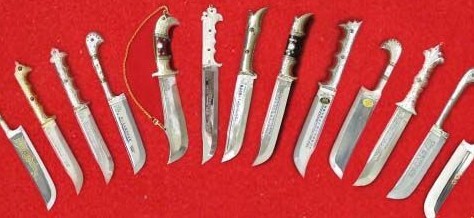 Manufactured in Yingjisha it gets such a name and is one of traditional handicraft articles with famous brand with more than 400 years history. With beautiful appearance and carvings it is excellent and fine in materials and made with exquisite workmanship having rich national flavors. Yingjisha knives now contain 16 varieties in 30 colors. They are of Uygur's favorite shapes, such as, phoenix tail, oriole, magpie, red mouth alpine chough which is preferred by Kazak most, Lung-ch'uan sword preferred by Han nationality and beast angle preferred by Mongolians etc.
Carpet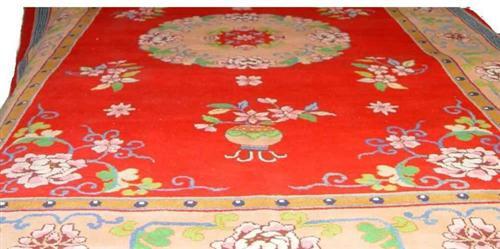 Being one of traditional handicraft articles in Kashi, carpet is known all over the world for consummate handicraft and distinct style. Of numerous kinds and thousands of postures and carriages, Kashi carpets are attractive and bright-colored. Except those 360-line products in tradition, 540-line, 720-line, and 750-line products of medium and high grade have been manufactured in recent years. Kashi carpets are excellent in quality, lucid and lively in hue, sturdy and durable, comfortable and soft to touching, as well as of artistic value. Customers at home and from abroad are all fond of these carpets which not only have high practical value but also artistic value.
Aidelaisi Silk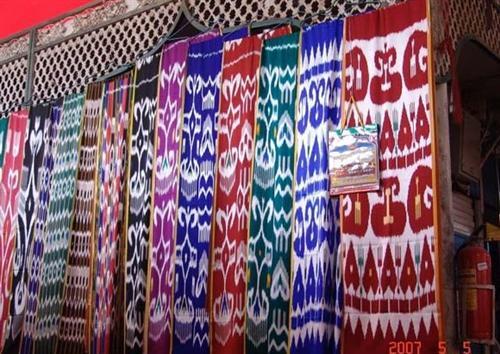 It is Uygur women's favorite silk material. Natural silk is dyed according to required patterns by adopting antique dyeing method, whose procedures are delicate and complicated. The Kashi Aidelaisi silk is celebrated for its florid and bright color. Colors in striking contrast are used such as emerald green, amparo blue, yellow, green grass, pink, purplish red, tangerine, golden, gorgeous green, black and white. Pattern structure is exquisite, concise, vivid, and in striking contrast reproducing natural beauty of light and color.
Almond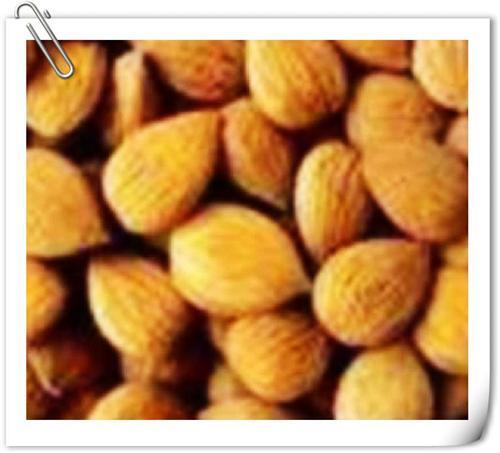 Being famous local product in Kashi, it is the dried fruit that Uygur nationality prizes most. People there use it to entertain guests or give them to friends as presents. Almond patterns can be found either in embroiders on clothes and caps or in scriptures on buildings. Almond belongs to fallen leaf arbor and peach plant. Its sarcocarp is not eatable. However, its fragrant and sweet nut rich in nutrition is eatable, which contains large amount of fat, protein and various vitamins. It is used in 60% of Uygur medicine in Kashi
Multicolored Caps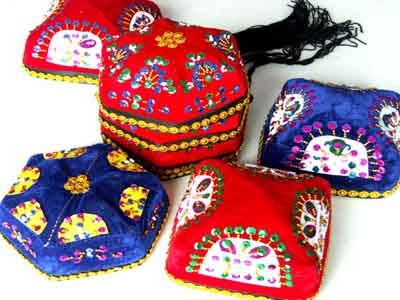 It is called "Duo Ba" in Uigur and a special necessary commodity of ethnic group. Of a fine and exquisite quality, it is hand-made by adopting a series of traditional national techniques, including cross-stitch work, making patterns, adding gold thread, inlaying with silver thread, and stringing beads. Kashi multicolored caps are of numerous varieties namely, Badan (apricot-colored) cap, Qiman (green background with white flowers) cap, Tashkent (green background with white flowers) cap, Mlijiang (red with pearls) cap for females, which are all excellent in textures, bright in color and luster with exquisite patterns. They are not only pragmatic, but also a handicraft article with decorating and aesthetic value. Thus, they are your best choice when you choose something as gifts for your friends.
Wooden Model Colored Calico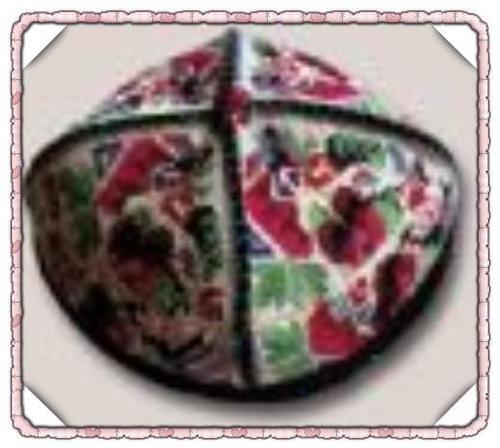 Being traditional handwork products of Uygur, it is always used for circummure, wall hangings, waistband, tablecloth, cushion and curtain etc. Good in quality and reasonable in prices, they are quite practical. This calico is made with wood plate stamp, most in bright red, pink, green, medium yellow and light yellow etc. Their pattern designs are mainly based on flowers, melons, plants and household utensils. It features of rich flavor of ethnic groups and local characteristics, looking unsophisticated but elegant and generous.
Soil Earthenware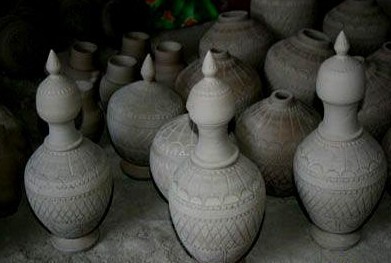 Boasting a long history, Kashi soil earthenware came into being as far as New Stone Age and developed into colored earthenware in Han and Jin Dynasties featuring of unique national styles. Among Kashi earthenware, soil earthenware modeled after antiques are the most famous, which have inherited traditional handicraft and undergone innovation having both appreciation and practical values. The Kashi soil earthenware mainly includes bowls, dishes, plates, kettles and jars etc. Among all these peculiar kettles, big or small, tall or short, round or flat, used by national minorities washing hands are the representative for Kashi soil earthenware Owning special aesthetic value and artistic charm, Kashi soil earthenware, unsophisticated but elegant, attract a lot of visitors both at home and abroad for years.
Grape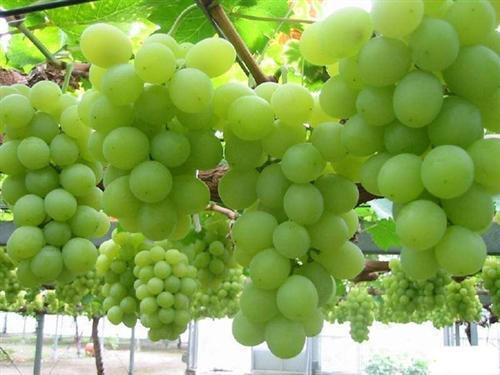 Kashi is one of places abound in grapes. Besides in grape plantation in outskirts, in courtyard of every family grapes are planted. Kashi grapes are of more than 50 varieties with their own distinctive flavor. People can either eat fresh grape or dry them out to make grape cans and so on. The local fruit growers have rich and excellent grape fresh-keeping technique, so they can have fresh grapes throughout the year.
Sea Buckthorn
Rich in nutrition with acid and sweet tastes, sea-buckthorn contains multivitamin and other active matter especially abundant in Vitamin C. Various drinks made from, sea-buckthorn are quite popular among people.
Sea Buck Thron
Rich in nutrition with acid and sweet tastes, sea-buckthorn contains multivitamin and other active matter especially abundant in Vitamin C. Various drinks made from, sea-buckthorn are quite popular among people.
Fig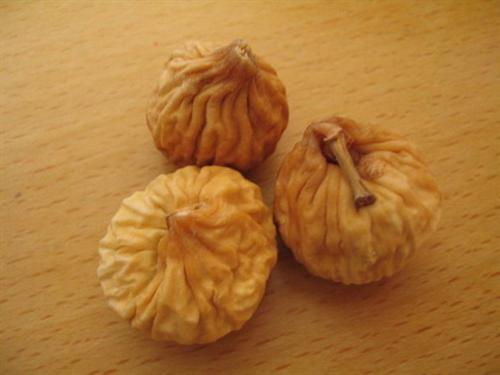 Kashi abounds in fig. In flat and round shape, fig has delicate and soft sarcocarp tasting sweet and is rich in nutrition with 24% candy containment. Fig can be either eaten fresh or dried or made into jam. Besides, due to its large blade, bright and clean branches and trunk, tidy tree crown as well as beautiful appearance, fig is usually planted in courtyard or in parterre or cultivated in rooms as potted landscape to beautify the environment.
Pomegranate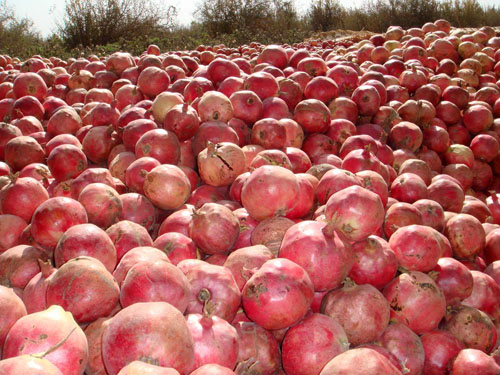 Anaer in Uigur. It is one of important local products of Kashi. Pomegranates in Yecheng, having a good title of country of Pomegranates are the most well-known for being big juicy and with thin skins. They taste sweet and cool preferred by many people.
Saucer Peach
It is one of most precious fruits mainly planted in Yecheng. Saucer peach is one kind of peach. But its fruit is totally different from peach with flat round shape and a small downwarp on top. It has dark yellow skin with blush on the top. Saucer peach tastes sweet and juicy with small nut. Since it is not only delicious but also has good-looking, saucer peach lives up to its name "peach for immortals."
Kashgar Shops and Stores:
Tips: When you are shopping in Kashgar, you can try to bargain for a fair price. However, if you do not succeed in the bargain, you should put your right hand on the heart, bow and say "no, thank you". Don't be rude to the minority nationals.
The Most Famous Bazaar Of Kashgar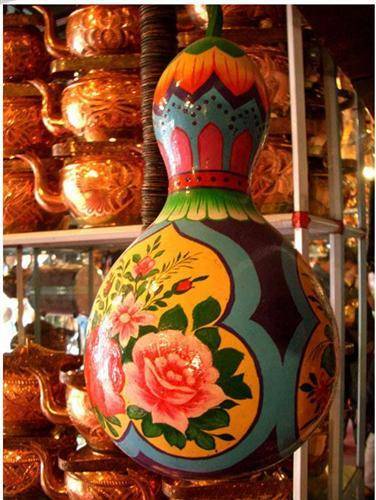 There are many shopping sites in Kashgar and the best area to shop is around the streets near the Etigar Mosque Square. The streets east of the square have a good selection of all colors and patterns. Heading south from the east of the square is the main bazaar, where blacksmiths and carpenters can be seen hard-working in front of their workshops and stalls. Knives with handles inlaid with jewels and ivory, chests decorated with tin, and numerous musical instruments can all be purchased there. North of the square is a cloth market, close to which are some of the most weird looking restaurants in Kashgar. To the south of the square is a night market. A Sunday market is on the eastern edge of the city, with an exotic Middle Eastern atmosphere. Hundreds of animal-driven carts and their owners pour into the large concrete structure that houses many stalls. This big bazaar has been prosperous from ancient times to the present. It is the most famous site of sightseeing and shopping. The special
Recommended Tours: