Black Dragon Pool is one of the ancient scenic spots in Kunming. It got its name for the crystal clear pool in front of the temple. It is said that a black dragon has been living in the pool.
Black Dragon Pool is quiet and beautiful, with a lot of ancient trees and famous flowers, such as the four most famous plants there: Tang Plum (planted in Tang Dynasty, 618-907), Song (960-1279) Cypress, Yuan (1206-1368) Fir and Ming (1368-1644) Tea Tree. The black dragon pool is composed of two pools, where the water mix together and a stone bridge in the middle dissect the pool into two parts. The left part is turbid, while the right part is clean. What is special with the pool is that although the two pools meet in the middle, the water doesn't mix; even the fish doesn't swim to the opposite side of the pool. And the two pools are just clearly set apart, making the pool looking like an Eight Trigrams (Ba Gua, in an octagon, usually with the figure of yin and yang in the middle).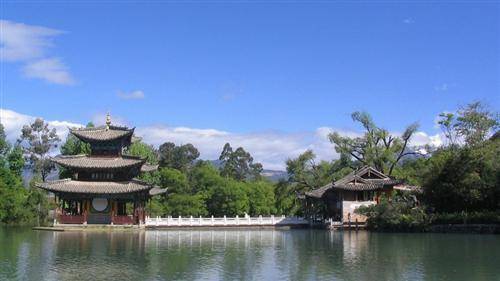 Kunming Black Dragon Pool
There are grand Taoist temples in the scenic spot. Longquan Temple in the shade of huge trees is called the upper temple (shang guan), which has several stories and is simple but quiet and elegant. A high archway with four Chinese characters(zi ji xuan du) stands in the yard, looking very solemn and spectacular. Crossing Heishui Temple, you get to Sanqing Temple, where tourists can appreciate the plums planted in Tang Dynasty (618-907), the prosperous Song Cypress, and the Ming Tea Trees in buds. Black Dragon (heilong) Palace located near Black Dragon Pool is called the Lower Palace (xia gong) and was built in 1454. The ancient Black Dragon Palace appears solemn. A sculpture of black dragon playing with water is set near the dooryard, looking as if it is going to fly and is quite vivid.
Solo Adventure Tips:
Location:

How to Get There?

Take buses No. 3, 22, 23, or 25 to get to the North Railway Station and transfer to No. 9 bus.
Ticket Price:

Opening Hours:
8:30-18:00
More Tips:

Winter is a good time to visit Black Dragon Pool because the plums bloom at this time. The Tang Plum, which is said to have been transferred here during Nanzhao Kingdom, and the Yuan Plum in Caoxi Temple in Anning County are considered to the two most precious ancient plums in Yunnan.
Information accuracy:
We try to make the information on China Travel accurate when we write/edit it. If you find any outdated information, please inform us.