Dongchuan Red Land
Dongchuan Red Land is located in the town of Xintian, about 250 km (155 miles) northeast of Kunming City, near the milepost named "Flower Stone". The area covering over hundreds of square meters is the most concentrated, typical and unique red land on the Yunnan red land tableland. Besides the red land in Rio de Janeiro, the spectacular red land of Dongchuan is healed the most magnificent red land in the world. Comparing to red land in Brazil, the scenery here is even more beautiful.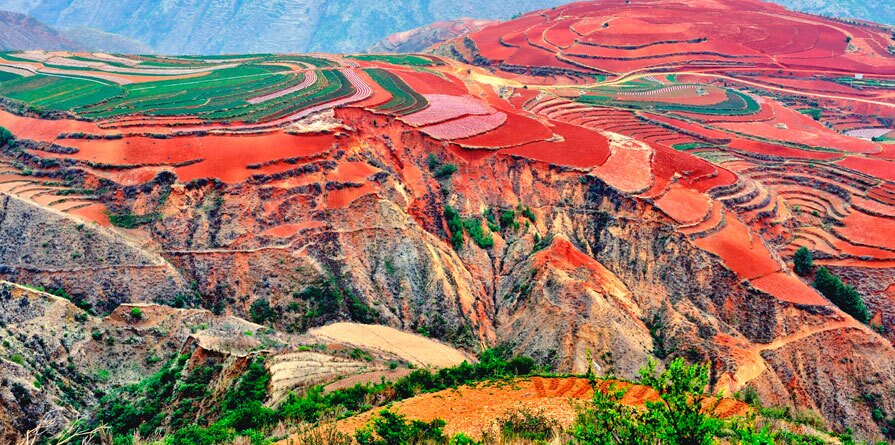 Dongchuan Red Land
Heading to the north from Kunming, you'll be always on rugged winding roads. Overlooked from mountains, white plain formed by debris flows will be in your visual field. Dongchuan has been healed "the museum of debris flows". You can never imagine such amazing scenery without having been to Dongchuan.
Quick Facts About Dongchuan Red Land
Name in Chinese: Dōngchuān Hóngtǔdì 东川红土地
Location: Xintian Town (Red Land Scenic Area), Dongchuan District, Kunming City
Opening Hours: all day
Ticket Price: free
Best Time for Photography: May-June, September-December
What makes Dongchuan Red Land stand out?
Because of the humid and warm climate, the iron elements in the soil have been depositing year by year after oxidation, and then the glaring color is formed after centuries. Dongchuan has also been called "natural copper capital" since the ancient time.
Glaring red land, green vegetable plot, unique shape and beautiful figure are set off by the blue sky, white cloud and capricious light, which is the whole dream-like view that just like the colorful paintings, making you feel dizzy.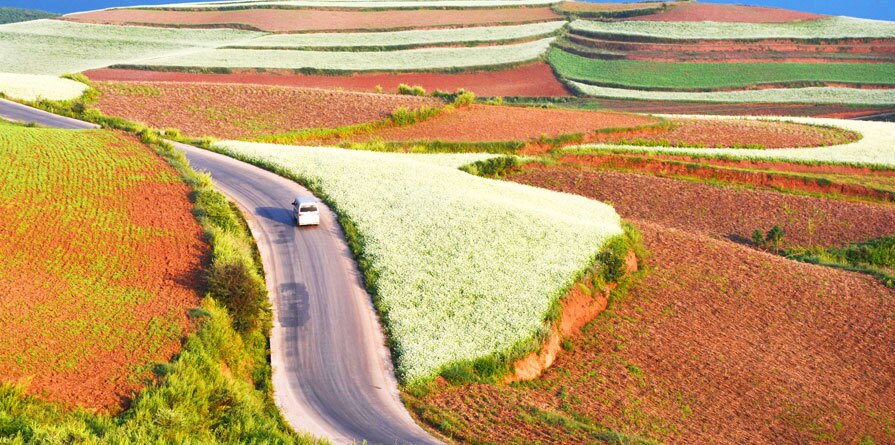 Colorful lands in Dongchuan
How Dongchuan Red Land was found?
Reputedly, the discovery of Dongchuan Red Land should be owed to a photographer. He saw the spectacular gorgeous red land when he was passing by plane. Then he went to Dongchuan lots of times to search the red land area. Finally, the amazing land was found by him. As soon as his photos were seen by people, countless tourists went there and worked up much enthusiasm and passion of the land.
Every attraction here has its own specialty in different seasons and time. You could choose the place and time according to your own fancy. You could get good photos at every scenic here. Besides, according to the natives, the red land looks bright-colored and gorgeous after rain. It is a little dim and dull in the morning and much better in the evening. In a word, the beautiful scenery is far beyond description of words. Dongchuan Red Land was selected as the Top Undiscovered China Attractions.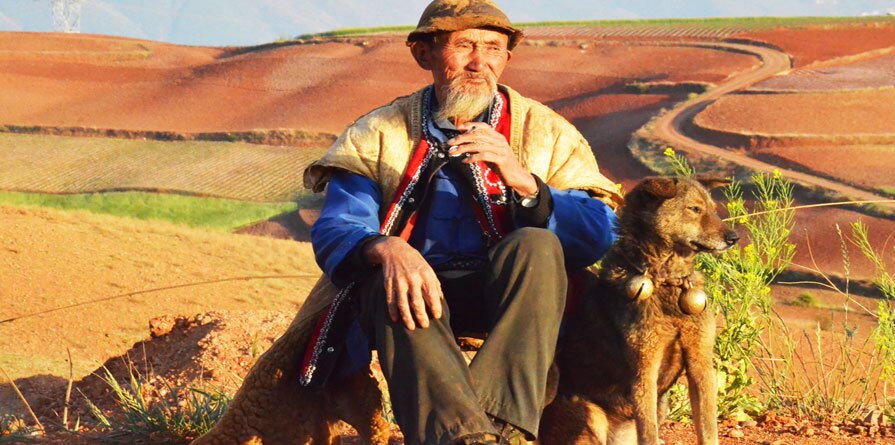 Local farmer and his dog
From Kunming to Dongchuan Red Land by Bus
Take the shuttle bus to Fazhe (法者) at the Kunming North Bus Terminal (昆明北部客运站) and get off at Huashitou Village (花石头村). It leaves at 7:50 and 8:30 every morning and costs about 3 hours and CNY 37 /person.
Another method to get to Dongchuan Red Land is car renting. A travel group including 4~6 people had better rent a minibus. Bargain is necessary since the quotations are really high.
Recommended Kunming Tours:
For an authentic travel experience, contact one of our travel advisors. Our local experts are always ready to create a hassle-free tour for you.