Kunming Food
Last updated by coconut at 2017/6/19
The Over the Bridge Rice Noodle (guoqiao mixian) is the symbol of Kunming Cuisine. Besides, the wild mushrooms, Chicken cooked in boiler are also the must-eats in Kunming.
Kunming Featured Food:
Over The Bridge Rice Noodle (guoqiao Mixian)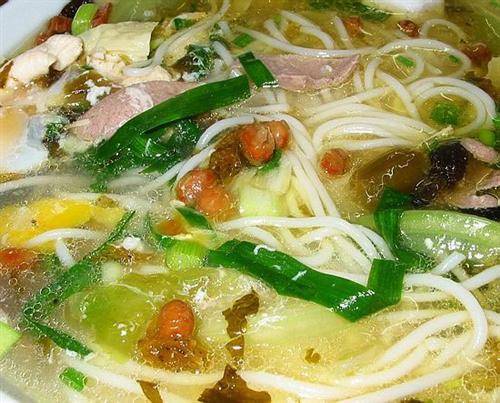 It is a typical Yunnan local flavor food. This dish consists of several courses: put some monosodium glutamate, pepper powder and hot chicken oil into a big bowl and fill the bowl with boiling chicken broth. Serve the broth to table (remember not to taste the soup in case it may be too hot). Now put the food items, such as sashimi, sliced meat, pork liver, slices of squid, etc into the bowl and stir the soup slightly with a pair of chopsticks until these things are done. Vegetables are then added afterwards as the second course, and the rice noodles follow as the last course.
The legend:

It is said that over-the-bridge rice noodles was first made in Mengzi County in South Yunnan more than 100 years ago. At that time there was a south lake outside the county town. A bridge zigzagged to an islet in the lake, where it was quiet and very suitable for people to read. The story goes that a xiu cai (xiu cai was a scholar in the Ming (1368-1644) and Qing (1616-1911) dynasties who
Roasted Er Kuai (rice Cake)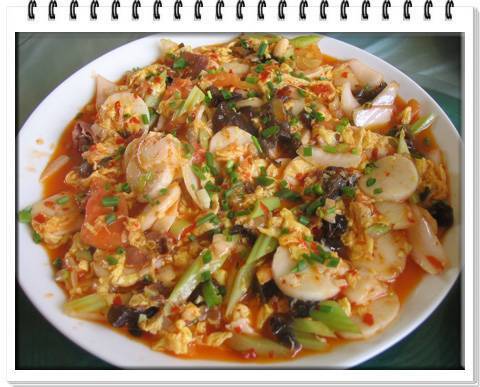 Er Kuai is made of quality rice, pressed into its form after the rice is cooked, so it is called "rice cake". People usually roast it over a charcoal fire and serve it with some jam on the top. The jam is quite an important part in serving Er Kuai. There are usually three kinds of Erkuai jams: sweet, spicy and preserved beancurd jams. The sweet jams are made of peanuts and sesame seeds; the spicy jam is the typical local chili sauce and preserved beancurd is homemade (definitely much more delicious than those sold in shops). You can ask two kinds of jams for an Er Kuai (first spicy then sweet), and the price is 1 yuan for a piece of Er Kuai.
There are different ways in cooking Er Kuai. You can boil, roast, or oil fry it. Er Kuai is a very popular local dish, and it is indispensable to every household during Lunar New Year family party.
Smoked Smelly Bean Curd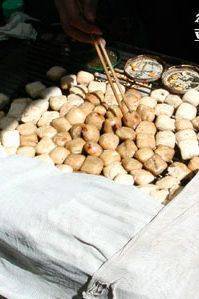 The bean curd is smelly, but not as smelly as those sold in Guangzhou (the capital of Guangdong Province). People usually roast the bean curd over charcoal fire, put some dry or wet spices on the surface. The price is 0.15 yuan for a piece of the roasted bean curd. And you will not stop until you finish 30 or 40 pieces because they are so delicious. A bowl of cool pawpaw water or a bowl of cool rice shrimp (mi liang xia, a kind of local food made of glutinous rice and shaped like small shrimps) is also good after eating so many spicy roasted bean curd.
Lotus Root Starch And Rice Cakes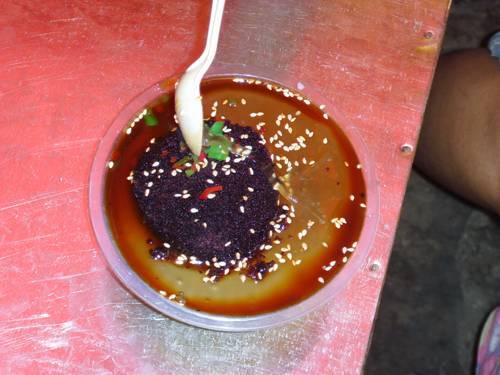 Way of making: Steam the rice cake and cut it into thin pieces first. Add hot water to lotus root starch. Then add the rice cake pieces into the lotus root starch cream and put some green and red garnishes and sugar on the surface. The dish is both beautiful and delicious.
Page 1 of 1 First Previous 1 Next Last