Lhasa Food
Last updated by Journey at 2017/11/13
Lhasa offers a great variety of dishes which include Tibetan diet, Sichuan cuisine, northwest wheaten food.
Lhasa Featured Food:
Beverages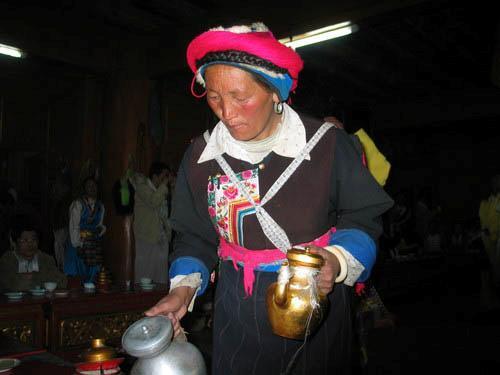 Various beverages are an important part of the nourishing diets in Tibet, including salted butter tea, sweet milk tea, Highland Barley Wine, etc. salted butter tea can not only be eaten with staple food tsampa, but also is a beverage for everyday use. Salted butter tea, and sweet milk tea are both made from butter, milk or milk powder with tea, salt and sugar. Salted butter tea, and sweet milk tea both have the function of tea. In Tibet, it's a custom to treat the guests with butter tea.
At the herdsmen's tents, farmers' small clay houses or on a visit to relatives and friends, the hosts will treat you to delicious butter tea. When a Tibetan is going on a journey, his relatives will present him a hada and toast him with butter tea, wishing him a good trip. Another beverage is the Highland Barley Wine made from fermented barley.
Tibetans, whether old or young, men or women, all enjoy the wine. Before festivals, Tibetans will make large quantities of Hig
Beef And Mutton
Tibetan mainly live on beef, mutton and milk products. In the pastoral areas, people don't eat vegetables. In this area even in the whole Tibetan area the diet is monotonous, rich in fat and protein. As is known, beef and mutton is rich in calories, which is good for people living on the tableland to keep warm. It's interesting that the Tibetan has a custom to eat raw meat. If you go to a herdsman's or a farmer's home, you will see the air-dried beef and mutton hung inside the house or tents. And the host will treat you to such meat, which can only be tasted on the tableland.
Tsampa
Qingke (Highland Barley) is the main ingredient of tsampa. Tsampa is actually barley flour made from parched barley, un-husked and ground into fine flour and then eaten with butter. People also make tsampa by mixing qingke flour and peas. Tsampa made from qingke is a Tibetan traditional food, severed in the restaurants of Lhasa to accommodate the visitors from all over the world. At religious festivals, Tibetans will shed tsampa as a way of blessing
Mashed Yak Meat
Tibetan medicines are mysterious. Mashed yak meat is the mixture of some Tibetan medicines and mashed raw beef, blood red, pungent, and you will feel hot inside after eating it. It's said that Tibet is a place where time can stop, and people today still like to enjoy the sunshine at the foot of the Potala Palace after such a good meal, feeling rather satisfied.
Page 1 of 1 First Previous 1 Next Last