Lhasa Shopping
Lhasa Local Products:
Be sure to buy whatever pratical items you need in Lhasa before you leave for more remote towns. There are department stores, mostly on Yuhok Road that will supply your everyday needs. Lhasa has many special local products whih may make good souvenirs to take back home. They are Tibetan Thangka, Tibetan silver ornaments, yak wool, Dzi bead, aweto, milk products, Tibetan liquor and Lhasa sweet tea as well as various handicrafts and Tibetan medicines.
Tibetan Silver Ornaments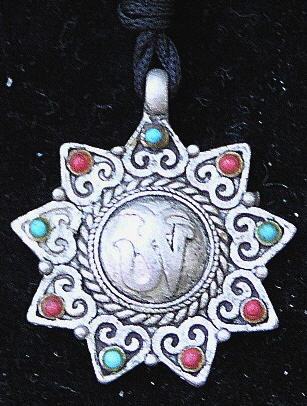 Tibetan bracelets are usually made of Tibetan silver and copper. With Sanskrit inscribed on, they seem unsophisticated and mysterious. Tibetan people wear crescent silver plate, which is a symbol of purity. And the agate and gems mounted in the silver plate connote blessing from the god, good luck and good health in life. In addition, the Tibetan ornaments with ruby and sapphire have an obvious easiness and sincerity, for which you will be deeply shocked by its strong survival consciousness. Dzi bead is known as Dzi in Tibetan, according to the ancient legends, Dzi beads can not only drive evil, protect people from disaster, stars (and sun and moon) and the eight kinds of spiritual beings, but also protect bodies, produce power and benevolent rule, and gain good reputation. The occurrence of Dzi bead can date back to 3000 years ago. In ancient time, Dzi bead was called god bead. The design and shape of Dzi bead are deemed to be different symbols and the effectiveness to cultivate diff
Milk Products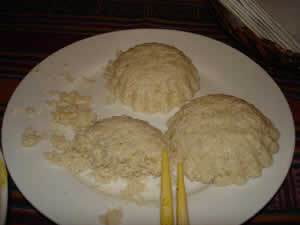 The most popular kinds of milk in Tibet are sour milk and milk scrap. However there are two sorts of sour milk, one is cheese, which is made of milk that has been used to extract ghee, the other is made of milk which has not been used to extract ghee. Sour milk is the food after it has been saccharified. This kind of milk is more nutritious and easy to digest, especially for the old and the young. Milk scrap is the substance after the milk has been refined to make Su butter, and it is formed by cooking and evaporating. During the course of cooking milk, the milk skin can be unpeeled. Like the bean curd skin, it is delicious and nutritious. The milk scrap can be made into milk cake and milk bulk as well. Milk products are the important food of Tibetan. The Tibetans always keep them at home or take them with themselves when going outside for food. In Tibet, where there are few between-meal nibbles, the adults always give children milk scrap as between-meal nibble.
Tibetan Carpet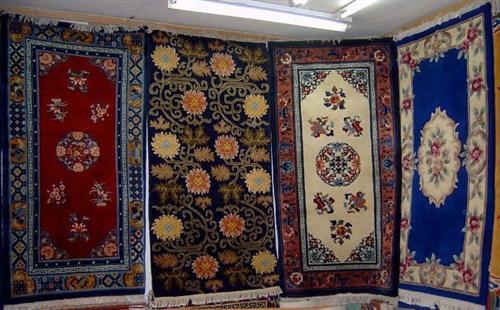 Tibetan carpet is mainly archaized carpet, which is said to have a history of 600 years. Tibetan carpet is uniquely weaved with bright and harmonious colors, which are not easy to fade while being washed. Its surface feels soft and exquisite. The carpet is durable in addition to its strong national feature of design, which adds more value of appreciation and collection. Pulu is transliterated from Tibetan, which is actually woolen weaved artificially, with many colors of black, red and green. It is the main material for making clothes, shoes and caps, and the clothing made of it is everlasting and warm.
Tibetan Incense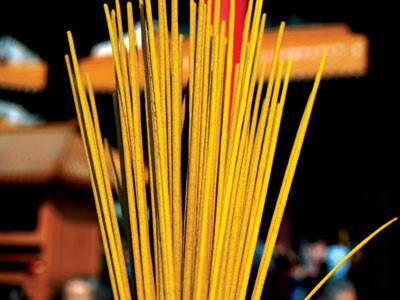 Tibetan incense is also a sort of very good tour souvenir, and Tibetan people use it to worship Buddha, drive evils away and conduct religious activities. There are many sorts of Tibetan incenses in market, and Guolenieaxiang is the most famous and precious. Guolenieaxiang has pure and strong aroma when stored in wardrobe, it can make not only clothes aromatic but also can protect the clothing from any insect. Some Tibetan incense composed of special elements can prevent and cure infections and epidemics, etc.
Tibetan Medicine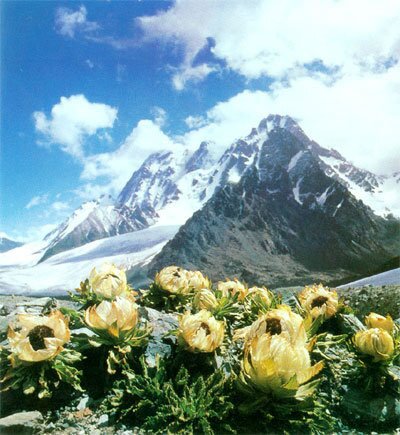 Tibetan medicine is a unique Tibetan pharmacological science system that is formed during the course of their struggle against the nature and various diseases. It has a history of 2000 years or more, and many Tibetan medicines have good curative effect on some diseases such as cardiovascular disease and tumor; pearl seventy, momozhiqi, zhifanshiwu, alpine snow lotus herb, rhodiola root, musk and so on are rare Tibetan medicines. Generally, these medicines can be procured in ordinary drugstores or tourism stores.
Tibetan Liquor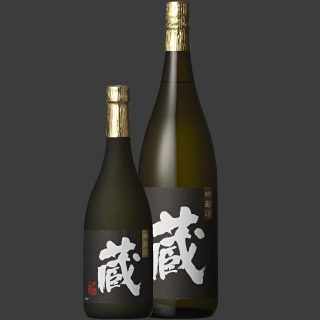 Tibetan distilled liquor is a sort of light alcohol made of wheat or highland barley through fermentation, which tastes weak and mellow, and the alcohol is about 20-30 degrees strong. The distilled liquor of Mangkang County in east Tibet and Yadong County at the border area is famous for its distinctive features.
Handicrafts
The folk handicraft industry of Tibet has a long history, multiple varieties and unique style; carpet, pulu, Tibetan waist knife, Tibetan clothes, Tibetan cap, wool-weaved carpet, wood bowl, pottery and ornaments are the souvenirs welcome by tourists at home and from abroad.
Lhasa Sweet Tea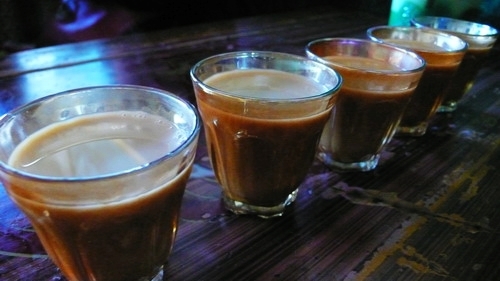 Lhasa sweet tea is made from black tea with juice extracted. With milk and sugar added, Lhasa sweet tea is sweet, delicious and nutritious. The method for making sweet tea in East Asia is particularly exquisite and has a more distinctive flavor.
Necklace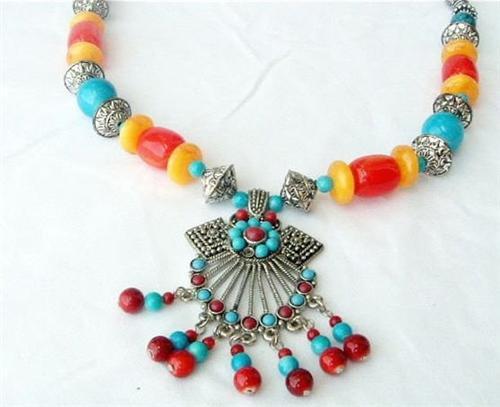 There are many kinds of necklace in Tibet. They are made of gold, silver, turquoise, bone, wood and stone, etc. The necklaces are simple and unsophisticated and natural, but few of them are repeated because they all are made by hand.
Gold And Silver Wares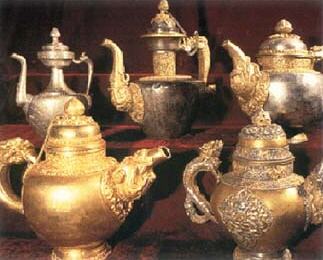 Gold and silver wares are also traditional Tibetan handcraft. Gold and silver wares generally include ornaments such as bracelet, ring, necklace and headwear, and household articles such as flagon, cup, scoop, chopstick and bowl. Skilled craftsmen can make silver wares mounted with various vivid designs such as phoenix, tiger and lion.
Lhasa Shops and Stores:
Barkhor is the most popular shopping street in Lhasa. Small shops and stalls on the street sell many usual and fascinating items, for both religious and secular uses,
Barkhor Street
It is a famous commercial and commodity-distributing center in Tibet, consisting of more than 120 handicrafts shops and more than 200 stalls at present. Barkhor is a good choice that should never be missed by tourists coming to Lhasa, for the history and present situation of Tibetan handicrafts have been clearly recorded here. Except for the period of Tibetan New Year that lasts about 15 days, Barkhor is always very busy and swinging during the year. Jokhang Temple opens every day except for important festivals and religious activities. As for food, the Barkhor Cafe and Gangki Teahouse at the end of Barkhor are all good choices for you to enjoy sweet tea, butter tea or yoghurt. Besides, if you want to buy some Tibetan medicine, you can go to the salesroom of the Tibetan Medicine Factory of Tibet Autonomous Region opposite to Barkhor Street. Also, French perfume and Indian incense are available at the National Tourist Shop opposite to the Tibetan Hospital. At the south of Barkhor,
Fontainebleau Gallery
Works of famous Tibetan painters (most are oil paintings, together with carvings, sketches and Chinese ink paintings), craftworks and books. There are lots of Tibetan decorations, earrings, necklaces, bracelets, rings and various strange items in Tibet. Jewelry laid out on the stalls is rarely made of pure gold or silver, to say nothing of the gems inlaid. Although they are coarsely done, the style and color are absolutely Tibetan. So, you can buy a large quantity of them as gifts for friends and colleagues. The prices are reasonable, which range from 1to more then 19 RMB. Since Tibetans call white copper silver, so they seem frank when showing a copper bracelet and telling you it is made of true silver. While, small shops on the street behind the Jokhang Temple trade in real silver jewelry, you would better take an electronic weigher, and the price is about 25 RMB per gram.
Manual Thangka Specialty Shop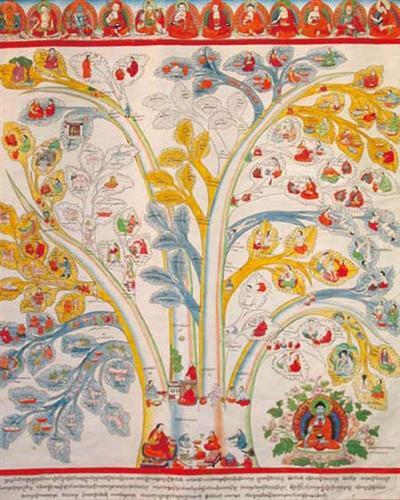 This shop mainly offers painting and selling manual Thangkas, gilding and polishing Buddha figures, selling craftwork. Its painter is the son-in-law of Gongsang Longjie, an old famous Thangka painter. The shop is the first Thangka shop on the Barkhor Street, which has always kept a good relationship with temples. Its Thangkas are mainly customized, and its customers even include people coming from places as far as Tibetan region in Yunnan. And the shopkeeper can speak Chinese. Prices range from 100s to more than 10,000 RMB, and mainly depend on the size and decorations. Most of the shoppers are from Beijing.
More Shopping Places In Lhasa
Saikang Shopping Mall Various souvenirs, electric apparatus, carpets, shoes and hats. Address: 1#, East Barkhor Street TibetanDapeng National handicrafts development Corp. Ltd Address: Norbu Lingka Development Corp. Ltd, Lhasa, Tibet Telephone: 6818066 Gala Shopping Mall Arts and crafts Address: East Barkhor Street Tourist Shopping Mall Supplies for a journey and various goods Address: east end of Yuthok Lu
Xiamao Gabu Antique Shop
As an old shop on the Barkhor Street with a history of more than 70 years, it has a large collection of goods with high quality, which are all custom-made in Nepal.
Ozark Specialty Shop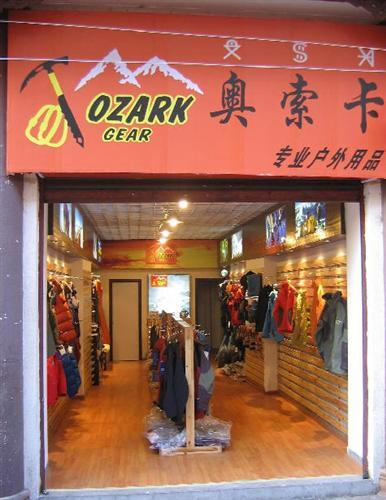 It is a famous shop specialized in mountaineering and trekking gear in the world. It mainly deal in mountaineering apparel, equipments, backpacks, shoes, gloves, glasses and other accessories that are of name brands and very expensive.
Lagang Clothes Shop
This shop sells apparel, footwear, headwear and cosmetic. Most goods are imported from Nepal and India with new styles, various designs and low prices. So, both local people and tourists like doing shopping here.
Tianjie Outdoors Shop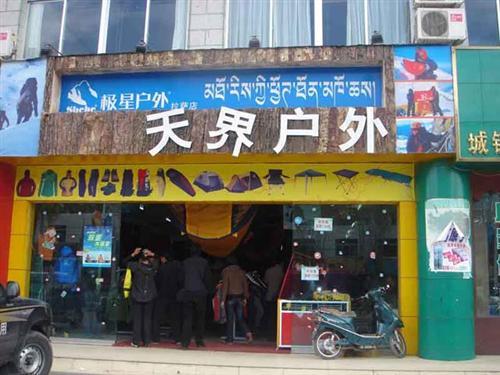 It mainly deals in various traveling bags, gloves, water-proof apparel, tents, muffles, hats, puttees, sunglasses, skin care cosmetic and so on. Among them, the prices of bags and tents are moderate.
Potala Thangkas Gallery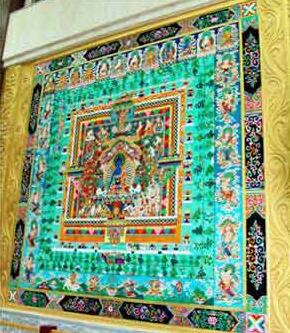 Chief line: Tibetan handmade wool tapestries, carpets, silk carpets, jewelry, Jades, religious artistic works, calligraphy and paintings of celebrities, sculptures and folk craftworks.
Lhasa Department Store
The shopping environment is spacious and comfortable. Facilities are full equipped, including central heating, automatic cashier, elevator and so on. Also, prices are mostly moderate.
Barkhor Thangka Gallery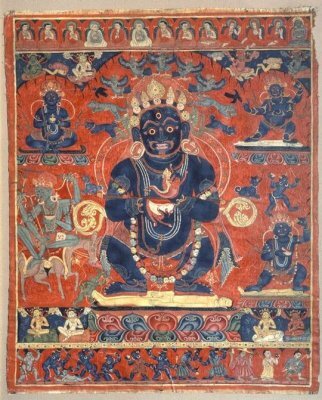 Its line is mainly painting and selling various Thangkas, absorbing lots of foreign tourists.It is a very famous Thangka shop. As the descendant of Pengbo School of Thangka, the painter can make exquisite and salable works. And, the shopkeeper can speak both Chinese and English. In addition, people who are interested in Thangka can learn it free here.
Recommended Tours: