Samye Monastery is one of the oldest Tibetan monasteries in existence today. It was built a little later than Jokhang Temple (largely regarded as the single most important temple in Tibet) and the main monastery built during the first flourishing period of Tibetan Buddhism, which is of great significance in the development of Tibetan culture.
The monastery was once ruined by Lang Darma (an ancient Tibetan king who banned Buddhism and destroyed Buddhist temples). It has also been damaged throughout repeated wars throughout history; it remains in a delicate but maintained condition today, which should be well cherished.
Another name for Samye Monastery is Samyuan. "Samye" is the transliteration of Tibetan, which means "unimaginable." It was said that in order to promote Buddhism, Trisong Detsen (a Tibetan king that ruled from 755 to 797) asked the Indian monk, Padmasambhava, for suggestions about the construction of the monastery. Padmasambhava, exerting his magic powers, showed the king an image of a monastery in his palm. This was really "unimaginable." That is why after it was built, the building got its name of "Samye Monastery."
Padmasambhava chose the construction site while the design was officiated by Santarakshita. Trisong Detsen hosted the foundation stone-laying ceremony. After the monastery was completed, the king declared that all Tobu people must believe in Buddhism so as to establish the noble status of Samye Monastery.
The construction of Samye Monastery began in 762 and was completed in 779. It is the first monastery in Tibet featuring Buddhist laws and monks, and where the famous debate of the doctrines between ancient Indian Buddhism and inland Buddhism took place. The monastery is modeled on Odantapuri Temple in Bihar, India.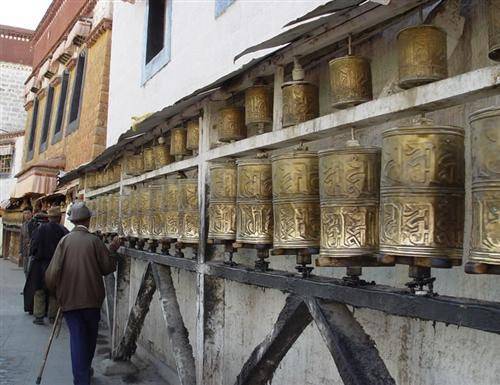 It was built by King Trisong Detsen in the 8th century. In the mid-9th century, it was closed because Buddhism was forbidden in Tobu (the ancient name for Tibet). In the late 10th century, Buddhism prevailed again and it became the central monastery of the Nyingma (Red) Sect. At the time of Samye's construction, Buddhism had been introduced to Tibet, but there were not yet any formal Buddhist priests or rituals. Trisong Detsen decided to consolidate his political power with Buddhism after he came into power.
So, he welcomed Buddhist figureheads from Nepal and built Samye, the first formal monastery that established "triratna," referring to Buddha, the Dharma, and the Sangha. Soon after its construction, the king ordered 7 Tibetan nobles tonsured at Samye Monastery, and they became the first group of monks in Tibet, known as the Seven Jueshi. In other words, Samye Monastery became the first complete monastery in Tibet with Buddhist laws and monks.
The layout of Samye Monastery was designed to represent the ideal universe described in Buddhist scriptures. Utse, the
Great Hall
, symbolizes Sumeru (the name of the central world-mountain in Hindu cosmology) in a perfect Buddhist universe. The encircled Sun and Moon chapels represent the bodies of sun and moon respectively.
The 4 "stupas" standing at each corner of the hall represent the 4 Heavenly Kings. Four larger halls and 8 smaller ones evenly distributed around Utse embody 4 continents and 8 eparchies. A circular wall surrounding the monastery represents a mountain near the border of the universe. With trees growing luxuriantly, rivers flowing all around, and black neck cranes looking leisurely for food, Samye Monastery may be called a haven of peace and oasis of the Tibetan Plateau.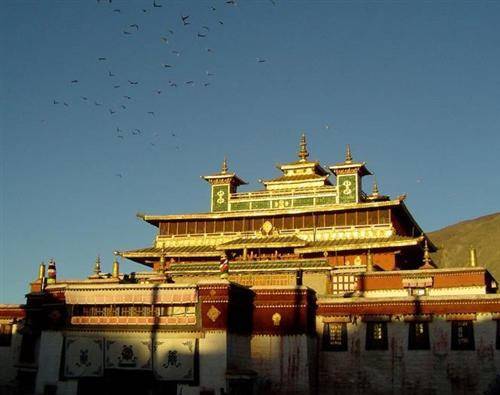 After several dynasties' worth of extensions, Samye Monastery now covers an area about 110,000 square meters, including more than 10 main halls. "Utse", the Great Hall, covers about 4,900 square meters and consists of 2 parts: the main hall and the winding corridors. Its structure and the decoration combine the styles of India, China, and Tibet. There are 3 entrances facing east, south, and north of the winding corridor.
The magnificent main entrance in the east is decorated with stone pillar inscribed with Buddhist scriptures on both sides, and a huge "xianbu (piece of cloth)" hanging under its porch. The left and right walls beside the main entrance are decorated with relief sculptures named "zhaxita knot" which stand for good luck and richness. The relief sculptures on the left wall are: the wheel of the law, milk bucket, "zhaxidele", Tibetan rice, conch, celestial grass, tsampa, and barley. On the right are: treasure umbrella, double fish, conch, flowers, auspicious knot, wheel of the law, and stone pillar inscribed with Buddhist scriptures.
Outside the main entrance of Utse is a Tobu stele 3.8 meters high with a pedestal of 0.8 meter, erected to honor Trisong Detsen's vow of piety to Buddhism. The inscription on it is Tibetan (which is translated into Chinese as "吐蕃金石录"). On both sides of the main entrance is a pair of stone lions. The lions are 1.2 meters high, 0.47 meter wide, and 0.76 meter long, and their shapes are simple with a
Tang Dynasty
(618-907) carving style. They are the most precious remaining stone sculptures in the monastery. The pedestal is in a square shape and carved with square lotus patterns.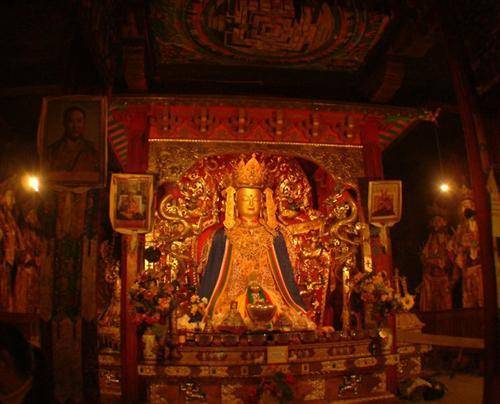 There is also a bronze bell sized 1.1 meters with a diameter of 0.55 meters with ancient Tibetan script on it. According to records, this was the first bell cast in Tibet. It is also very precious because it is rare to see bronze wares featuring minority's script. In the hall, there are 2 bronze Buddhas; one is Cibamen Buddha, the other is "Xiajituba". Both statues are 1.75 high and 1.1 meter wide. The winding corridor has 3 gates and is connected with the gateway.
There are double-posts under the corridor whose bases are carved with upside down lotus patterns or knot patterns, and the heads are carved with clouds and painted with colorful patterns. Altogether, there are 184 posts under the winding corridor, which looks very solid and grand. There are as well some very beautiful murals in the other halls with unique distinctive characteristics.
How to get there:
Take a Lhasa-Tsedang bus from
Lhasa
. The journey to the Samye ferry crossing takes about 3 hours. Or, take a bus from Tsedang to the Samye ferry crossing, about a 30 kilometers trip. Either route will charge 27 Yuan per person. Then, buy a ticket for 360 Yuan to rent a ferry to cross the Yarlung Tasangpo river. You may also enjoy the trip by taking a sheepskin raft. After going ashore, travel to Samye Monastery by truck for 3 Yuan.
Tips
1. Bargain with the ferry owners and drivers in advance in order to agree on a price so they do not charging you more later. You can follow the same route back to the Samye ferry crossing and take the Lhasa-Tsedang bus. Or, you may spend 5 Yuan to reach Yumbulagang by tractor. However, the most convenient choice is to pay 40 Yuan to rent a motor tricycle to make a roundtrip journey to the monastery. On the way back, consider stopping at Trandruk Monastery and lodging in Tsedang.
2. Because the trip to Samye Monastery is long, consider staying at least 1 night. There is a small hostel in the monastery, costing 15 to 40 Yuan per person per night. There are rooms with 4 beds each on the first floor, costing 30 Yuan or 40 Yuan a bed depending on whether there is a TV set or not in the room. It is actually rather unnecessary to have a TV set because you can only receive one channel, Tibet-1. The rooms are very clean. There is public washroom on the first floor without running water. Bring your own food as the food available is of poor quality.
Solo Adventure Tips:
Location:

How to Get There?

Taking a Lhasa—Tsedang bus in Lhasa, it'll take you 3 hours to get to Samye ferry crossing. Or you may take a bus from Tsedang to Samye ferry crossing, about 30 kilometers long. Either route will charge you 27 Yuan per person. Then you can spend 360 Yuan to rent a ferry to cross the Yarlung Tasangpo river. You may also enjoy the fun by taking a sheepskin raft. After going ashore, you'll spend 3 Yuan to Samye Monastery by truck.
Ticket Price:

Opening Hours:

9:00 a.m. to 16:00 p.m. Recommended visiting time:2-3 hours
More Tips:

Information accuracy:
We try to make the information on China Travel accurate when we write/edit it. If you find any outdated information, please inform us.