Black Dragon Pool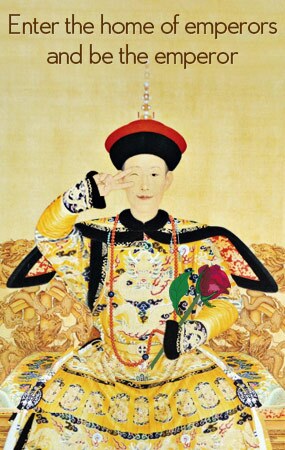 Black Dragon Pool (Heilongtan), is a famous pond in Jade Spring Park (Yuquan Gongyuan), located at the foot of Elephant Hill on the northern edge of the Lijiang Old Town in Yunnan province, China.
Running from the Sifang Street for about 1 km along the Jade River, there is the crystal clear spring: Spring Pool, which is also called Black Dragon Pool. The spring sprays out between the stones, making a pool of about 40,000 square meters with picturesque scenery around. Along with the ancient buildings punctuated among the beautiful mountains and rivers, visitors will surely lose themselves in the dreamy wonderland.
The front gate of the park is a archway with a board inscribed "玉泉公园" (Yuquan Gongyuan) hanging.
Attractions
The Dragon God Temple (Longshen Temple) was constructed by local Naxi people in the 2nd year of Emperor QianLong's reign (1737), and rebuilt for many times afterwards. It is the major building and center piece of the Park. In Chinese mythology Longwan is the God of Rain. So, in ancient time, Longshen Temple was called Longwan Temple. It was a place for praying rain.
There are several featured pavilions in the Dragon God Temple, like the Moon-Embracing Pavilion (Deyuelou) which originally built in the late Ming Dynasty. Deyuelou rests at the center of the lake.
The Five-Phoenix Tower (Wufeng Tower) also named as Fayun Attic was built during the Ming Dynasty (1601), which was formerly built in Fuguo Buddhist Temple. It is a combination of Naxi, Tibet, Bai minority and Han architecture style. The overlapped pavilion is decorated with colorful painting and has a height of 23 meters with 3 layers. Looking from a certain place around it, the pavilion shows 5 cornices, hence the romantic name.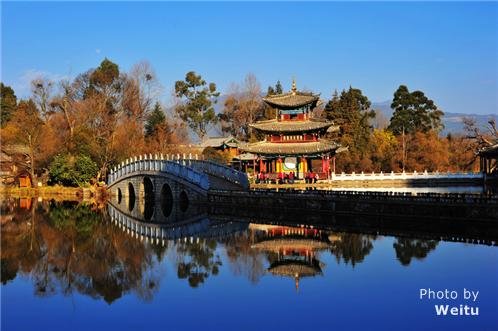 Suocui Bridge and Jade Emperor Attic are also ancient monuments in this park.
To the north, you may see the Jade Dragon Snow Mountain (Yulongxueshan) if weather permitting. Jade Dragon Snow Mountain is capped by white snow which is the source of the Jade Spring.
The Museum of Naxi Dongba Culture
The Museum of Naxi Dongba Culture is at the park's northern entrance and is a decent introduction to traditional Naxi lifestyle and religion. There are good English captions introduction. It collects plenty of culture objects and materials pieces. Visitors may enjoy the performance of the Dongba sacrificial ritual in this museum.
Nearby Attractions
Jade Dragon Snow Mountain
Located about 20 kilometers north of Lijiang City, Jade Dragon Snow Mountain is renowned for its snow cap, meadows and forest-clap slopes. The highest peak of it reaches an altitude of 5596 meters. There are many ski slopes on Jade Dragon Snow Mountain, where skiing is possible all year round.
Lijiang Old Town
Lijiang Ancient Town is located in outskirt of the present Lijaing City, Yunnan Province. The village's layout is unique, which is a perfect architectural fusion of Bai minority, Tibet and Han Chinese.
Tiger Leaping Gorge
With the average elevation of over 3,300 meters, Tiger Leaping Gorge is one of the world's deepest gorges, which is precipitous, grotesque and magnificent.
Solo Adventure Tips:
Location:

No.1, Minzhu Road, Lijiang City
How to Get There?

Taking bus No. 3, 4, 6, 7, 8 and get off at Heilongtan Station; 15 minutes' walking from the Lijiang Old Town; Or taking a taxi. 
Ticket Price:

Free for visitors having their receipts of Lijiang Old Town maintenance fee.
Opening Hours:

from 7:00 to 19:00
More Tips:

It takes about 15 minutes from Lijiang ancient city to the scenic area.
Our local experts are always ready to create you a hassle-free tour. Get an authentic experience by contacting one of our travel advisors.