Longmen Grottoes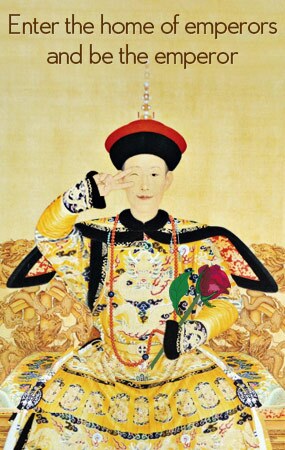 Longmen Grottoes were built around 493 A.D., about the time when Emperor Xiaowen of Northern Wei Dynasty moved the country's capital to Luoyang. Construction continued through several dynasties: Western Wei, Eastern Wei, Northern Qi, Sui, Tang and the period of Five Dynasties and Ten States. Within the 1000 meters long scenic area, there are over 100,000 statues in more than 2000 caves made over a period of over five centuries. Thousands of these sculptures and caves, preserved in the Yi and Que Mountains, were built at the height of construction during Northern Wei Dynasty and Tang Dynasty.
Guyang Cave, Mid-Binyang Cave, Lianhua Cave and Shikong Temple are representative of the caves and temples built during Northern Wei Dynasty. Guyang Cave contains a series of sculptures of some royal family members and ministers of the royal court after the capital had been moved to Luoyang. The sculptures in this cave demonstrated how dominant Buddhism was at that time. They are examples of the earliest Gandhara style grotto art in Luoyang: a fusion of traditional Chinese and foreign cultures.
Fengxian Temple
Perched at the south end of Longmen Mountain, Fengxian Temple has Longmen Grottoes' largest outdoor stone sculpture of Buddha: a 17.14 meters high Vairocana Buddha. Clad in kasāya (Buddha cloth), the sculpture's face is plump, with the corners of his mouth curved into a broad smile. Under the slightly droopy eye lids, his eyes radiate wisdom, kindness, calm and warmth. On his side, Buddha Ēnan looked serious and experienced, Buddha Kasyapa sincere and obedient, and Buddha Avalokitesvara handsome and reserved. Guardian kings with knitted eyebrows and Buddha's warriors look masculine and powerful. The vivid, diversified facial expressions and gestures of these statues are testaments to the achievements in the field of stone sculpture during the Tang Dynasty. It is said that Empress Wu Zetian of Tang Dynasty donated 20,000 guan (unit of money measurement) for the construction of this temple and attended the "Kaiguang" (seeing the sun) ceremony of the statue of Vairocana Buddha.
Xiangshan Temple
Xiangshan Temple is hidden amidst the verdant foliages of pines and cypresses half way up the east side of Longmen Mountain. The construction of this temple began in the first year of Xiping Period in Northern Wei Dynasty (A.D.516). Its renovation was ordered by Empress Wu Zetian in the first year of Tianshou Period of Tang Dynasty (A.D. 690). Seven stone statues of Buddha reside in the "temple with eight corners". In the sixth year of Taihe Period of Emperor Wenzong of Tang Dynasty (A.D. 832), one of its most accomplished poets, Bai Juyi, donated his earnings from writing the epitaph of Yuan Zheng (another famous writer in Tang Dynasty who was Bai's close friend) to the renovation of Xiangshan Temple. He also wrote an article titled On the Renovation of Xiangshan Temple. This further enhanced the importance of Longmen Mountain and Xiangshan Temple. Later he compiled his poems (more than 800) written during his 12 years' stay in Luoyang into a ten volume anthology with the title of Baishi Luozhong Ji, which literarily means "the anthology of Bai Juyi's poems written in Luoyang", and had it preserved in Xiangshan Temple. He spent many years here and called himself the "Retired Scholar of Xiangshan". Bai Juyi, together with eight of his contemporaries, Hu Guo, Jie Jiao, Zhen Ju, Liu Zhen, Lu Fu, Zhang Hun, Li Yuanshuang, Sen Ruman called themselves the "Nine Patriarchs of Xiangshan".
Bai Yuan
Bai Yuan is a park built at the base of the graveyard of the great poet Bai Juyi of Tang Dynasty. It lies atop the Peak of Pipa on the east side of Longmen Mountain. Covering 44 mu, it is divided into four parts: the Qinggu Section, the Graveyard Section, the Poetry Porch Section and the Administrative Section. Within the Qinggu Section, pathways are flanked by bamboos and waterfalls, with glimpses of many Tang style pavilions such as Letian Hall, Tingyi Pavilion and Songgang Pavilion along the way. In Letian Hall, there is a statue of Bai Juyi and inscriptions tracing his family tree. In the Graveyard Section, there is a semi-circular tomb, a tomb tablet, a flat tombstone made from a large rock, black-topped tomb gate and a flight of steps to the tomb. The area is surrounded by cypresses and peonies. On the tombstone is China's largest stone book: the biography of Mr. Zuiyin (Bai Juyi). To the north of the Graveyard Section is the Poetry Porch Section, within which are the Daoshi Study and CuiYue Pavilion. Here, stone scriptures, paintings and calligraphies of the poems of Bai Juyi done by contemporary artists are displayed; as well as various books about his life and books that he wrote. Surrounded by rivers and mountains, Bai Yuan is one of the most famous scenic attractions in Luoyang.
Twenty Products of Longmen
The Twenty Products of Longmen refer to the twenty inscriptions that recorded the statue-making process in Longmen Grottoes. Of the twenty inscriptions, nineteen are in Guyang Cave and one is in Cixiang Cave. These inscriptions also expressed the statue doners' wish to avoid disasters and their prayers for good luck and happiness. The calligraphy combined the strong points of the Li style of Han Dynasty and the Li style of Jin Dynasty.
Solo Adventure Tips:
Location:

12 kilometers south of Luoyang City
How to Get There?
Special bus lines for tourists like No.81, No. 53, No. 60 can take you from Luoyang Railway Station within 40 minutes.
Ticket Price:

120 yuan per person
Opening Hours:

In Spring, Summer and Autumn: from 7:00 to 18:30
In Winter: from 7:00 to 17:30
More Tips:

From April 1st to May 10th every year, there held Peony Flower Show in Luoyang. Tourists can enjoy the flower show and visit Longmen Grottoes simultaneously. Besides that, the best time to visit Longmen Grottoes is in the cool autumn.
Our local experts are always ready to create you a hassle-free tour. Get an authentic experience by contacting one of our travel advisors.