White Horse Temple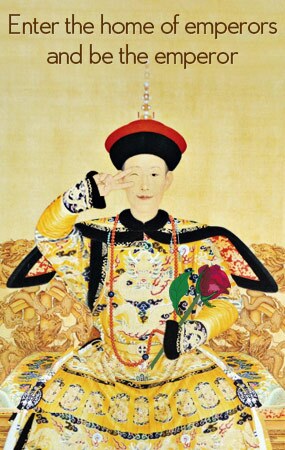 White Horse Temple was the first officially built Buddhist temple in China. Its construction was closely related to the famous historical Buddhism event "Yongping Qiufa": the pursuit of Buddhist doctrines by Emperor Mingdi in Yongping period of Han Dynasty in China. Legend has it that Emperor Mingdi of Han Dynasty, while asleep in his south palace one night, dreamed of a golden-colored god with bright halos flying over his palace. The next morning, he told his ministers about the dream, and they suggested that the god may be the Buddha from India. As a result of this revelation, the emperor decided to sent two of his courtiers, Cai Yin and Qin Jing, as commissioners to the West Region in pursuit of Buddhism. When Cai and Qin arrived in Yuezhi (now in Afghanistan), they came across two renowned Tianzhu (The name that ancient India was called in ancient China) Buddhist monks who were preaching Buddhism doctrines there. Cai and Qin invited the two monks to go and preach in China. Carrying their Buddhist scriptures and statues on a white horse, they finally arrived in Luoyang, the ancient Chinese capital, in the tenth year of the Yongping period (A.D. 67). Upon their arrival, Emperor Mingdi gave the mandate to construct a temple after the style of ancient India architecture and named it "White Horse Temple" in their honor.
Over the years, the White Horse Temple had been reconstructed and renovated numerous times, but the renovation during the period of Empress Wu Zetian in Tang Dynasty was the largest and most complete. Facing the south, the rectangular complex consists of Tianwang Palace, Dafo Palace, Daxiong Palace, Jieyin Palace, Pilu Palace, Qiyun Pagoda, and others. These imposing palaces contain vivid, lifelike statues. Around White Horse Temple, there are scenic spots related to many historical events.
Within the time-honored gates of White Horse Temple, amid groves of flourishing cypresses on the west and east side of the courtyard, are the well known "Tombs of Two Monks". The stele of the eastern tomb bear the inscription "Tomb of Qidao Yuantong, Master Moteng of Han Dynasty", whereas the stele of the western tomb has the inscription "Tomb of Kaijiao Zongchi, Master Zhufa of Han Dynasty". Two monks from ancient India and China, Jiashimoteng and Zhufalan, were buried here. Their honorary titles were granted by Emperor Huizong of Song Dynasty. Two additional statues of these monks were built by their Chinese disciples within Qingliang Palace.
Qingliang Palace, also called "Courtyard in the Sky", is another famous attraction in White Horse Temple. It is said that during the Kangxi period of Qing Dynasty, one of its abbots wrote a very eloquent poem to glorify its splendor. The complex is 43 meters long, 33 meters wide and 6 meters high. Constructed of black bricks, the building is of ancient oriental architecture. The Pilu Palace, Palace for Vairochana Buddha, is the main building of this complex. The up-curved eaves resemble a bird spreading its wings skyward. Supporting minor palaces and abodes of monks with their own small courtyards were constructed in a neat and orderly manner. Within these courtyards are hundred year old cypresses and laurel trees, giving the area a feeling of tranquility. It is said that Qingliang Palace was the place where Emperor Mingdi of Han Dynasty spent his childhood. Later, it served as his summer resort and was also the place where the ancient Indian monks lived and translated Buddhism scriptures.
On the east side of the gate of White Horse Temple, there is an exquisite towering pagoda of classic elegance called Qiyun Pagoda (literally meaning as high as the clouds). Constructed of bricks and square in cross section, it has 13 stories and is 35 meters high. The structure distinguishes itself as a very unique and rare pagoda in China. Qiyun Pagoda used to be a dagoba of White Horse Temple. The pagoda that exists now was rebuilt in the 15th year of Dading period of Jin Dynasty (A.D. 1175) and is the oldest building preserved in Luoyang today.
Solo Adventure Tips:
Location:

12 kilometers east of Luoyang City
How to Get There?
You can take a No.56 bus from Xiguan and get there in about one hour.
Ticket Price:

50 yuan per person
Opening Hours:

7:30-17:30
More Tips:

It takes about half an hour to visit the temple.
Our local experts are always ready to create you a hassle-free tour. Get an authentic experience by contacting one of our travel advisors.