Macau Food
Last updated by nancy at 2017/5/15
Macao is the meeting ground of cuisine from across the world. International cuisine is well represented here by Italy, France, Brazil, … etc. Portuguese cuisine, one of Macao's tourist draw-cards, is made up of the Portuguese style and the local style with elements taking from Portugal, India, Malaysia and China's Canton.
Macao boasts of a dazzling array of Portuguese wines. As a port enjoying duty free privilege, Macao has attracted global liquor suppliers in droves. Traditional Chinese wines have also gained a footing in the local liquor scene.
Macao's bakeries are booming with all sorts of deserts, snack food, egg and cheese rolls, etc. They also have those delights for you to take home as a gift for your family and friends.
Macau Featured Food:
Portuguese Style Egg Tart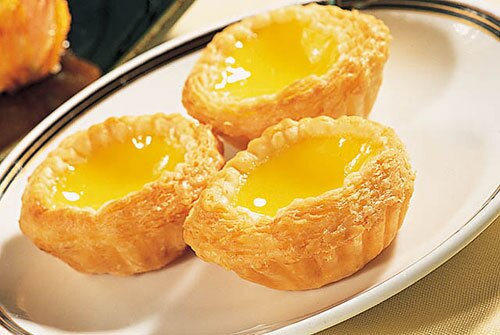 Portuguese-style egg tarts are a dearly loved desert in Macau. While the recipe is easy to follow, the method to make them is quite a challenge technically. The egg tarts are covered with crispy crusts with the yolk sitting on the top. The egg tarts' flaky crusts and the soft fillings never fail to amaze the taste buds.
Egg tarts have two styles: the original and the Portuguese style. Caramel is not a feature in the original style as it is in the Portuguese style to enhance its tastiness. And the Portuguese style egg tarts enjoy a worldwide popularity.
There are two famed egg tart bakeries in Macao: the Andrew's and the Margaret's. The two bakeries are named after a divorced couple, Andrew, the husband, Margaret, the wife. After their marriage breakdown, Andrew opened the bakery on the island of Coloane. His ex-wife, Margaret, opened another one to compete with him. While Andrew's egg tarts are very tasty, Margaret's egg tarts are more sugary.
African Chicken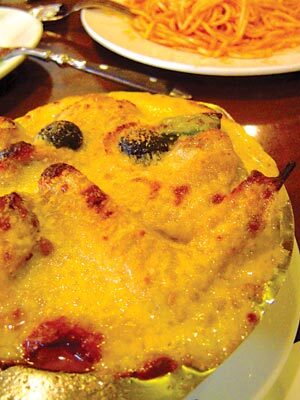 Taking inspirations from African and Indian cuisines, the Portuguese incorporate ingredients such as potatoes, onion, egg and curry salt into their whole chicken recipe to produce their own well-acclaimed African chicken. Their African chicken is full of flavors. The crispy roasted chicken is both delicious and spicy fortified by not so hot curry. Those who dislike spicy food cannot avoid the famed dish. African chicken is often served as the main course on the Portuguese dinner table and it tastes better with a cup of wine. It is a must-have dish in Macao. Treat yourself to it and you'll know how delicious it is.
New York Cheese Cake
New York cheesecake is one of the well-known deserts in Macao. The making of the cake requires both techniques and precision. To make the cheesecake, you need to have the right ingredients such as cream cheese, sour cream, eggs, vanilla essence, etc., and for the cake base, you need digestive cookies and melted butter.
When you have your ingredients ready, it's time to start to make the cake. First, you need to take a big baking pan, put some water (not too much) in it and leave it in the oven. Preheat the oven to 180 degree C. Next, mix cream cheese with some white sugar and beat it until the sugar is well blended. Then, add some sour cream into the cheese mixture and beat it. Add yolk separately for three times as well as some vanilla essence. Finally, line the pan with baking paper at the bottom and on the sides before baking the mixture in the oven for 30 minutes. Then you need to take the cake out of the oven to cool a bit. Bake it again in the oven for another 15 minutes u
Vegetable Soup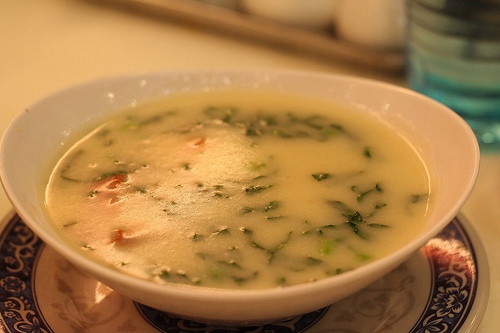 Vegetable soup is a must-have and immensely enjoyed food at Macanese dinner tables. The Portuguese-style vegetable soup is a thick soup mixed with minced potatoes, sliced green vegetables, Portuguese sausages and olive oil. Almost all restaurants and eateries list the soup on their menus. We recommend you have a bowl of this Portuguese style vegetable soup while enjoying your gourmet food. The soup will help refresh your palate and aid your digestion after a rich and sumptuous meal. If you have consumed a lot of wine or beer at the dinner table, have some of the vegetable soup to stay sober.
Codfish Croquettes
Bacalhau" in Portuguese language, is Portuguese's favorite fish dish. It is widely used in Portuguese cuisine. The cod, after being applied with salt, is kept in sealed containers for preservation. When it is ready for cooking, you can just go to the container for it. The firm flashy cod meat is used in many dishes. Its fishbone is great for soup. No matter how many ways you cook it --- fry, stew, roast or boil, you simply cannot forget how yummy it tastes.
Codfish Croquettes' key ingredient is the cod meat. Sweet potato powder, onion and green pepper are used proportionately to bring up flavors. Ball-shaped or flat-shaped, when they are cooked golden brown, they are tasteful and crunchy but won't make you feel greasy.
Page 1 of 1 First Previous 1 Next Last