The Nanjing Confucius Temple can be dating back to the year 1034 in the Song Dynasty. The temple was built to worship and consecrate Confucius. Confucius was a great educator and philosopher in ancient China. The temple suffered damage for several times and the most serious time was in the year 1937 when Japan occupied Nanjing and carried out the bloody massacre.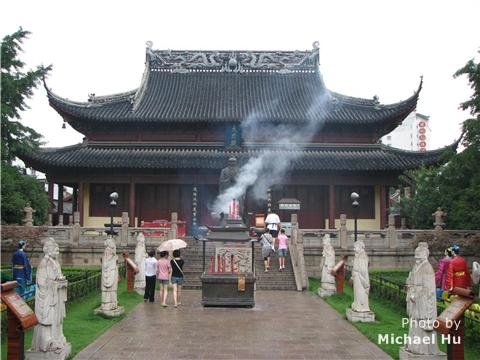 What to Do
Feel the History and Culture
Built by the side of Qinhuai River, Confucius Temple means not just a temple. Confucius is a great educator in ancient China and his idea on education influenced several graduations. Even now Chinese students recite the well-known articles and sayings. There was an old preserved building where scholars took their imperial examination.
Visiting Confucius Temple at night will give visitors another feeling. Qinhuai River was beautiful by night, so were the old buildings when they were all lit up. There are many shops selling all sorts of tourists stuff. Around the area, many shops and restaurant can be found and there are modern shopping centers just across the road.
Shopping
Confucius Temple is not just a temple. On the other hand, it is also a good place for shopping. This area well preserves some traditional Chinese architecture. It has some retail stores selling local artistry and souvenirs. Visitors can purchase hand painted snuff vases, buy some traditional Chinese stamps personalized in a short time, and find various styles of chopsticks, anything you may need to purchase as a gift or souvenir.
Come to visit Nanjing, there are famous local dishes visitors cannot miss. The must try food is the duck blood vermicelli soup and must buy is the smoked duck meat as shared by most of the visitors.
Nearby Attractions
In front of the Confucius Temple, the Qinhuai River flows and the night landscape is very charming. Wuyi alley is one of the most ancient streets in China and also a must-visit place.
Solo Adventure Tips:
Location:

152, Gongyuan Street, Qinhuai section, Nanjing city, next to the GongYuan Street in the north bank of Qinhuai River
How to Get There?

Tourism 2, Tourism 4, 1, 7, 31, 40, or 301 to Confucius Temple stop;
2, 4, 16, 33, 44, 49 to the Changle Road stop
Ticket Price:

Free
Opening Hours:

Dacheng Hall (大成殿):
8: 00 to 21: 30
The Jiangnan Imperial Examination Centre (江南贡院):
8: 30 to 22: 00
The former residence of Wang Xie (王谢故居):
Friday to Saturday 8: 00 to 21:00;
Monday to Thursday 8: 00 to 20: 30
The former residence of Li Xiangjun (李香君故居):
8: 30 to 20: 30
More Tips:

Optimum travel time: There are various activities in different seasons, like Lantern Fair in spring festival, the "Summer of Qinhuai River" entertainment activity in summer, the Gourmet Festival in autumn, etc. You can choose your favorite time according to your interesting.
Information accuracy:
We try to make the information on China Travel accurate when we write/edit it. If you find any outdated information, please inform us.