Qixia Mountain, named She Shan Mountain (摄山) in the ancient time, locates at the northeast of Nanjing. There are four scenic spot of appreciating maple: Fragrance Hill in Beijing, Qixia Mountain in Nanjing, Tianping Mountain in Suzhou and Mount Yuelu in Changsha. There are several historical sites and places of interest, and the whole mountain dressed up in red leaves in late autumn is a highlight.
It is surrounded by mountains in three directions and borders Yangtze River to the north. The total scenic area around Qixia Mountain runs to 860 hectares. Due to the numerous places of interest and numerous stones and rocks, Qixia Mountain has become a well-known tourist resort.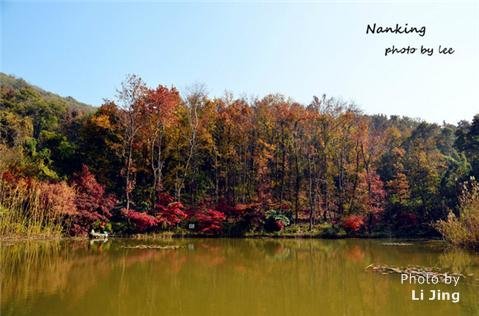 What to See
Mirror Lake
The first attraction of Qixia Mountain is Mirror Lake. There is a pavilion in the lake, which is connected with the bank through the Jiuqu Bridge. Eastwards, a crescent-shaped lake lies.
Red Maple in Late Autumn
Qixia Mountain is famous for its red maple leaves. There is an old saying of Fall Qixia in Ming Dynasty. When the autumn comes every year, the entire mountain will take off its green suit and be dressed up in red. When it is late fall, the mountain is full of red just like the splendid sunglow falling. Its special charming appeals many tourists to visit.
It is one of the four famous red maple scenic areas in our country. There are various maples on the Qixia Mountain. Besides the sweet gums, there are red maples, Japanese maples, buerger maples, and beeches, Chinese pistachios. Walking on the mountain with the red leaves on the ground is like walking on the red carpet.
Qixia Temple
There is a saying, "One Qixia Mountain is a half of Jinling's (Nanjing's ancient name) history." There are historical scenic spot on the Qixia Mountain with profound culture meanings. Qixia Temple, the well-known Buddhist temple, is located on the mountain. It was once recognized as one of the Four Largest Temples in history. The Thousand Buddha Cliff, the Royal Stele and the Sheli Pagoda consist of critical historic relics of the temple.
Wave-like Rock
On the south slope of Pingshan, there is a marble rock. Its surface is like a wave and got the name "Wave-like Rock".
Nearby Attractions
Nanjing is a natural and cultural city. Near Qixia Mountain, visitors can also feel the natural scenic spot on Purple-golden Mountain and the culture at Confucius Temple.
Solo Adventure Tips:
Location:

Qixia district, Nanjing city, Jiangsu province
How to Get There?

1. Take the south-Qi Line bus from the Nanjing railway station.
2. Take metro No. 2 to the Maqun stop and transfer to bus 138.
Ticket Price:

Slack season: 20Yuan/person
Hot season: 40Yuan/person
Tips:
1. An adult can buy an adult ticket and take a child under 1. 3 m.
2. An eld can enter for free by showing the eld ticket.
3. Before 6: 30 in the morning, the Qixia Mountain scenic spot is free for morning exercise.
Opening Hours:

6:30 to 17:30
More Tips:

1.It is best for the tourists during autumn for the red leaves of maple trees.
2. You can taste special vegetarian foods in QiXia Temple; in addition, there are several restaurants for the tourists if you don't like them.
3. Various souvenirs like bookmarks, decorations are purchasable.
Information accuracy:
We try to make the information on China Travel accurate when we write/edit it. If you find any outdated information, please inform us.