Nanjing Shopping
Nanjing Local Products:
Nanjing handcrafts are very delicate, among which the Nanjing Cloud Brocade is the most famous. Besides, the Rain Flower Stone (Yuhuashi) is also a popular gift for friends.
Yuhua Tea (yuhua Cha)
This is said to be one of the ten renowned tea categories in China. The green and erect tea leaves are considered a metaphor for the spirit of patriotic soldiers, giving the tea the name of this patriotic memorial place. The tender leaves are picked before Grain Rain [6th solar term] and processed with great care and have a delicate appearance and fresh taste. The tea has the healthy effect of protecting against food poisoning, refreshing the body, quenching thirst and cleaning the system. It is often presented as a gift to friends around China and the world.
Rain Flower Stones (yuhua Shi)
They mostly come from the area of Yuhuatai (Flower Rain Terrance, a historical memorial place for Chinese martyrs in the city), Liuhe and Jiangpu in Nanjing. The good quality one is a kind of precious agate . These hard polished stones when placed in water reveal colorful patterns. Folk artists make them into ring covers, ear or necklace pendants or other fine jewelry. Put them into a fishbowl or a vase to make the patterns emerge. It is a popular gift for friends.
Lily
Lily, also called Lilium brownii var.viridulum Baker in Scientific name, is planted in Zhong Mountain of east suburb in Nanjing. Lily has elegant feature and the delicate fragrance, with the moral of conjugal felicity (Happy Marriage). In addition, it has medical function. It can clear away heat and toxic material, relieve cough, promote digestion and so on. So it is a good choice fro present.
Najing Cloud Brocade
Named for artistic cloud pattern weaves, Cloud Brocade is a traditional silk product originally from Chinese Southern Dynasties (420 - 589). In the Qing period (1644 - 1911), cloud brocade production reached its height when a brocade and embroidery production institute called Jiangning Zhizao was established in the city. So it wins the fame "three famous brocades" with Song Brocade of Suzhou and Shu Brocade of Sichuan. Fantastic brocade clothes were produced for emperors and royal families. Today, cloud brocade products include costumes, ethnic clothes, cushions, quilt covers, carpets, wall hangings and other craftworks. Wall hangings with traditional Chinese patterns would be both a good choice for room decoration.
Jinling Folding Fan
Jinling folding fan is not only the thing for keeping cool, but also the artwork with intricate making. There are many styles like bamboo folding fan, silky mandarin fan and bone fan, etc. They are so popular among the tourists, especially "Jinling Art Fan".
Cherry
The region of Xuanwu Lake is wealthy in cherry. And the Ying Zhou(Ying in Chinese means cherry in English) in Xuanwu Lake got the name for this reason. Here you can find many varieties, among which Dongtang cherry is the best one with big size and delicious taste.
Velvet Flowers
Nanjing is the home to velvet flowers. Velvet flower is a handmade silk artwork and it is regarded as a lucky charm in China, particularly during weddings and festivals. An artist only can make about 70 centimeters length of velvet flowers a day for its complicated manufacturing process. Nanjings artists often engrave different features on velvet flowers such as animals, clouds and flowers etc. With its elegant and delicate features, velvet flower become a beautiful and famous folk craft in Nanjing and has been exported to all around the world. It is popular among visitors and gains great reputation.
Paper Cuts
Paper cutting is a famous folk art with a long history in China, which refers to cut papers into various patterns by scissors such as paper-cuts for window decoration, patterns of Chinese Zodiac etc. The paper cuttings in Nanjing, Jiangsu Province are unique. The paper-cutting artists can make delicate artworks without making sketches. Nanjings paper-cut work is renowned for its complicated lines and curves. They are as smooth as silk. Visitors can find the Nanjings paper-cut work has the features: flower with flower, pattern within pattern, roughness with exquisiteness, raggedness and lifelikeness. Paper cuttings are not only placed on wedding dowries as a blessing but also placed on halls and doors during celebrations. It is a good souvenir and a popular artwork for friends.
Nanjing Shops and Stores:
The main shopping streets in Nanjing include the shopping area near Xinjiekou (the city central area), Hunan Road in the northern part of the city near Xuanwu Gate and Taiping Nan Road and Fuzimiao area in the south.
Hunan Road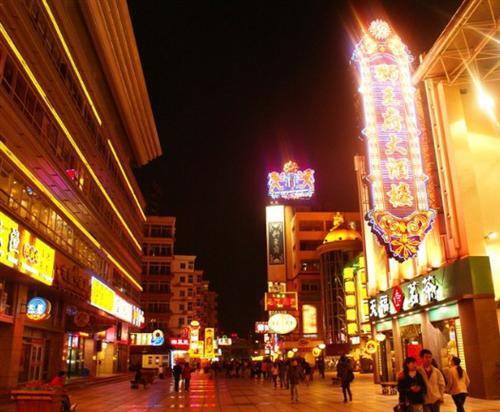 With the length of 1,100 meters and the width of 30 meters, Hunan Road (湖南路)boasts 238 stores of a variety. Its located in the northwest of Nanjing City, covering the business area of 87,000 square meters, which features famous brands at home and abroad, quality goods, topflight restaurants and big department stores. Hunan Road is one of the most prosperous streets in Nanjing, which is crowded in the daytime and bustling and bright at night.
Xinjiekou
As the central landmark of the city, the downtown area of Xinjiekou is both the transport and business center of the city. Hotels including Jinling Hotel, a metro station, public buses and other tourist facilities provide tourists with the convenient accommodation and access to every corner of the city. Department stores, brand-name stores and large shopping centers in this area sell dazzling world-famous brands.
Confucius Temple Market
This all-round wholesale center is the retail source for many shops and stores with about 10,000 square meters. You can find anything here ranging from socks to electronic toys. Although a wholesale market, even an individual customer coming to buy a T-shirt won't be refused entry.
Jinying International Shopping Center
Located in the area of Xinjiekou, Jinying International Shopping Center, a super modern shopping mall, covers 14.8 thousand of square meters. Here you can enjoy shopping, tea and coffee, food, and entertainment as well.
Taiping Nan Road
Walking eastward from the Xinjiekou Crossing you find Taiping Nanlu, an avenue running north - south to Zhongshan Donglu. The avenue is a home to brandname shops selling a variety of items from gold and jade ornaments to home appliances.