Philippines Food
Last updated by bosten at 2017/5/16
Rice and corns are the main food of the Philippine people. Sometimes, they also eat cassava, together with vegetables and fruits. Farmers are used to pounding rice before cooking. They boil rice in pottery jars or bamboo tubes and they grab the rice with hands. The Philippine people's favorite food is the rice boiled with coconut juice and boiled cassava with coconut juice. When they eat corns, they would first dry the corns in the sun, grind the corns into powder and then make different kinds of food with the corn powder. People of the upper class and the middle class in the cities mainly eat western-style food.
The famous cuisines in the Philippines include roast suckling pig or dechon, Balut which is the boiled half-hatched eggs, Atchara which is fried papaya, onion, vegetable pieces and pepper, Lumpia which is the mixture of cooked shrimps, chicken, pork and coconuts, Adobo which is the stewed chicken or pork with vinegar, Crispy Pate which is roasted pig leg, Kare-Kare which is a kind of fried ox tripe and so on. The Philippine people like to season with vinegar, sugar and chilies when cooking. According to rules in Islam, the Philippine Muslims do not eat pork and refuse to have hard drinks. Like other Malayans, they like eating fish and do not like milk. Their cooking style is simple. They like pungent ingredients and they grab food with their hands when eating. The habit of chewing betel nuts is quite popular among the Philippine Muslims.
The Feature of the Local Cuisines in the Philippines: The Philippine people put vinegar and a lot of pungent ingredients such as garlic in any dish and even soup they cook. The combination of western flavor and eastern flavor create a unique taste.
There are a large variety of fruits in the Philippines. There are many kinds of bananas, each kind of which having its own unique way to eat. For example, the banana can be boiled and covered with black sugar, tasting like taros. There are some snacks like fried bananas and roasted bananas which can be seen everywhere. There are also other fruits that are both cheap and tasty such as mangos and rambutans. In addition, there is a cumquat-shaped fruit with green peels which are used by Philippine people when they are cooking. It is called the Philippine lemon.
Philippines Featured Food:
Lechon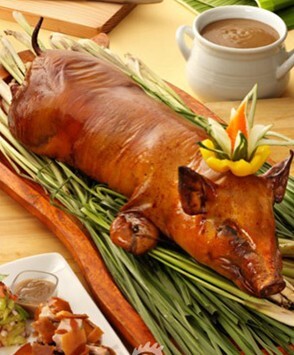 Lechon is a typical cuisine for people in holidays. It is a kind of roasted pork. Adobo is a home cooking made of chicken and pork. The chicken and pork are pickled with vinegar, so it is quite tasty. Beside, the vinegar makes it hard to spoil. Some Adobo is cooked with cuttlefish and oyster. There are many more typical Philippine cuisines made of seafood as well. The rice in the Philippines tastes not very good.
Page 1 of 1 First Previous 1 Next Last