The reach of the upper reaches of Mekong River within China is named Lancang River. Lancang River is one of the biggest rivers in Southwest China, the longest river in Southeast Asia, the 4th longest river in Asia and the 9th longest river in the world. Mekong River flows through a number of countries, including Laos, Burma, Thailand, Cambodia and Vietnam. With the total drainage area of 810,000 square kilometers, Mekong River is hailed as the Danube in the East. In China, Lancang River flows through Qinghai, Tibet and Yunnan provinces with the total length of 2,179 kilometers. Within Yunnan Province, Lancang River is 1,247 kilometers long with the drainage area of 165,000 square kilometers. The river flows into Laos and Burma from Mengla County of Xishuangbanna Dai Autonomous Prefecture in Yunnan Province, becoming the boundary river of the 2 countries, which is named Mekong River.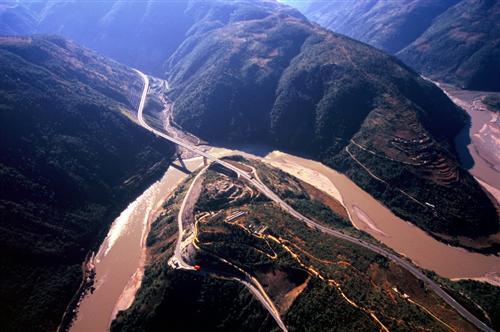 Lancang River
Lancang River system mainly consists of trunk streams and a large number of tributaries, which contains 138 tributaries with the drainage area of over 100 square kilometers, 41 tributaries with the drainage area of over 1,000 square kilometers. It features extremely big natural fall which is from 2,000 to 3,000 meters. The riverways of the upper and middle reaches of Lancang River go through Hengduan Mountains with streams, which forms dangerously steep V-shaped gorges with high mountains standing facing each other on both sides. In the lower reaches, there are lots of river valleys and dams along the river. In the riverway, there are dangerous shoals and rapids. On the mountainous area of the upper reaches, there is a large quantity of firn, and the middle reaches go through high mountains with rapid flow and narrow drainage area.
Abundant Biological Resources
Due to the areas where Lancang River flows through features particular climates and geographical conditions, Lancang River and Mekong River system contains the world's most abundant ecological system of freshwater fishes. In the whole area, there are over 1,700 varieties of fishes, and the fish diversity ranks only second to that of the Amazon River basin. In the year 2000, Lancang-Mekong River Basin was identified as the most important freshwater fish ecological region by the World Wildlife Fund. The abundant fish resources contain the highly endangered Pangasianodon gigas, Orcaella brevirostris and common fishes with great commercial value. Besides, there are also various water birds and some other ample aquatic species, such as terrapins and mussels.
Charming Scenery
Cruising Lancang River, appreciating the scenery of Ganlan dam and feeling the rich custom and beauty of the Dai nationality villages are the highlights of touring Xishuangbanna. The flow path of Langcang River in Xishuangbanna is 158 kilometers. The cruise of Lancang River consists of 2 sections. The first section is from Jinghong to Tiger Leaping Rock, which boasts turbulent river water, changeful scenery, peculiar peaks, jagged rocks, various plants landscape and rare and precious animal ecology on both sides. The second tour section is cruising from Jinghong via Ganlan dam to the junction of China, Laos and Burma. The low-lying Ganlan dam features wet and hot climate, which boasts tropical sight, such as the verdant scenery throughout the year, Ficus altissima like umbrellas, coconut groves, bamboo towers of the Dai nationality, fernleaf hedge bamboos, jack fruits hanging on the branch, banana trees and cactus.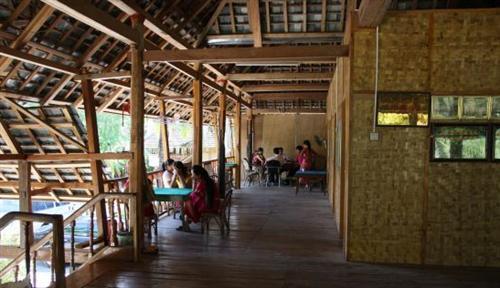 Bamboo tower of Dai nationality
Besides, women in bright-colored and gorgeous dresses get together from every household with bamboo baskets on their shoulders, who are just like a flock of peacocks rising and dancing in a happy mood.
Tips

Best Time to Visit: November to the following April
Suggested Visiting Duration: 3 hours
Ticket Price for ropeway: 160 yuan per person
Customize a Tour to Lancang River
If you'd like to visit Lancang River while traveling to China, China Travel can customize a tour to Lancang Riverfor you, which can save your time and money and trouble-free. Please feel free to tell us your idea!
Information accuracy:
We try to make the information on China Travel accurate when we write/edit it. If you find any outdated information, please inform us.