Qianjia Zhai Scenic Area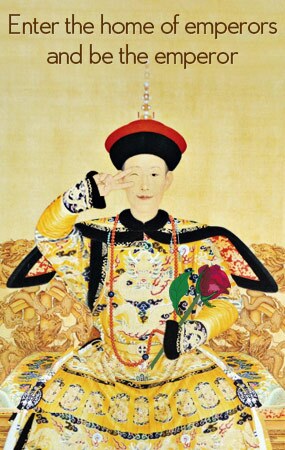 Qianjia Zhai Scenic Area, located in the northeast of Zhenyuan County of Pu'er City in Yunnan Province, is the provincial-level scenery area. It consists of 49 scenic spots with the total area of 44 square kilometers. Qianjia Zhai Scenic Area features beautiful water, majestic mountains, quiet forest and extraordinary scenery.
Wild tea trees: According to the experts, the top tea tree, which is 18.5 meters high and 2700 years old, is the oldest and biggest wild tree that ever been found so far. It's situated on Ailao Mountain which rises more than 2600 meters above sea level. At the top of the mountain, tourists can enjoy an unparalleled scene of natural beauty unfolded in front of their eyes. Meanwhile, As Yunnan is recognized by the scholars at home and abroad as the home of tea trees, the discovery of the top wild tea tree helps scholars to make scientific research on the origin, feature, growing environment and development of tea.

Qianjia Zhai Ancient battlefield sites: In the Qing Dynasty, a large number of people escaped to the mountain in order to keep away from the war. They built their houses in the forest and thousands of families once lived there. So it was named Qianjia Zhai. At the present, there are still remains of the houses. The houses with ancient trees touching the sky bears witness to a period of history.

The Feilai Temple: The Feilai Temple, which was built in the Ming Dynasty, is constructed of cement and wood. There are clay sculptures in it, such as Guanyin Bodhisattva and gods. Though the temple is a little bit shabby, there are still a continuous stream of worshippers come to the temple and fall down in adoration before Buddhist images because of its long history. It is said that the wooden beams could not be carried on the mountain because the mountain was too high and the path was too narrow and steep. However, it was rather surprising that the wooden beams flew on the mountain overnight. It was said that the wooden beams were under the help of the god. So it is called the Feilai Temple. Inside, there are sheer peaks and grotesque rocks, and caverns formed by karst geomorphology. The Liangfeng Cave, in which a cold wind is always blowing, is another unique experience.
Solo Adventure Tips:
Location:

located in the northeast of Zhenyuan County of Pu'er City in Yunnan Province
How to Get There?

There are several buses from puer City to Zhenyuan County.
Ticket Price:

10 yuan per person
Opening Hours:

from 8:00 to 18:00
More Tips:

Suggested visiting time: from May to September
Our local experts are always ready to create you a hassle-free tour. Get an authentic experience by contacting one of our travel advisors.