Luhuitou Park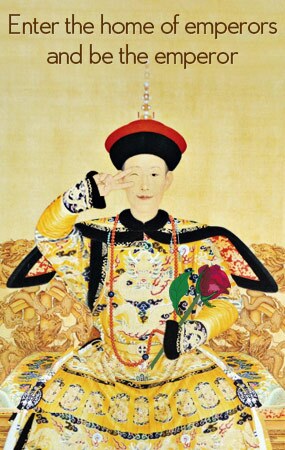 Luhitou Park is located on a small peninsula on the southern tip of the island of Hainan, which itself lies below the mainland Chinese peninsula that forms the southernmost point of Guangdong Province. Hainan Island, which fittingly belongs to Hainan Province, corresponds to China's southernmost point.
Luhuitou Park itself is situated on Luhuitou Mountain near the seashore, about 4 kilometers from the city of Sanya, the island's second-largest city although not its capital (that privilege is held by the city of Haikou. Sanya, in the meantime, holds a more enviable privilege: it is China's only tropical city). The main peak on Luhuitou Mountain ("Luhuitou Hill" might be a more apt designation), which is synonymous with Luhuitou Peninsula, has an altitude of 275 meters.
The hill gets its name from the fact that it is roughly in the shape of a deer looking back over its shoulder, which lends the hill a local legend of its own. There Besides the usual mix of Han Chinese, Hui, and others, there is a large contingent of Li and Miao nationalities on Hainan Island. This is because Hainan Island was once a place of exile – a sort of Siberia, or Limoges – during China's imperial past which explains how this phenomenon came to be. However, the natives have many colorful stories to explain the distribution as well.
There are numerous winding paths offering refreshing strolls with some spectacular views. The panoramic views from Luhuitou Mountain are perhaps the best reason to visit the peninsula. There is also an observation station here, named after Halley's Comet, and a number of other scenic sites such as Monkey Mountain, Deer House, Turtle Heaven, Immortal Pond, and of course the 9 by 12 meter statue commemorating the aforementioned romantic "Deer Looking Back" legend. Then of course, there is the island's culinary specialty that can be tasted everywhere: the red coconut.
In Luhuitou Bay below, one can go scuba diving. Here one will find a whole range of colorful fish in all sizes, as well as the usual coral scenery and other fascinating underwater treasures that are only found in a tropical climate. And speaking of climate, Hainan Island is regarded as having the best climate in all of China, and its air quality is second only to that of Hawaii, which ranks as the best air quality in the world. Sanya is also known for its laid-back atmosphere.
All of this makes a visit to Sanya and Luhuitou Park the perfect holiday destination for everyone, from the solitary hiker in search of a bit of not-so-rugged solace, to honeymooning couples in search of a beautiful, unhurried setting in which to celebrate their union.
How to Get There?

From downtown Sanya, take either Bus No. 2 or Bus No. 4.
Opening Hours:

From 7:30 AM to 10:30 PM, daily.
More Tips:

Minimum recommended time for a visit to Luhuitou Park: half a day.
Our local experts are always ready to create you a hassle-free tour. Get an authentic experience by contacting one of our travel advisors.