Yalong Bay Tourism Zone
Where Is the Yalong Bay
Yalong Bay is situated on the southern coast of Hainan Island in a counter-clockwise direction from Sanya Bay, on whose coastal land strip the city of Sanya is nestled, with Dadonghai Bay, the southernmost bay belonging to Hainan Island, sandwiched in between Sanya Bay and Yalong Bay.
It radiates in a slightly southeasterly direction from the coastal land strip that is licked by its waters and known as the Hawaii of Hainan Island, and thus of China. In fact, the bay is also situated on the same latitude as Hawaii.
Tourist Activities in the Yalong Bay
Yalong Bay Tourism Zone is a world-class tourist resort under continual development, with a planned total area of 18.6 square kilometers that either already encompasses or will encompass seaside parks, international-class hotels, holiday villages, conference centers, deluxe villas, an international-standard 36-hole golf course, yacht club, marine world, and water activity center, plus options for other compatible activities not yet finalized.
Besides its justifiably famous 7 kilometer long, crescent-shaped sandy beach, Yalong Bay Tourism Zone comprises many spectacular attractions on its land side. There is a stretch of partially-forested rolling green hills that is popular with visitors in search of a good stroll in the purest of air, and which offers some excellent views of the beach below and the sea beyond. As well, Butterfly Valley with its butterfly museum in the shape of a – what else? – butterfly, and an adjacent, net-covered, outdoor butterfly garden. 
Yalong Bay
The garden is specially planted with flora that constitutes the ideal habitat for the selected butterfly varieties (which include varieties famous both in China as well as beyond, such as the Ornithoptera Goliath Oberth, the Brassolidae family of butterflies, and the Morpho family of butterflies. Last but not least, visitors can enjoy the Sea Shell Museum displaying incredible varieties of specimens found in waters from all over the world. 
On the sea side, Yalong Bay Tourism Zone offers not only a large, world-class harbor for yachters, complete with all the modern conveniences, but also several smaller islands interspersed between pristine coral reefs. All of this is surrounded by crystal-clear waters that are a scuba diver's dream come true.
The beach itself is warm, yet not baking hot, with an average year round temperature of 25.5°C (78°F), and with only slight variations from season to season. For example, during the coldest "winter" period, the temperature dips only 3.5°C, to about 22°C (71.5°F). Farther landward are palm trees and the peanut tree, common to tropical climates and which provides ample natural shade, as well as the ubiquitous Chinese red pine. There are also plenty of rare flowers and grasses here, not to mention other unusual tropical plants. Besides beaches perfect for swimming, there are also stretches of beach with odd rocks and unusual shoals for those who prefer a more contemplative seaside stroll.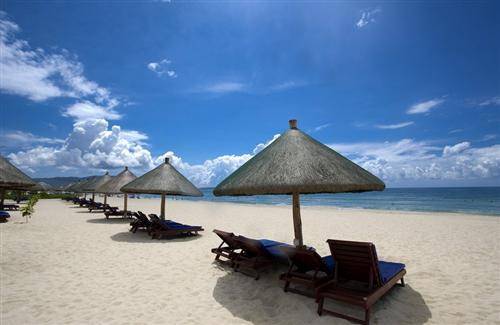 So Beautiful and Peaceful
With its sunny white beaches, various exciting water sports activities, magnificent world-class golf course perched in the most idyllic of settings, rolling green hills that offer a cool, shady respite from the sunny beaches, environment as a yachter's paradise, many reefs and islands that dot its open waters, a multitude of national and international hotels (the Sheraton, Marriott, Ritz-Carlton, and Holiday Inn chains are all represented here), and warm yet mild yearround climate and laidback tropical atmosphere, Yalong Bay Tourism Zone is truly the ideal vacation venue. Whatever the size or composition of your group, Yalong Bay simply has it all!
Tips
1) Recommended time for visitors: 2-3 days.
2) If you are looking for a tranquil stay at Yalong Bay with undisturbed nights, then you are advised to secure lodgings accordingly, which generally means a pricier room in a pricier hotel.
3) If you plan to dive, make sure to check the gauge on your oxygen tanks to determine just how much time you can safely stay underwater – you may want to bring along extra tanks. And of course, you are advised to never dive alone!
How to Get There?

From Sanya, visitors may board the No.102 Taihe Tourism Bus to Yalong Bay, which will set you back the modest sum of 5 Yuan. The most convenient way to get there, however, is by taxi, a very comfortable 25 kilometer ride on a paved concrete road which will set you back the sum of 30-50 Yuan, depending on your point of departure and the precise spot along Yalong Bay where you choose to be dropped off.
Opening Hours:

7:30 a.m. to 6:10 p.m., daily.
For an authentic travel experience, contact one of our travel advisors. Our local experts are always ready to create a hassle-free tour for you.