Sanya Shopping
Sanya Local Products:
Surrounded by sea on three sides, Sanya has a number of gradual mudflats, which is good for the marine substances to accumulate. Therefore, it is abundant in the marine life specimens, such as shell and whelk. Furthermore, the pearl breeding industry is developed in Sanya and the southern pearl is highly-praised by the people of the world. The local artisans get raw materials from local resources and make them into many splendid artwares. In the north of Sanya, there is Niulan crystal mineral, which will be an ideal gift for your beloved one. And coral artwares are also quite adorable.
Mango
Mango has always been called "The King of Tropical Fruits" and is widely planted across Hainan Province. The seed of it is very big with the biggest ones with 2.6 kilograms per each. The fruit meat is fragrant and sweet and you can smell it far away. The fruit meat of mango is rich in various vitamins, especially Vitamin C. it can not only be eaten fresh but also made into preserved fruit. In addition, the fruit meat can be used as evacuant. The lifespan of mango tree is as long as 500 years and the age for fruit bearing reaches as long as above one hundred years. It is among the fruit trees with a relatively long lifespan. Mango tree blossoms and bears fruits one a year and the fruit is ripe in June. There is also autumn mango for which September to October is the best harvest season.
Shell Carving In Hainan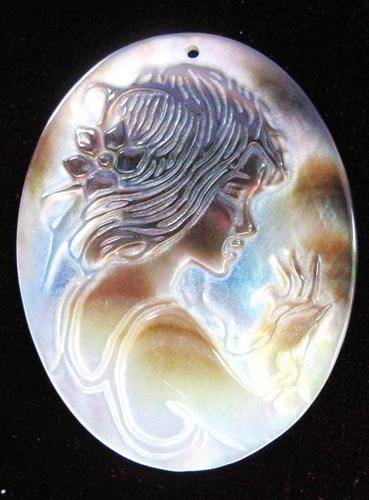 The South Sea of China is famous for its production of various shells and spiral cases with unique shapes and various colors. Among all these are Brindle Shell, White Jade Shell, Dark Shining Shell, Five Pawn Spiral, Mother Hunting Spiral, Pearl Shell, Virgin Spiral, Tangguan Spiral, Seven Angle Shell, Hunting Ear Shell as well as Horseshoe Spiral used as ash tray and Big Horn Spiral used by the fishing people as clarion, all of which are amazing natural craft products well received among the tourists. All kinds painting screens, tools and furnishments made by smooth and oily shell carving are equipped with natural and bright color and precious and elegant style. In addition, shells can be made into all kinds of practical craft products like wine tools, flat and hanging decorations, necklaces and decorations worn on the chest. The beauty and elegance of it can be compared with that of jade. Hainan Shell Carving is also a special local product and its craftwork is refined already as
Xianglan Wine
With fragrant Caolan produced in Hainan is used as the main fragrance resource and pure rice is used as the main material, it is a kind of low degree mouth pleasing wine. This kind of wine is transparant and clean with authentic fragrance and unique style. It is equipped with the typical fragrance of fragrant Caolan. It tastes soft and pleasing to the mouth and the aftertaste is continuous. This kind of wine has the function of effect of reinforcing the kidney and invigorating yang of males. It can also activate the collaterals and can be used as an appetite stimulating wine before dinner or mouth refreshing wine after dinner. It tastes best if cooled down to eight to tweleve degrees before drinking and it can also be applied in the confection of cocktail.
Sea Serpent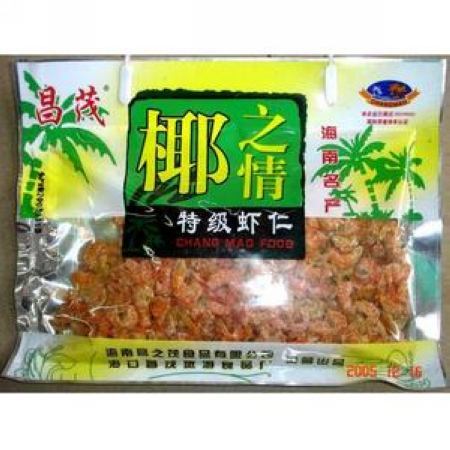 Sea serpent is one of the special local products produced in the maritime space in the southeastern part of Hainan Island. People always mention the Serpent of Skyline in Hainan and the Gen-seng of Northeastern China together from which the rich nutrition value of sea serpent can be seen. Sea serpent belongs to Hydrophiidae of Reptilia and is kind of viper living in the sea. Sea serpent is not only a rare and precious delicacy but also a rare medicine. The sea serpents produced on the coastal areas of Sanya are featured with fresh and delicate meat and belong to a sea product with very high nutrition value. Braising the meat of sea serpent, chicken and pork together, you can get a delicacy that can be compared with "Dragon, Phoenix and Tiger Soup". The medical function of sea serpent is flammation, body building and kidney strengthening. It also works on the occasions of weak body and woods. The local residents cook soup with angelica, medlar, north stilbene together sea serpent. The
Brocade Of Li People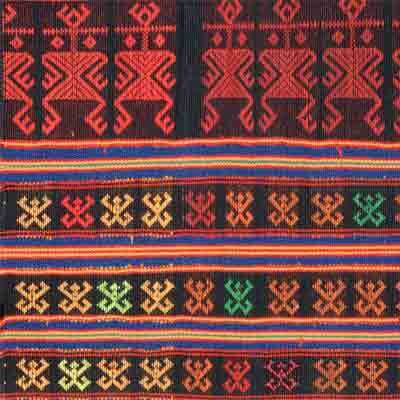 :Iit is a kind of cloth mainly with weaved embroidery, weaved dying and weaved flowers and needlework is not prominent. As to the dying material, the wild or planted plants are applied as the materials. These dying materials are with bright colors which will not fade away easily. Li people living in different places create various weaving, dying and embroidery techniques according to their own likes. For example, the Li people living in Baisha County produce a kind of double surface colored embroidery which can be compared with the beauty of the Double Embroidery of Suzhou with its refined craftwork and various colors. The Li people employs the plumule in the fruit of Ceiba or the cotton of other varieties as the woof while the fiber of Ramee as the longitude and the products are mainly weaved embroidery, weaved dying and weaved flowers with little needlework. The pigment of natural plants is used as the dying material to make this kind of characteristic cotton cloth – brocade of L
Shanlan Wine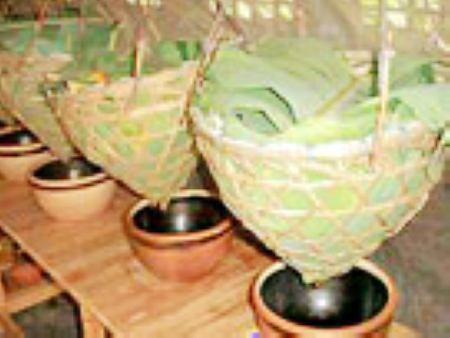 It is called Maotai (a Chinese wine well known across the world) of Li people and is named "Biang". It employs the early ripe sticky rice, i.e., Shanlan sticky rice, a plant specially owned by Li Mountain and is made by means of natural zymolysis. During the production, Shanlan Sticky rice is cooked and massaged into little grains and the ball cake made by a special plant of Li Mountain and rice powder is grinded into powder and added into it. Then the rice is put into a pot and some cold water is poured in and the pot is sealed and buried under the banana tree becoming wine naturally. The wine became yellow brown after one year and red or even black after several years when the rice, grains and the other materials melted into serum. When there is a visit by a distinguished guest or when holidays come, one pot of this kind of wine will be opened and the fragrance can be smelled everywhere of the village. As the wine and the lees are mixed together, in order to avoid the drink of lees
Coconut Carving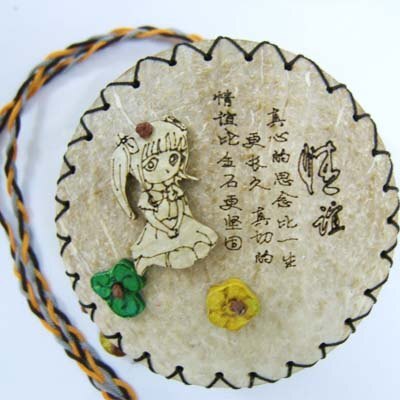 Besides surface relief, many other technologies have been applied in coconut carving of several hundred kinds and colors, such as three-dimensional relief, Shen carving, algamation carving and so on. The most popular ones are the lifelike and unvarnished coconut girl and coconut m which are carved in the raw coconuts. The coconut-carved articles include decoration, artistic living goods and the newly produced coconut pictures which combine simple and unsophisticated style with skillful construction and interesting shapes and add new element in the traditional coconut carving.
Poma Tonic Wine
Poma Tonic Wine is made with refined special craftwork and scientific prescription with high quality mineral water, pure sticky rice wine and Poam, an animal specially owned in Hainan and a rare and precious Chinese traditional medicine as the raw materials. It is a kind of low degree top class tonic wine containing various nutrition elements needed by human body and biological activating elements as well as other medicine ingredients. Thus, it has the function of curing male impotence, spermatorrhea, low sexual function, aching waist and knees, whitening hair when young, hair losing, insomnia, night sweat, old age frequent micturition and debility and so on. It is specially effective to cure the fatigue of sports people and physical labor force.
Coconut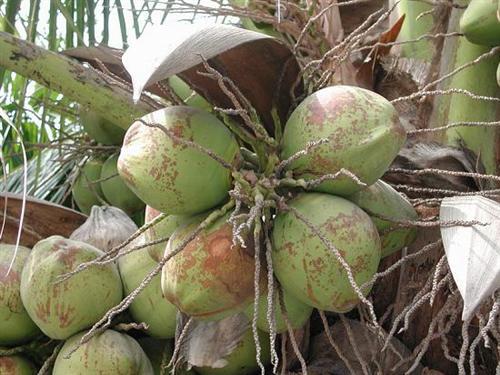 Coconut is well known for its big seed and fragrant smell. The coconut tree bears fruits all year long without season differentiation. Legend has it that people with evil mind will be broken on the head by the falling coconut when passing under the coconut tree. If you eat the coconut at noon, you will find the juice especially sweet and the coconut meat fragrant in particular. If you go to the Village of LI people in the Deer Returning Coconut Woods, you can not only drink the juice of the coconut that has just fallen down from the tree, you can also enjoy the fast and unique tree climbing performance of the young men of Li people. Apart from this, you can mix the coconut juice that is made by particular machine with your own favorite fruit juice, which has become a special personal drink. The coconut in Sanya can be bought in all the stores and any scenic spot.
Kuding Tea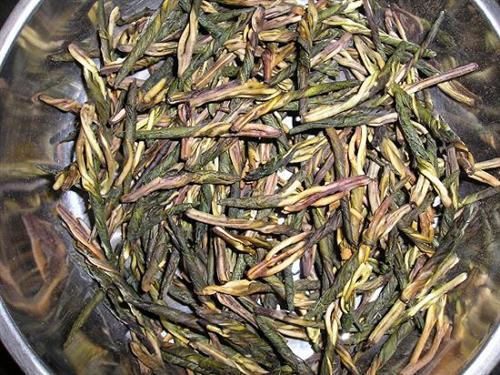 It is a kind of sub tropical and tropical plant used to make tea or simply applied to outside. It used to be an ancient Chinese medicine as well as a rare and precious health strengthening product. It used to be a tribute in Yuan Dynasty, Ming Dynasty and Qing Dynasty and is recorded in Basic Network of Roots and Herbs by Li Shizhen, a great physician of Ming Dynasty. It was lost later and was rediscovered by people by 1980s after nearly one hundred years. Kuding Tea has various medical and health strengthening and is honored with the title of "Green Gold".
Sanya Shops and Stores:
The shopping area is mainly located around the scenic areas including Dadong Hai, and Tianyahaijiao Tourist Area, and on the Jiefang Road in downtown. Among them, the famous ones are Jingrun Pearl, Niulan Crystal Artwork Factory, Nanhai Hawksbill Store, Guobin Market, and Tianyahaijiao Shopping Street. If you want to buy some seafood, and farm products, the No. 1 Market will be a good choice. As for those who want to buy some souvenirs, the best places are Sanya DC and Business Street. Hairun Pearl Science Museum and Jingrun Pearl Culture Museum are good places to buy pearls and related products. In the Hongqi Street, you can buy coconut-related food, coffee bean, cashew nut and so on.
Hongqi Jie Shopping Street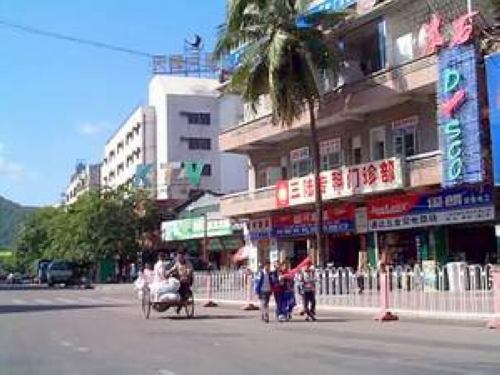 Hongqi Jie Shopping Street is a very unique vehicle-free promenade street, only more than 300 m long. Stores, which are closely linked to each other, sell all kinds of goods from small commodities for daily use to candy, and from the medicine, clothing, footwear, to household appliances. Hongqi Jie Shopping Street has been the most prosperous and bustling street of Sanya City for a long time. The street is divided into two parts, in the north part the main wholesalers for local food, audio-video, daily use and the Medicines and Health Products gather, while the south part being the main pool of clothing stores, and leisure places.
Summer Department Store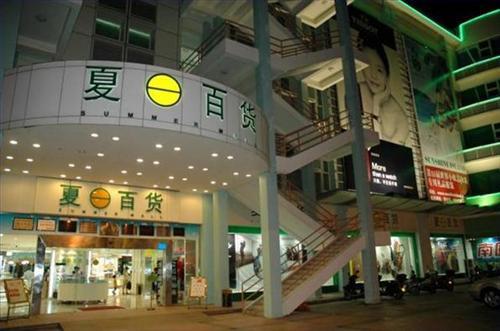 Summer Department Store is located in the central area of the Dadonghai Tourism District. With an area of 20,000 square meters of commercial operation, it is the core commercial facilities of shopping park, which is Hainan's largest tourism shopping area. Summer department store is not only the largest shopping center in Sanya City, but also the largest coastal tourist and leisure plaza.
Honggang Market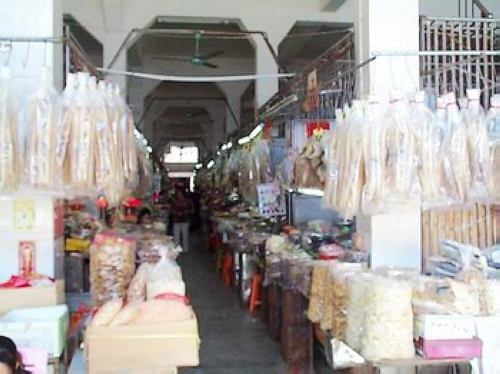 Honnggang Market starts from the Sanya cultural palace, about 300 meters on the west side of Jiefang No. 1 Road. It is the distribution center of Sanya's dry goods, such as dry abalone, sea cucumber, shrimp, cashew nuts, and so on. If you are a gourmet, Honnggang Market is a must for you to go where you can buy Three Ya Zhou Treasures, and then take some time to enjoy cooking at home.
Recommended Tours: