Qu Shui garden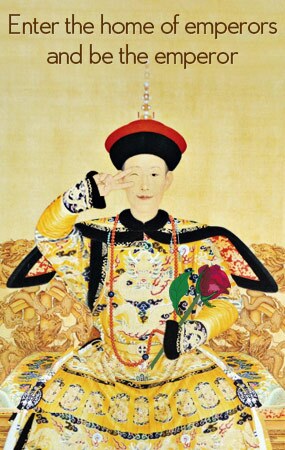 The Qu Shui Garden is a beautiful and classic garden in Jiang Nan Style. Originally the garden had been built as a smaller temple garden during the Qing Dynasty in 1745. For over 40 years since its construction several expansions and renovations had been done at the garden to make it larger and more attractive.
Qu Shui Garden is one of the largest gardens in the city. It has pavilions, stones and ponds and a very beautiful place for spending some relaxing time.
Introduction
Qu Shui Garden is located near the Dayingpu River and is one of the most important classic gardens in the city. The garden had originally been constructed for the city's Town God Temple during the Qing Dynasty's Qianlong reign. According to legend, the garden got its name of One Penny Garden because a penny had been collected from everyone in the city. The garden is highly valuable because of its architecture and unusual characteristics.
The Beautiful Scenery
The Qu Shui Garden was also once known as Lingyuan Garden and it derived its name from a line in the preface to Collection of Poems that had been composed by Wang Xizhi at Orchid Pavilion who was a well known calligrapher during East Jin Dynasty. With the majestic Lotus Pond and artificial hill at the center, trees, flowers, waters, rocks and hills in its garden, it forms a beautiful scenery involving water and land in Southern China. Here the hills are surrounded and brought to life by water. The Nine Bend Bridge and beamless hall in Qu Shui Garden are considered to be architectural masterpieces.
The Main Features of the Garden
Qu Shui Garden is known for its wide range of flowers, Chinese wisteria, ancient trees and large gingko trees. It is home to Coagulating Harmony Hall which is flanked by Rower God Hall and Perception Hall. The three halls stand on a single line and are separated only by walls. They are linked with winding paths and create a rare scenery in Chinese gardens. At the axis is the Coagulating Harmony Hall and there is a house at its rear and a hall in its front. There are two ponds and a large artificially created hill in the middle. The two ponds are known as the Water Lily Pond and Lotus Pond while the house at the rear is known as Clear Sound House.
Zigzagging Streams
Qu Shui actually means zigzag channels and it is a fitting name since the distinguishing feature of the garden is a network of zigzagging streams. Many architectural details of the garden reflect the Daoism, a Chinese philosophy. For example, the Lotus Lake in the garden is surrounded by the three pavilions. This has been designed for reflecting the prosperous Heaven scene. Qu Shui Garden is 230 years old and is a refined, typical garden. Recently it has been awarded the title of a 4 star Shanghai park. It is a government preserved cultural relic. The garden is dotted with water and is well known for its simplicity, elegance and its exquisite appearance. Due to the 24 different sceneries that have been created within the garden, visitors will find cherry blooms in spring, fragrant laurel during autumn, water lily during summer and calyx canthus during the winter months.
Solo Adventure Tips:
Location:

14 Gong Yuan Road in Qing Pu District, Shanghai.
How to Get There?

Visitors can reach Qu Shui Garden through tourism route number 4. Take metro line 4 or 1 to reach the Shanghai Stadium station.
Ticket Price:

5 yuan
Opening Hours:

5:00 AM to 6:00 PM
More Tips:

Spring and summer is the best time to visit the Qu Shui Garden.
Our local experts are always ready to create you a hassle-free tour. Get an authentic experience by contacting one of our travel advisors.