Shanghai Museum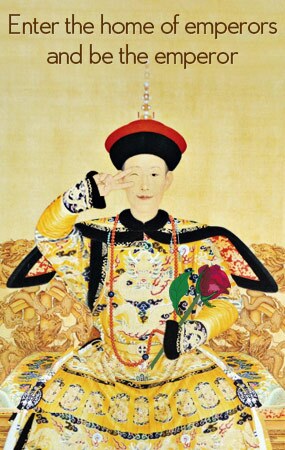 Shanghai Museum is a large museum featured in ancient Chinese art. It is situated on the south side of the People's Square in Huangpu District of central Shanghai. It is one of the largest and best museums in China.
The museum has an exhibition area of 12,000 square meters, with 12 themed exhibition halls. Shanghai Museum houses over 120,000 pieces of precious historical, artistic and cultural relics, which can be categorized into 21 kinds, such as bronze wares, calligraphy works, ethnic minorities' artifacts, seals and lacquer wares. Amongst all the collections, the highlights of the museum include bronze wares, ceramics porcelain, jade articles, seals, furniture, calligraphy works and paintings. Besides permanent exhibitions, special temporary exhibitions are also available.
Shanghai Museum has a collection of 120,000 pieces of precious relics, and some of them are of national importance. The categories of collections include bronze ware, jade, porcelain, stone sculpture, ancient coins, silk and embroidery, calligraphy, painting and ethnic artifacts, and their history spans from Paleolithic period to modern times. The well-known collections of the museum such as bronze ware, furniture, jade, paintings and calligraphy cannot be missed when you are visiting the museum.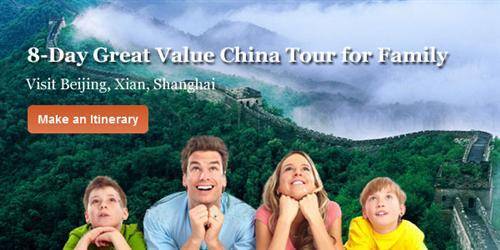 History and Architecture
Shanghai Museum is a museum of ancient Chinese art, possessing a collection of over 1000,000 objects. About 120,000 of them are precious national-graded works of art. The Chinese bronze, ceramics, painting and calligraphy is rich and high-quality collection of ancient and is quite famous in the world.
Established and first open to the public in the former site building of the horseracing club at 325 of West Nanjing Road in 1952 and then moved into the former Zhonghui Building at 16 S. Henan Road in 1959. The museum developed very quickly in aspects of acquisition, conservation, research, exhibition, education and cultural exchanges including other institutes.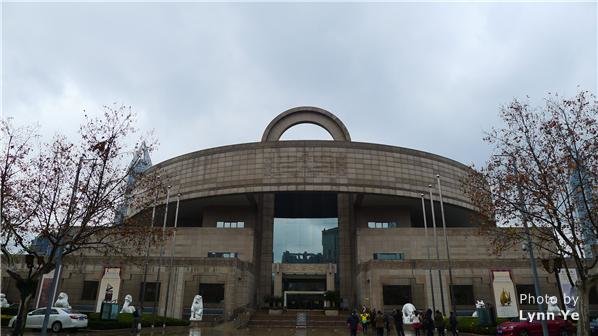 In 1992, the Shanghai Museum moves to the very center of the city, the People's Square, as its new site because the Shanghai municipal government allocated to the Museum the piece of land. The whole construction took three years, from August 1993 to its inauguration on October 12th, 1996. After finishing the construction, the museum has a 29.5 meters high new building and a construction space of 39,200 square meters.
The architectural form of the museum is a round top with a square base, implied the ancient Chinese philosophy that "the square earth is under the round sky". The unique appearance is a highlight architectural combination of traditional culture and modern spirit. The present Shanghai Museum has eleven galleries and three special temporary exhibition halls. It extends warm welcome to the visitors from all over the world.
On the first floor there are bronze ware hall, sculpture hall and special exhibition hall. On the second floor there are ceramics and porcelains hall, Zandelou Ceramics Hall and special exhibition hall. On the third floor there are calligraphy hall, paintings hall and seals hall. On the fourth floor there are ancient coins hall, ancient furniture hall, ethnic minority artifacts hall and special exhibition hall.
Highlighted Collections
Gallery of Chinese Ancient Bronze
Shanghai Museum is especially well-known for its collection of bronze pieces. In Shang and Zhou Dynasty, bronze is used widely in people's life and bronze artifacts have been regarded as important treasures as a symbol of China's ancient civilization and cultural heritage.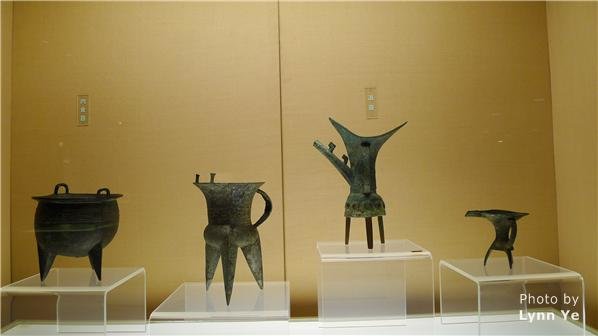 When visitors step into the gallery, a mysterious and artistic atmosphere surrounded by will be found in which ancient bronze artifacts are displayed in plain and archaic wooden showcases and set off by different levels of illumination. More than 400 pieces of exquisite bronzes are shown within the space of 1,200 square meters, providing an overall perspective of bronze art in ancient China.
Among the bronze ware collections, the most important ones include bronze tripods of various sizes and shapes from the Shang and Zhou dynasties. Displayed in the simple but elegant cases and moderate lighting, some 400 bronze items from ancient times will reveal to you the history and development of China's ancient bronze art.
Gallery of Chinese Ancient Sculpture
The sculpture is based on gold, red and black as three basic colors, making the gallery full of a warm and serious atmosphere. Displayed in a space of 640 square meters, more than 120 samples are put either in shrine-like showcases separated by lotus-petal shaped partitions or on open freestanding pedestals. Visitors go into the gallery will be given a true feeling of walking in grottos or temples because of the special design and arrangement.
The exhibits reveal artistic styles of Chinese sculpture in different periods of Warring States period and the Ming dynasty. The Buddha statues in different styles are the most attractive sculptures in the gallery, such as simple and delicate Buddha statues of the Northern Wei, elegant and vivid Buddha statues of the Northern Qi and the Sui dynasties, gorgeously shaped and full-bodied Buddha statues of the Tang dynasty, and novel and secular Bodhisattva of the Song dynasty.
Audience could watch a process how Buddhism, a foreign culture, was merging into Chinese traditional culture.
Gallery of Chinese Ancient Jade
China enjoys the reputation of "the Country of Jade" around the world and has a 7,000-year history of jade production. In ancient period, Chinese people like jade not only for its essential beauty but also for its mystical allure and the auspicious moral. It was used either as the symbol of wealth and power by rulers or as personal ornaments by ordinary people. It was also widely used as a ritual implements and burial objects.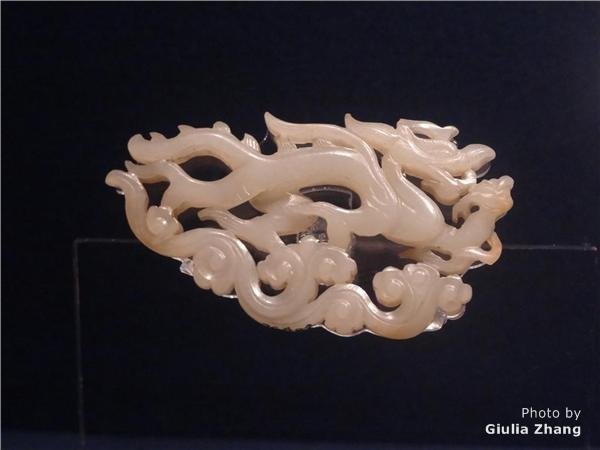 Therefore, the nature of jade was endowed with the significance of humanity and moral. Using specially designed shelves and fiber optics for illumination, visitors can appreciate a sparkling and smooth appearance exhibits. Under the light of the showcases, the details of fine design are perfectly exposed. The grace and exquisite skill of jade-making in ancient China will be show in front of the visitors without reservation.
Chinese Ming and Qing Furniture Gallery
The exhibition of ancient Chinese furniture is a special feature of Shanghai Museum. It presents vividly what the rooms and gardens were like back in the Ming and Qing dynasties. It takes up about 700 square meters of exhibition space, with about 100 pieces of well-preserved ancient Chinese furniture.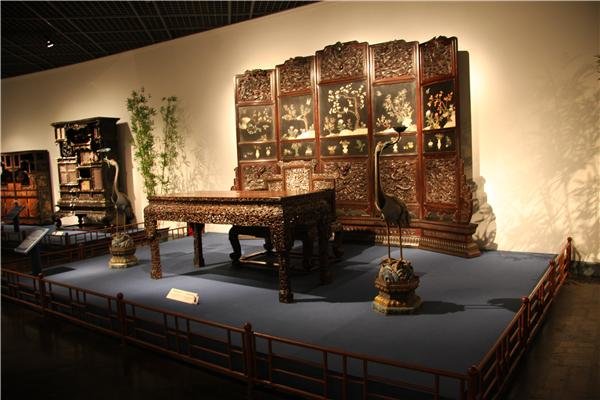 Classical Chinese traditional furniture passes through a long history of development and reached its peak during the Ming and Qing dynasties. During the period between Ming and the Qing, the style and the appearance of the furniture are in a big difference, but both of them are successful in the field of art. In this 700 square meters gallery, visitors will feel like walking in a traditional Chinese house with a garden behind grilled windows.
There are more than 100 pieces of furniture displayed in the furniture gallery, among which, the Ming furniture that were simply in style but elegantly prepared or tightly formed by tenon- mortise technique and the Qing furniture that were imposingly produced and elaborately decorated. In addition, there is an exhibition of a study room and a drawing room, giving a vivid presentation of utilization.
Gallery of Chinese Paintings
The calligraphy and painting collections include works from ancient dynasties in chronological order, from as early as the Jin Dynasty of about 2000 years ago, to the Qing Dynasty in the early stage of the last century. The displays are staged in traditional Chinese decorations style and ambience.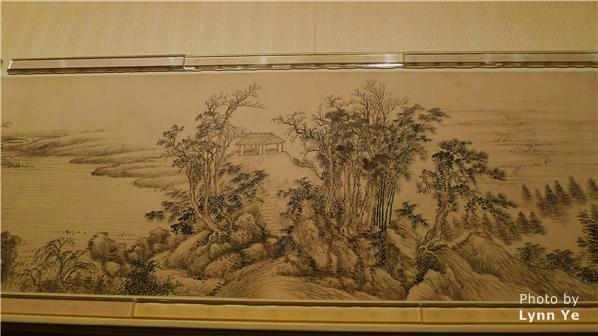 Chinese paintings have a long history and its own style. Chinese paintings have a feature of using "dots and lines" to express the details and skill of a piece of painting and brush, ink stick, silk and Xuan paper as main implements. Taking a form of traditional Chinese architecture, the gallery is arranged into long passage-like showcases with large panels of glass, upturned eaves and low banisters.
In order to protect ancient paintings and provide visitors with a clear view as well, a sensitive lighting system is installed. More than 120 masterpieces ranging from the Tang dynasty to the present are shown within the space of 1,200 square meters. The exhibition fully displays age-old tradition and profound foundation of Chinese paintings.
Chinese Minority Nationalities' Art Gallery
Glorious Chinese civilization has been created by various nationalities. Due to dive- reified social and ecological environments, different nationalities in China have produced their rich and colorful cultures. Being set off by a warm background, visitors will get a feeling of happy and harmonious atmosphere of various handicrafts of different nationalities with a in artistic garden of Chinese nationalities.
More than 600 handicrafts are displayed in this 700 square meters gallery, including costumes, textiles, embroideries, metal wares, sculpture, pottery, lacquer wares, cane and bamboo plaited vessels as well as wooden masks.
Gallery of Chinese Coins
China is one of the earliest countries in the world to use coins. With the advantage of the coin collection, Shanghai Museum provides a historical overview of Chinese currency in this 730 square meters gallery. More than 7,000 specimens show a historical development of ancient coins and economic exchange between ancient China and foreign countries.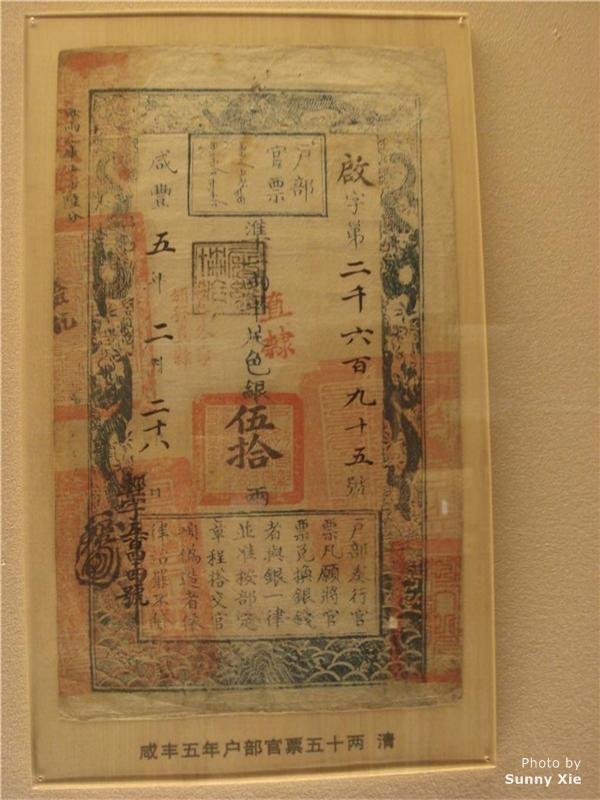 The light grayish background sets off primitive simplicity shows a long history of these ancient coins. In addition, there is a special show room for ancient central-Asian coins from Silk Road generously donated by Mr and Ms. Roger and Linda Doo.
Solo Adventure Tips:
Location:

No. 201 (near Wusheng Road), Renmin Avenue, Huangpu District. It is located on the south side of People's Square in the city center of Shanghai.
How to Get There?

You can take public bus No. 454, 112, 123, 71, 934, 145 or 46. You can also take subway line No. 1, 2 or 8 and get off at People's Square Station.
Ticket Price:

Free
Opening Hours:

9:00-17:00 (No admission after 16:00)
More Tips:

Tel: 021-63723500
There are barriers free accesses and lifts.
Our local experts are always ready to create you a hassle-free tour. Get an authentic experience by contacting one of our travel advisors.