Hu Xin Ting Teahouse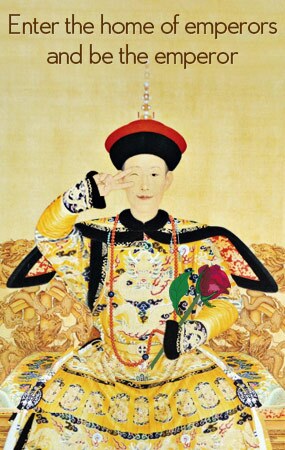 Hu Xin Ting Teahouse, which is also known as the first teahouse in China, is a landmark, in Shanghai, with a history of 145 years. It is the oldest existing teahouse in Shanghai and it is also where the oldest chamber of commerce of Shanghai was situated. Hu Xin Ting Teahouse is standing right in the lotus pond behind the town god's temple. Connected with the winded Jiu Qu Bridge (or the Bridge of Nine Turnings), it receives a large number of visitors every day. Hu Xin Ting Teahouse is one of the inner sceneries in Yu Garden. It has attracted a lot of celebrities from both home and abroad, such as the British Queen Elizabeth II, some foreign leaders and many noted public figures. They went there to taste the fragrant tea and experience the Chinese tea culture by themselves. Nowadays, Hu Xin Ting Teahouse is the special place for the master of Shanghai Municipal City to entertain state guests such as head of a state. Hu Xin Ting Teahouse has become well-known all over the world.

The whole building of Hu Xin Ting Teahouse is made of wood, even without an iron nail. The joint part of the woods is connected by bamboo wedge. It has never been rebuilt in more than two hundred years. Above the front gate, there hung a horizontal tablet, on which three Chinese characters Hu Xin Ting (meaning the lake pavilion) are scribed by Mr. Jiang Fengyi who is a famous calligrapher. When stepping into Hu Xin Ting Teahouse, people will see an old-fashioned square table for eight people. The table is made of rose wood, and has a marble table top. Around the table, there are some old-fashioned wooden armchairs, which are also made of rosewood and have carved patterns on them. In addition, they can also see an exquisite painted screen, some antique and elegant handwritings and traditional Chinese paintings displayed against the wall. There are also some palace lanterns hung above and copper jars (with broad mouth, receptacle for holding liquid) arranged on the floor. People will feel as if they were standing in Yu Garden of the ancient times. The dark red walls, dark red window frames, wooden floor and columns create a feeling of elegance and dignity in the sunshine. The seats near the windows are not commodious, with narrow square tables set in a protruding pane. The narrow tables and seats are available for only two people to be seated opposite. And the small round table is suitable for four people to be seated around.

People can step upstairs along the handrail which is painted red and a little bit steep. The arrangement on the second floor is similar to that of the first floor. Standing by the window, having a taste of the tea and looking down around, people can have a panoramic view of the Lv Bo Corridor (or the Green Wave Corridor), Song Yun Lou (or the Building of Pines and Clouds), Nan Xiang Small Steamed Bun Store, Hu Bin Lou (or the Building By the Lake), Yi Zao Tang (or the Hall of Colorful Embellishment) in Yu Garden. If people lower their heads and look down, they can see the goldfish playing with water in the clear wave, and appreciate the lake full of lotus in summer and smell the fragrance of the lotus. Holding a cup of fragrant tea in hands, people will feel that a feeling of nostalgia just lingers round his mind with the fragrance of tea surrounding them. Now, Hu Xin Ting Teahouse is not only a place to receive state guests, but also a gathering place for noted figures from home and abroad. They go there to taste famous tea, appreciate beautiful scenery or meet intimate friends.

The various kinds of tea provided in Hu Xin Ting Teahouse are all famous tea. The water used to make tea is purified and mineralized, seeming clear and tasting sweet. So the tea there in Hu Xin Ting Teahouse is different from tea provided in other common teahouses. The tea leaves are picked up in the clouds on high mountains, which can make people have a taste of the precious tea. In Hu Xin Ting Teahouse, people can make friends on the basis of their common interest in tea. Friends can drink tea together and introduce the spirit of Chinese tradition to foreign guests. The quintessence of Chinese culture, especially Chinese tea culture can be spread to the whole world.

Hu Xin Ting Teahouse can hold more than two hundred people to have tea in it simultaneously. The simple, antique and elegant decoration there show the strong Chinese feature. Moreover, there is a professional tea-art performing team in Hu Xin Ting Teahouse. In the afternoon of every Monday, people can enjoy the beautiful music of traditional stringed and woodwind instruments. It is a unique experience to stay in a pavilion, drinking tea and appreciating the scenery around.
Our local experts are always ready to create you a hassle-free tour. Get an authentic experience by contacting one of our travel advisors.