Ju Ma Pao Teahouse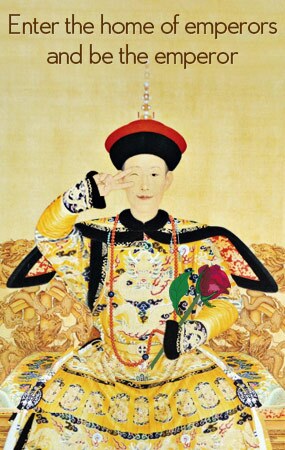 If the teahouses in the old street are all nostalgic, then the Ju Ma Pao Teahouse owned by a Taiwan person is in typical casual style. Xiangqi, or Chinese chess, has a long and close relationship with tea ceremony in the history. Ju Ma Pao Teahouse is named after the chess pieces in Chinese chess. The unique arrangement of Lotus Lake, flowing water, windmill, fantastic rock peaks and a subterranean layer with an area of 700 square meters, create a hidden but beautiful world. The decoration of this teahouse is in the style of the gardens in the regions of South Yangtze River. The central bar counter which looks like a pavilion, is divided into tree districts, including the tea hall, the stage for tea art performance, performance of traditional stringed and woodwind instruments, and chartered rooms (including big size, medium size and mini size). This is so-called the structure of pavilion, stage and open halls. The furniture there is also adapted to the style of furniture in the Ming Dynasty (1368 A.D.- 1644 A.D.) and Qing dynasties (1644 A.D.-1911 A.D.). The furniture seems a little low but feels soft, so that people can be seated on it comfortably. Together with the home textile in the regions south of the Yangtze River, the furniture looks antique.

Most of the tea in Ju Ma Pao Teahouse is Taiwan oolong tea, which is made through 18 procedures and the Miss Tea-art will show the tourists. Dongding Oolong Tea is the recommended one in the hot summer season, because it is said that Dongding Oolong Tea can drive away summer heat. Since the subject of Ju Ma Pao Teahouse is relaxation, the atmosphere there is relatively easy and comfortable. The average consumption is around 25 Yuan per person in Ju Ma Pao Teahouse. Customers can have a taste of nearly all kinds of Taiwan milky tea and Taiwan-style drinks. In addition, customers can borrow many kinds of intelligence toys such as the noble bachelor, blocks, magic cube and definitely Chinese chess.

The operation idea of the owner in Ju Ma Pao Teahouse is quite free as well. Because the space is relatively big, there are frequently some concerts, theme parties, fancy dress ball and many other activities. It is said that player in the women team likes to relax themselves before they go for a game abroad.
Our local experts are always ready to create you a hassle-free tour. Get an authentic experience by contacting one of our travel advisors.