Lost Heaven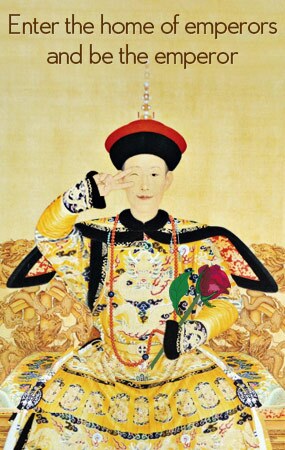 Lost Heaven is a Yunnan-style restaurant with rich South-Eastern Asian favor, serving characteristic Yunnan dishes. The dishes are based on different tastes and dietary styles of various ethnic minorities in Yunnan Province, which are improved and innovated by combining the features of western countries and Southeast Asia, forming its unique and characteristic dishes.
The raw materials are from the places of origin, such as pomegranate blossom, white ginseng, dry pickled cabbage of the Dai nationality, salix leaf and coriander of the Va minority, which are wild, precious and original.

Lost Heaven is decorated with a number of antique furniture, adornment, embroideries, Thousand Hands Buddhist Statue, all kinds of handcrafts, distinctive masks and topknot. The restaurant is designed with the theme of the humanistic artistic elements, which is full of various cultural totems elements of all nationalities, providing a platform to know about amorous feelings of various nationalities. Lost Heaven is just like an art gallery of the ethnic minorities' cooking culture, integrating Yunnan's ethnic culture and diet.

Lost Heaven Restaurant on East Yan'an Road is a four-storey tall detached building covering a total area of about 3,000 square meters, which can accommodate 800 to 1,000 customers simultaneously. On the first floor, there is a fashionable home furnishing store, providing various products designed by French stylists. The dinning hall is on the second floor which can accommodate at least 300 persons, offering dishes cooked with superior natural raw materials from Yunnan or Myanmar. The bars are on the third and fourth floors.
There is an open-air bar featuring tropical holiday village style, with an area of 400 square meters. The bar on the fourth floor is suitable for holding cocktail parties, private banquets or meeting, offering world's topflight wines, with the area of 300 square meters. It boasts 28 varieties of cocktails that are specially made.
Signature Dishes
cakes with edible wild vegetables, spiced chicken with spring onion sauce, sour and hot shrimps, silver codfish with salt black bean sauce, curry shrimps, fish cakes, perch with salt black bean sauce, spring rolls with mashed shrimps, garden bean with shrimp paste
Useful Tips
Lost Heaven (East Yan'an Road)
Address: No. 17, east Yan'an Road, Huangpu District, Shanghai
Tel: 021-63300967
Bus Route: No. 42, 71, 123, 135, 251, 311, 320, 316
Average Consumption: 176 yuan per person
Website: http://www.lostheaven.com.cn

Lost Heaven (Gaoyou Road)
Address: No. 38, Gaoyou Road, Xuhui District, Shanghai
Tel: 021-64335126
Bus Route: Bus No. 44, 48, 96, 113, 506, 548, 923
Business Hours: 11:30 to 14:00; 17:30 to 22:30
Average Consumption: 166 yuan per person