Wuyuan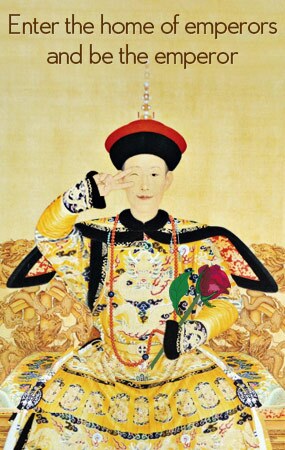 Wuyuan Xian (Wuyan County) is situated in the northeastern corner of Jiangxi Province, near the nexus of Jiangxi, Anhui and Zhejiang Provinces. It lies sandwiched in between Jingdezhen County to the west and Zhejiang Province to the east. To the north lies the border with Anhui Province.
The city of Jingdezhen boasts of its porcelain (it is called the "Porcelain Capital of China"), the city of Huangshan in Anhui Province to the north boasts of being the center of Huizhou culture (the city was formerly named Huizhou; the Huizhou Cultural Garden lies at its center), the prefecture-level city of Quzhou in Zhejiang Province to the east boasts of its long history dating back to the Yue State that existed prior to and during the Spring and Autumn (BCE 770-476) Period of the Eastern Zhou (BCE 770-221) Dynasty (the Yue State would defeat and annex the Wu State during the latter half, or the Warring States (BCE 475-221) Period, of the Eastern Zhou Dynasty, but would then itself be defeated and annexed by the Chu State during the same Warring States Period), but none of these places can compare with Wuyan County when it comes to sheer beauty, for Wuyan County has been dubbed the 'Most Beautiful Countryside in China' by a "jury" that consists of both national as well as international experts.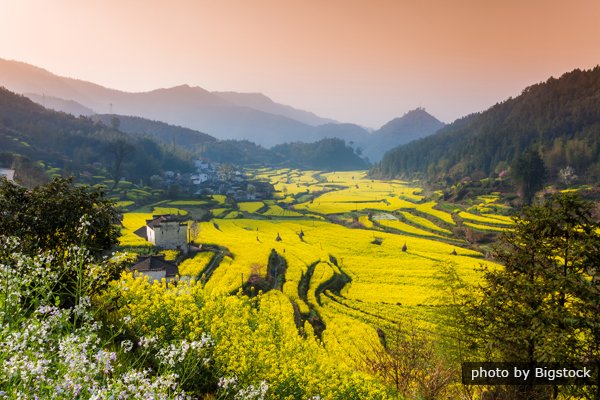 Hui-style Architecture
This judgement is based partly on Wuyuan County's well-preserved, ancient Hui-style architecture, partly on the county's breathtaking natural beauty that is characterized by emerald-green mountains (over 80% of the county is covered in woods), blue lakes and clear rivers and brooks, and partly by the spirit of tranquility which continues to define this area, linking it to its unhurried, ancient past. Indeed, others have called Wuyuan County China's last genuine Shangri-La, though there are other localities in China which vie for that title.
Wengong Hill, Yuanyan ("Mandarin Duck") Lake and Linyan Cave are known as ecological wonders. There are also many well-preserved ancient villages such as  Jiangwan (the ancestral home of the former President of the PRC, Jiang Zemin), Likeng, Sixi, Wangkou and Yan. The ancient Hui-style buildings with pink walls and black tiles, only faintly visible here and there amid the green hills and the blue waters, paint a picturesque landscape of harmony between man and nature.
The Hui-style architecture of Wuyuan - its delicate wooden buildings and unique stone bridges - dates from the middle of the 8th century during the Tang (CE 618-907) Dynasty. The area's relative remoteness and its rugged, albeit beautiful, terrain, which made transportation difficult, has, more than any other factors, helped to preserve the pristine beauty of Wuyuan County.
Idyllic Scenery
The idyllic scenery, both the manmade as well as the natural landscapes, are preserved in Wuyuan County, thanks in no small part to the continued tranquil lifestyle of the local inhabitants. Virtually every village has something unique to offer, if only a small detail that catches the visitor's eye and causes one to stop up and photograph it - or be photographed by another bypasser with you or your party in the foreground. The preservation of Wuyuan's distinctive and original architecture and its pristine nature will surely be the challenge to confront in future, as tourism increases in the area.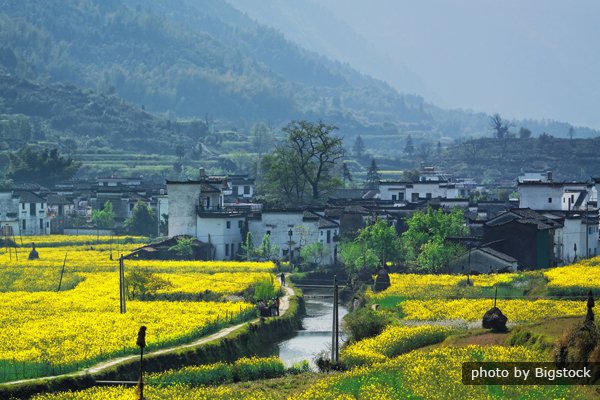 The village of Wuyuan itself is the natal village of two distinguished individuals: the Southern Song (CE 1127-1279) Dynasty philosopher, Zhu Xi, and the more recent Zhan Tianyou (1861-1919), China's 'Father of Railroads'.
In spite of its remoteness, Wuyuan County has always been defined by its culture. For example, the official records indicate that after the institution of the imperial examinations*, over 550 candidates from Wuyuan County completed these exams successfully. As for art, Wuyuan County is known for its traditional Luo Dance, said to be a living fossil from the ancient past. In addition, Hui Opera, which characterizes the area (note that Wuyuan County was formerly part of Anhui Province, and continued to preserve its Hui culture even after it became an official part of Jiangxi Province), is the origin of modern-day Beijing Opera.
The Imperial examinations, or Keju, were introduced during the Han (BCE 206 - CE 220) Dynasty in an attempt to weaken the existing - and often corrupt and injust - feudal system whereby office was held in hereditary succession by local tribesmen rather than being held on the basis of merit. The hereditary system led to incompetence and abuse of power, and served the populace at large very poorly. Following certain progressive principles espoused centuries earlier by Confucius (BCE 551-479), this system was thankfully changed with the introduction of the Keju.
A corollary of the Imperial-examination - based appointment of public servants is that those officials who did not perform as they were expected to could be removed from office without risking a power struggle between the Imperial court and the local elite. Chinese society was far ahead of its time in instituting such a system of accountability; in Europe, the system of feudal lords, based principally on hereditary succession, continued far beyond the end of the feudal era.
Attractions
Likeng
Likeng, the most visited place in Wuyuan, is renowned for the harmony of brdges, a crystal clean brook and cottages. Rows of houses constructed long that brook, which is 2 to 3 meter wide. It is a typical watery place.
Sixi
It was built by Yu Clan and reputed as an sophisticated residential area. Over 30 residences of the Ming and Qing dynasties have been well-preserved in Sixi village. The layout of those residences is elegant.
Xiaoqi
There are many old trees and houses with various heights in this village. In the morning, mist floating over those trees gives people a mysterious impression. The river flows out of the village in a circle.
Wangkou
The first house built in Wangkou enjoys a history over 900 years. This village is inhabited Yu Clan mostly. One attraction is the Ancestral Hall of Yu Clan a cultural relic unit covering an area of over 1000 square meters. Possessing the reputation of well-designed layout, the most detailed woodcarvings and superb craftsmanship, this Ancestral Hall is considered to be a treasure gallery of architectural art and has been regarded as the "Number One Shrine South of the Yangtze River".
Transportation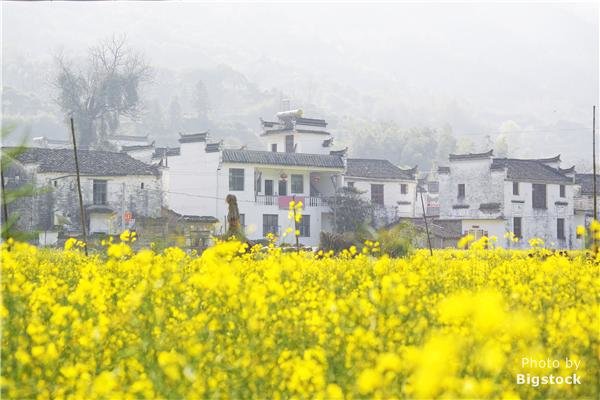 Bus from Jingdezhen to Wuyuan
Every half an hour, there is a car to Wuyuan at Jingdezhen bus station which is very close Jingdezhen train station. The first bus departs at 6:30 a.m. and the last one departs at 16:30 p.m. at Jingdezhen. It takes 2 hours from Jingdezhen to Wuyuan (85 km).
From Jingdezhen Airport to Wuyuan
Visitors can go to Jingdezhen by plane. Taking a taxi to Licun village bus station costs about 15 yuan.
Next, taking a bus to Wuyuan costs about 30 yuan.
Or visitors can take a taxi from airport to Wuyuan. But we do not recommend for the taxi fare may reach to 300 yuan.
Beijing to Wuyuan
1.    First, take a train from Beijing to Jingdezhen. Only K45 is available now which departs from Beijing at 11:10 a.m. and arrives at Jingdezhen at 10:27 a.m. the next day.
Next, take a bus from Jingdezhen to Wuyuan as the above way.
2.    Visitors can also go to Jingdezhen by plane as the above way.
Shanghai to Wuyuan
Buses
Take bus to Wuyuan is the most convenient way for no transfer. There are 2 buses a day from Shanghai to Wuyuan (9:28 a.m.; 18:45 p.m.) at Shanghai South Bus Station directly. The journey takes about 7 hour and 180 yuan.
Trains
If you cannot catch the direct buses, you may take the bullet trains to reach Shangrao from Hongqiao Railway Station. Upon reaching Shangrao, you can take a taxi to reach local Daihulu Bus Station to take buses for Wuyuan. The bus fare is 35RMB.
Hangzhou to Wuyuan
There is no direct train between Hangzhou to Wuyuan now, so the best option is travel by bus. Take bus at Hangzhou West Bus Station to Wuyuan. Depart at 9:20 a.m. The ticket price is 117 yuan.
Huangshan to Wuyuan
Huangshan Tunxi Bus Station to Wuyuan
Departs

Arrives

Distance

Duration

Ticket Price (RMB)

Huangshan Tunxi
08:30

Wuyuan 
09:30

87km

1 hours

40 Yuan

Huangshan Tunxi
12:30

Wuyuan 
13:30

87km

1 hours

40 Yuan
The Best Time to Visit
The best time to visit Wuyuan is from March to April when rape flowers flourish.
Nearby Attractions
Hongcun Village
Being famous as Anhui style buildings, Hongcun Village is known as one of the best villages in China. Located in the southeast of Huangshan City, Hongcun Village has been a World Heritage Site of UNESCO since 2000. The best time to visit an extremely beautiful Hongcun Village are March, April and the beginning of November. A large scale of cole flowers are open during March and April. At the beginning of November, thousands of red leaves decorate the village.
There are buses from Wuyuan to Hongcun which takes  about 2.5 hours.
Travel Information
There are many shuttles in every scenic spot in Wuyuan. Visitors can take bus from one attraction to another.
Solo Adventure Tips:
Location:

How to Get There?

By train from Beijing or Nanjing: take the train to the city of Huangshan (Anhui Province), then take a bus south to Wuyan.

By train from Shanghai: take the train to the city of Huangshan Quzhou (Zhejiang Province), then take a bus west to Wuyan. Alternatively, one can continue on to the city of Jingdezhen from Shanghai, then take a bus eastward to Wuyan.

For travel around the county of Wuyan, it is cheaper to rent a mini-bus (seats up to a dozen adults) if one is a larger group or if one can form a larger group from smaller groups. The price ranges between 250-300 Yuan per day on average, but may be higher in peak season (one can always try to haggle, though supply and demand will ultimately have a great deal to say).
Ticket Price:

Opening Hours:

More Tips:

1) Dining out in Wuyuan County is both inexpensive and a treat. If you are lodging with a local resident, you can suggest to be served local "home cooking" - the price is as low as an extra 10 Yuan per person per day. If you have special needs with respect to spices (Hui fare tends to be spicy) or you cannot tolerate certain foodstuffs, just let your host know in advance.

2) The price of hotel accomodations varies as can be expected, depending on location and/or the amenities. For a room with a double bed, you can expect to be charged between 240-300 Yuan per night at the most exclusive accommodations, between 180-240 Yuan per night for medium-level accommodations, and between 50-80 Yuan per night for "discount" accomodations. Cheapest of all is staying in in the home of a local resident - the price ranges between 25-40 Yuan per person, less "home cooking" of course.
Our local experts are always ready to create you a hassle-free tour. Get an authentic experience by contacting one of our travel advisors.