Shenyang Imperial Palace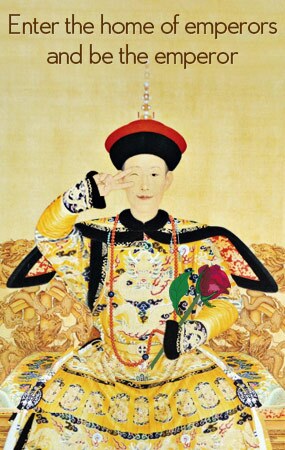 Shenyang Imperial Palace is the most ancient imperial architectural complex of the Qing Dynasty next only to the Forbidden City in Beijing in historical and artistic value. Shenyang Imperial Palace, also called Shengjing Imperial Palace, was first built in 1625 by Nurhachi (1559-1626), the Manchu chieftain who became the first king of the Jin State (established 1616), and excessively extended by Huangtaiji (1592-1643), his son and successor before they brought all China under their rule and established the Qing Dynasty.
It was renamed Co-Capital Palace and Emperor Eastward Inspection Palace after the foundation of the Qing Dynasty. Having undergone many large-scale restorations, the imperial palace now serves as a tourist attraction called Shenyang Imperial Palace Museum. The Imperial Palace in Beijing and Shenyang are the two most well-preserved imperial complexes existing in China today.
Streets in Shenyang Old City are lain out in the shape of a grid. The Palace, in the center of the grid, occupies an area of 6 hectares with 114 ancient buildings.
According to the layout of the complex, Shenyang Imperial Palace can be divided into three parts: east, middle and west parts.
East part: The buildings here were constructed in the Nurhachi Period, and include the Great Administrative Hall and Ten Kings Pavilion.
Middle part: These buildings were continued and completed in the period of Huangtaiji and include Grand Qing Gate, Chong Zheng Hall, Phoenix Tower, Qingning Palace, Guanmiao Palace, Yanqing Palace, Qifu Palace and more.
West part: The western buildings were expanded and renovated by Emperor Qian Long (1736-1795) and include Wen Su Pavilion. The whole palace, truly a multitude of structures, is lofty, magnificent and richly ornamented.
The palace is not only famous for its ancient imperial architecture, but also enjoys great fame internationally for its abundant collections. The palace exhibits a large number of the remaining imperial relics, such as the sword once used by Nurhachi.
Solo Adventure Tips:
Location:

No. 171, Shenyang Road, Shenhe District, Shenyang
How to Get There?
You can take buses No.213, 222 or take around-city bus.
Ticket Price:

50 yuan per person
Opening Hours:

In May, June, September and October:  8:30 to 17:00
In July and August: 8:30 to 17:30
In November, December, January, February, March and April: 9:00 to 16:00
More Tips:

The Royal etiquette show is from 14:00 to 15:30 in the afternoon every Saturday.
Our local experts are always ready to create you a hassle-free tour. Get an authentic experience by contacting one of our travel advisors.