Mt. Yuntai Scenic Area
Southeast Guizhou Travel Guide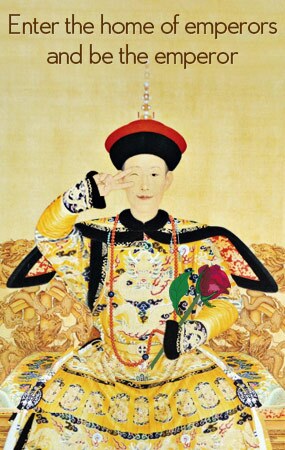 Mt. Yuntai, located 13 kilometers north from Shibing County (a small county of Southeast Guizhou), was China's famous Buddhism venue 600 years ago. There are many historical sites and caved inscriptions left. Mt. Yuntai Scenic Area comprises Mt. Yuntai and three other mountains, with a total are of 210 square kilometers, crowned by its highest peaks Tuanlunyan Peak at 1066 meters.
Mt. Yuntai means a mountain looks like a platform surrounded by clouds in Chinese. It gains this name because that it sticks up highly into sea of clouds above mountains and its summit is flat as a huge platform. The view from the mountain summit is marvelous, with towering peaks often cloaked in mist, like a white dragon rolling in from the sea. The clouds add much charm to Mt. Yuntai. Climbing to the summit of the mountain, tourists can admire the marvelous spectacle of Cloud Sea, even can feel like held by the "arms" of clouds on summer morning. Sandwiched by Shanmuhe River and Huangzhouhe River and free from human spoiling, Mt. Yuntai is the heaven for various kinds of flora and fauna.
There are 24 scenic spots in Mt. Yuntai Scenic Area. Besides the Summit of Mt. Yuntai –Tuanlunyan Peak mentioned before, Bijia Peak, Plank Road built along a cliff, Pingshan Cliff and Tiger's Back Scenic Spot are the most famous. Bijia Peak, with an indentation in the middle, is in the shape of a rack used to hold brush-pens ("Bijia" in Chinese) or a saddle. Going over the Bijia Peak, tourists will see the plank road built along a cliff where the scenery is precipitous and marvelous. There is a sightseeing platform on the stretching part of the cliff, from where tourists can see a line of huge peaks towering in a deep gorge. That is Pingshan Cliff, which looks like a screen ("Pingshan" in Chinese). Traveling forward, tourists will get to Tiger's Back Scenic Spot. The route in this area is built on the narrow mountain ridge with hundred-meter-deep gorges at both sides. Walking on the route just like walking on tiger's back. With dense forest cover, the scenery is really unique and beautiful there.
Featuring virgin forests, various kinds of wildlife, unique mountains, unspoiled streams and many historical sites, Mt. Yuntai Scenic Area is a tranquil and refreshing area contrasting to hustle and bustle cities.
Our local experts are always ready to create you a hassle-free tour. Get an authentic experience by contacting one of our travel advisors.