Tongli Ancient Town
This ancient town is surrounded by water on its four sides and contains five lakes: Tongli Lake, Jiuli Lake, Yeze Lake, Nanxing Lake, and Pengshan Lake. Buildings sit next to the water, giving the area its name, "Small Oriental Venice." Tongli's main features are plentiful water and bridges, buildings from the Ming Dynasty and the Qing Dynasty, celebrities, and refined scholars. Tongli is famous for small bridges, flowing water, and households.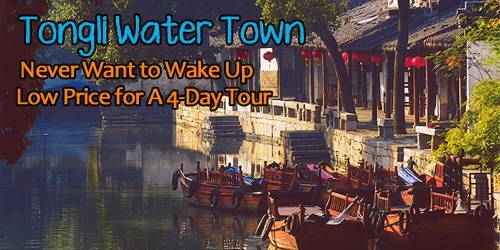 Attractions
Tongli's major attractions are a garden, two halls, and ternate bridges. Tuishi Garden, Chen Qubin's former house in Shanyuan Street, was listed in the Focus Cultural Relic Unit under State Protection. It is a four-A national scenic spot that includes Haoge Hall, Baichi Tower, and Blue Emerald and Green Jade Hall, among other structures.
The ternate bridges, Taipeng Bridge, Jili Bridge, and Changqing Bridge, are a treasure of bridges built during the Ming Dynasty and the Qing Dynasty. The natives of Tongli still follow the convention of "walking across ternate bridges." This convention has been handed down over 1,000 years and means, "going over these three bridge floors sequentially on foot." The people of Tongli regard ternate bridges as a symbol of good luck and happiness, and believe they dispel calamity and difficulties. It is said that if you go over Taipeng Bridge, you will be healthy throughout the year; if you go over Jili Bridge, your business will boom; and if you go over Changqing Bridge, you will be young forever and have a long life.
Gengle Hall was built during the Ming Dynasty and has survived the rise and fall of several dynasties. One crosses three gates to reach the deepest courtyard with its beautiful and pleasant scenery, 41 rooms, and unique buildings such as Lotus Pond, Mandarin Duck Hall, Huanxiu Hall, and Sweet-Scented Osmanthus Hall. Gengle Hall has been classified as one of the eight most famous attractions of Tongli.
Chongben Hall, to the north of the three bridges, connects with them and faces Jiayin Hall. Its key attraction is the various carvings, such as found at the rear of Chongben Hall, which embodies 58 quintessential wood carvings, all reflecting widespread folk stories from the Yangzi River Delta. Luoxing Island, a chinampa in Tongli Lake, is approximately 40 square kilometers in area and is famous for its scenery filled with misty rain.
How to Get There?
Transport: Tongli is a town under jurisdiction of Wujiang city (at county level) Jiangsu province, seven miles apart from Songlin, the location from Wujiang government, and 25 kilometers from the urban area of Suzhou. In Suzhou, Wu Jiang and Shanghai buses are dispatched at high frequency.
Opening Hours:
Opening hour: the whole day
More Tips:

1. The single ticket can be bought in every scenic spot and the price varies from 5 to 40 Yuan. 
2. If you have bought the through ticket, you needn't buy the single ticket to enter into the ancient town. Tourism season can be divided into : low season (1st June 1-31st August , 1st December -29th February of the next year) the peak tourist season ( 1st March- 31st May, 1st September- 30th November)
Recommended Suzhou Tours:
For an authentic travel experience, contact one of our travel advisors. Our local experts are always ready to create a hassle-free tour for you.