Tianjin Food
Last updated by yourguide at 2017/11/11
Tianjin is proud of its delicacies. Food streets are packed with small food stalls and restaurants and sell a great variety of snacks including crab, cuttlefish, pigeon, cured meat, pastries. Even those who are very fastidious about eating find themselves satisfied in Tianjin. If you are unaccustomed to the local delicacies, dishes from other parts of China also available. The main food streets in Tianjin are Nanshi (Southern City) Food Street, Heping District Food Street and Shiyue Food Street.
Tianjin Featured Food:
Goubuli Steamed Stuffed Bun (goubuli Baozi)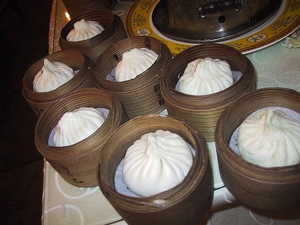 Goubuli Steamed Stuffed Buns are known for their generous fillings, which are succulent and not greasy.

The Goubuli Steamed Stuffed Bun has a history of over 150 years. In addition to three chain stores in Tianjin, Tianjin Goubuli has opened branches in Beijing, Shanghai, and Shenzhen, and even in foreign countries such as the U.S., Japan, and Korea. Goubuli is also experimenting with more than 20 kinds of buns.

Goubuli Dumpling Restaurant: No. 77 Shandong Street, Heping District.
Eight Large Bowls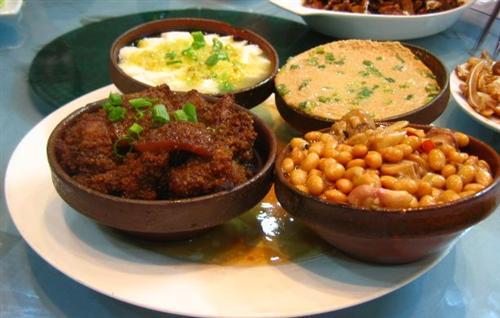 Cooking the Eight Large Bowls takes both a "thick" and "thin" method. The "thin" eight large bowls include quick-fried fish fillet, braised and shelled fresh shrimp, fresh cocktail, sweet-scented osmanthus fish bones, braised butterfish, Sichuan shredded meat, Sichuan large meatballs, loose meat, and so on. The "thick" eight large bowls consist of fried blue shelled fresh shrimp, boiled shredded chicken, mixed and cooked egg soup and crab ovary, trepang meatballs, silver piece meat, consommé chicken, braised chicken, daily family cooked carp, and so on. The eight large bowls are often served at banquets.
Fried Dough Twist (ma Hua)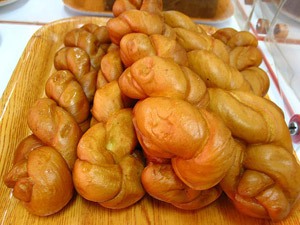 Mahua has a shiny and golden look. It is made by frying a bar of dough in peanut oil.

The bars are usually stuffed with a variety of fillings, most often waxy tasting beanpaste (Dou sha), a taste only for the hardy.

Since it can be preserved for several months, you can take it home to share with your family and friends.
Lama Cake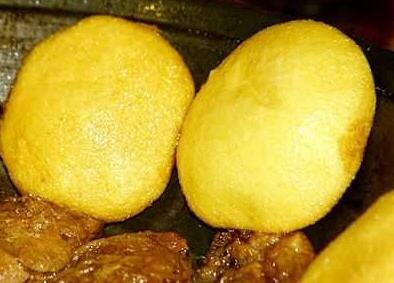 Lama Cake is one of the traditional snacks in Tianjin. To make this kind of cake, first add sugar into the egg and mix it with flour until it shapes like a beehive. Then put into a steaming drawer and steam it until it turns golden. Lama Cake tastes sweet and is rich in nutrition.
Ear Hole Fried Cake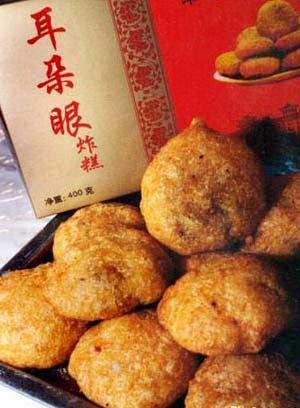 The snack got its name from Ear-hole Street in Tianjin's Bedaguan, where it was invented and sold. The Ear-hole Fried cake dates back to the late Qing Dynasty, over 100 years ago.

The cake is made of carefully leavened and kneaded glutinous rice dough. The filling is bean paste made from quality red beans. The pastry of the finished cake is golden in color, crisp and crunchy, while the filling is tender and sweet, with a lingering flavor.
Page 1 of 1 First Previous 1 Next Last