How to experience a local life in Chengdu ?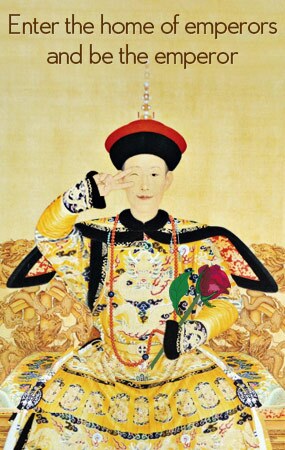 Chengdu is the capital of Sichuan province in Southwest China. Chengdu has a pleasant climate and. the fertile Chengdu Plain, on which Chengdu is located, is known as the "Country of Heaven" or also "The Land of Abundance".
The discovery of the Jinsha site put the area of Chengdu forward as the centre of the bronze age Sanxingdui culture around the time of the establishment of the state of Shu, prior to its annexation by Qin in 316 BC.
The regional gastronomy and the historical heritages confer its fame. Although Chengdu looks like many Chinese cities with its high buildings, highways and temples, it deserves a visit of a few days. For those who are keen in spicy food preparation, you will have the opportunity to appreciate the spiciest dishes of China.
The distinct characteristic of Sichuan cuisine is the use of spicy chillies and peppercorns and Chengdu is an officially recognised UNESCO City of Gastronomy. Sichuan's cuisine features cautious pairings of audacity and delicacy in dishes, snacks, banquets, and hotpot.
Local dishes include Grandma Chen's Tofu (Mapo doufu), Chengdu Hot pot, and Dan Dan Mien literally meaning, "Noodles carried on a pole"(Dan Dan Noodles). All three dishes are spicy. Mapo Doufu and Dan Dan Mien contain Sichuan peppers to give them additional flavour.
Some of the more common snacks found across town include noodles, wontons, dumplings, pastries, tangyuan (sweet rice balls), drinks, salads, and soups.
Chengdu outnumbers Shanghai in the number of tea houses and bars despite having less than half the population and outstretches a carefree lifestyle. Traditional tea houses in Chengdu offer jasmine, long jing and biluochun tea. Modern tea houses can be spotted on almost every city corner. Some luxury tea houses in Chengdu also offer live entertainment such as Sichuan opera shows.
Take time to see a Szechuan opera show; it is really disorienting. Proper to Chinese art culture, painted faces, traditional costumes, it is a genuine journey at the heart of China and more principally at the spirit of Szechuan.
Shopping
Shu embroidery (Shu is the shortened form of Sichuan), also called "Chuan embroidery" is one of the four famous embroidery styles in China. It has enjoyed high reputation as" a treasure of Sichuan" ever since the Han Dynasty (206 BC – 220 AD). The craft of Shu embroidery reached its peak during Song Dynasty (960-1279). Its products include pillowcases, embroidered slippers, mirror curtain, lace, wedding dress, scroll, hats and shoes, skirts, kilt facing, etc … It mainly employs the themes of auspicious happiness.
Sichuan Shu brocade is classed as one of the most famous textiles in the world. It is known as one of the four most exquisite Chinese brocades along with Yun brocade from Nanjing, Song brocade of Suzhou and Zhuang brocade from Guangxi. This style of brocade was regarded as the top level of ancient China handcrafted silk.
Spot highlights
 Pandas
Giant Panda Breeding Research Base (Xiongmao Jidi), 1375 Xiongmao Avenue the Outside Northern Third Ring Road, Chenghua District
Chengdu Zoo, 234 Zhaojue Temple South Street, Chenghua District
Qingyang Taoist Temple
Located in the western part of Chengdu, Qingyang Temple ('Green Goat Temple') is not only the largest and oldest Taoist temple in the city, but also the largest Taoist temple in Southeast China.
According to history, Qingyang Temple was the place where Laozi preached his famous Dao De Jing to his disciple, Ying Xi.
Wenshu Monastery
Also named Xinxiang Monastery, Wenshu Monastery is the best preserved Buddhist temple in Chengdu. Initially built during Tang Dynasty, its history dates back 1,300 years.
Electronics and the IT industry
Chengdu has long been established as a national base for the electronics and the IT industry. You will thus find in numerous districts cheap phones or cameras, but pay attention to fake.
Other Things to Do in Chengdu
Temples and places of worship
Wu Hou Memorial Temple, East Street, Chengxiang Town, Qingbaijiang District
Tomb of Wang Jian, Eastern Fuqin Street, Jinniu District
Wenshu Temple, No.66 Wenshuyuan Street, Qingyang District
Museums
Sichuan Museum, 251 Huanhua South Road, Wuhou District
Jinsha Ruins Museum, No.2 Jinsha Site Road, Chengxi

Sichuan University Museum (Sichuan Daxue Bowuguan), east gate of Sichuan University, No.19 Wangjiang Street, Wuhou District
Culture of poetry
Dufu's Home, No.37 Qinghua Road, Qingyang District
Parcs
People's Park (Renmin Gongyuan), City's largest park, Citang Jie
Baihuatan Park, 175 Sec.1 Western First circle Street at Chengdu City , Qingyang District
Chengdu Culture Park, Qintai Street, Qingyang District
Wangjiang Lou Park, No.30 Wangjiang Street, Wuhou District