Famous Teahouses in Sichuan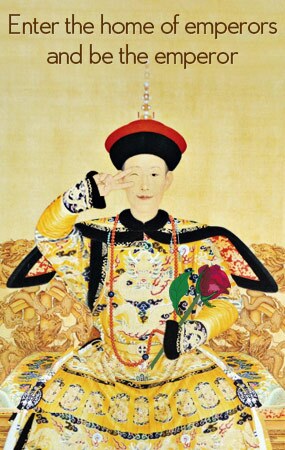 Nobody offer better tea than the Chinese people and China's tea culture is best represented in Chengdu. With hundreds of teahouses in Sichuan province, choosing the best one can a bit tricky. So, here is a comprehensive list of the most famous teahouses that are highly recommended by both local and foreign tourists.
Wangye Temple in Zigong
This temple is the perfect representation of traditional ancient architecture in China. With the external building damaged during the anti-Japan war, its patio, platforms, and place are still in good shape standing along the center shaft. This 100-year-old temple typically don't make it to the top 10 must-visit places in Chengdu but it is extremely popular to locals because here, they serve some of the best teas in the province. While sipping traditional Chinese tea, one will be treated with great surroundings and scenic views of the calm river. It is also one of the highly recommended places to try local snacks, which include pickled beef slices, ravioli or wonton, and Chinese Jelly.
Address: Fuxi Riverside, Ziliujing District, Zigong 643000, China
How to get there: Take bus no.8, 31 or to Shawan Hotel bus stop, which is near the temple
Opening time: 9am-5pm
Heming Teahouse
Located at People's Park, Heming Teahouse is a staple in Chengdu for more than 100 years. It offers soothing atmosphere, which is great for conversations and is packed with chairs, tables, and tea enthusiasts any time of the day, any day of the year. Built near the lake, the teahouse is extremely relaxing. The place also offers wide range of teas that cost 15RMB to 25RMB. Teas are served with a refillable huge thermos containing hot water. You can have it refilled as many times as you wish. Most tea-drinkers also go here to have their ears cleaned out and get their backs rubbed for additional fee and most say that these add to the experience. As the establishment is extremely popular, tourists are advised to come early to get a seat.
Address: 12 Shaocheng Lu People's Park, Qingyang District, Chengdu
Opening hours: 11am-10pm
Price: Teas cost 15-25RMB
How to get there: Take bus 13, 5, 47, 43, 58, 53, and 905 to People's Park.
Huajian Teahouse
Locals and foreign visitors dub this as the teahouse with the greatest atmosphere. Nestled in narrow alleys of Qingyang District, it is the best place to go to if you want to get way from the hustle and bustle of the city centre. The courtyard setting is perfectly complimented with doors that are magnificently covered with flowers. Outside, there are simple but stunning and relaxing hanging lamps. Aside from wide range of tea choices, the teahouse also offers traditional Chinese dishes and a musician plays in the background as guests dine and enjoy their cup of tea. WiFi is available for free.

Address: 16 Kuanzhai Gangzi, Chengdu
Tel: 028 8625 5700
Price: RMB 65
Transportation: Take bus 93, 70, and 62 to Changshun Zhong Jie
Pingle Ancient Town
Several teahouses are lined up along the riverside in Pingle Ancient Town. The gorgeous and breathtaking scenery attracts art students, local tourists, as well as foreign visitors. Here, you can feast your eyes on beautiful scenery that made of dancing willow trees, sea of bamboo, and old bridges above the tranquil river. Listed as national historical and cultural town, you know that you're in for a great cultural experience when you visit the place. Some of China's finest teahouses are here. Across the river are additional teahouses and diverse eateries where you can also sample traditional Chinese food. Highly recommended are pumpkin and corn bread.

Address: Pingle Town, Qionglai 611539, China
How to get there: Take a bus from Xinanmen Bus Terminal
Hours: 9am-7pm
Price: 10RMB to 50RMB per cup of tea
Shunxing Old Teahouse
This establishment is a museum that features sculptures, murals, and artifacts that tell the stories of old Chengdu. It serves some of the greatest tea in the province and offers visitors with great cultural experience. Marked by Sichuan folk custom, this teahouse features Sichuan opera erhu performance every night. Visit the place to enjoy the tea, to soak up the culture, get your ears cleaned, and get your back rubbed for total relaxation.

Address: 258 Shawan Lu, Jinniu District, Chengdu
Tel: 028 8769 3202
Opening hours: 10:30am – 11pm
Price – 85RMB for a cup of tea
Getting there: Take bus 70, 62, 93 to Changshun Zhong Jie
Yuelai Teahouse, Chengdu
Yuelai Teahouse, which is located at Huaxing Road is famous for two things: world-class great tasting teas and for being the best place in Chengdu to watch Sichuan opera. Although it is smacked in the middle of noisy business circle, the teahouse is very quiet, peaceful, and relaxing. During the 20th century, it is hailed as the busiest teahouse in the area and became the major assembly place of theatregoers. The two-storey building teahouse, which is connected to the stage via a stone bridge, can be reached by going through a very narrow corridor. If you want to experience local Sichuan Opera while sipping some of the best teas in China, Yuelai Teahouse is the place to go.

Address: Huaxing Rd, Chengdu
Tel #: 028-86620586
Cost per person: 5-10 RMB
How to get there: Take bus 902, 3, 8, 6, 49, or 37 to Huaxing Road
Wenshu Monastery
Located at Wenshu Yuan Street, this monastery is a major tourist attraction in Chengdu not just because of its well-preserved Buddhist temple but also because of the best tea that are served here. Several teahouses lined up the road going to the temple and choosing which establishment to choose can be a bit tricky. However, be assured that each teahouse, although they have their own signature teas, offer world-class teas for very reasonable prices. Wenshu Monastery also boasts cultural relics, solemn halls, and exquisite garden. Couple these with a nice warm tea, you'll be guaranteed a relaxing, soothing experience.

Address: No.66 Wenshuyuan Street, Qingyang District, Chengdu 610017, China
Phone number: 028-86950699
Admission: Free
How to get there: Take bus 300, 98, 55, or 16 at Wen Shu Yan Station
KuanHe tea house
KuanHe is one of Chengdu's high-grade professional-themed teahouse which perfectly combines world-class tea, professional performance, business association activities, and traditional tea ceremonies. Located on the south of Second Ring Road, it offers ultimate relaxing time. This teahouse, which provides quiet environment and exceptional service, covers 140 sqm of land and it is divided into the dining room and hall to accommodate 200 guests at any given day. It boasts a long list of tea selection, which of course, include traditional Chinese tea that are extremely soothing and great-tasting.

Address: 3 Dongjiawan N St Wuhou, Chengdu, Sichuan
Phone number: +83 28 6151 5556