How to Plan a 3-Day Trip in Hong Kong
Last updated by wendysong at 2016/4/11; Destinations: Hong Kong
Day 1 Visit Mong Kok,Tsim Sha Tsu and Victoria Harbor
On your first day in Hong Kong, it is a good idea to first orient yourself from the Kowloon Peninsula which leads directly to China. This area, which is comprised of the regions called the New Territories as well as the infamous Kowloon, is home to an entire spectrum of residential areas, historical landmarks, and other pieces of Hong Kong that will give you a well rounded perspective of this multifaceted metropolis.
Suggested route
Mong Kok for breakfast
Jordan and Tsim Sha Tsui sightseeing & shopping
Victoria Harbor for dinner & photography
Mong Kok and Jordan for nighttime market exploration
Breakfast
Try something from a hole-in-the-wall restaurant! Anywhere you go, you will find small but delicious eateries tucked into the smallest or largest of streets. Dim sum, a style of Cantonese food which comes in small plates or portions much like Spanish tapas, is a favorite of all Hong Kong dwellers. Some of the best selections can be found in the Mong Kok neighborhood around the main streets Nathan Road and Argyle Street. The MTR metro station Mong Kok is the most convenient way to access this gastronomic area.
Lunch
A typical lunch in Hong Kong consists of a hot bowl of noodles cooked in a rich but light broth filled with meats and vegetables. These meals are relatively simple but full of flavor. Anywhere in the area that you will be walking today, you will find noodle shops all around, ranging from basic eateries to trendier cafes and restaurants. If you don't speak Cantonese Chinese, it may be helpful to choose a dining spot which has photos on their menus!
Dinner
Since you should be around Tsim Sha Tsui during sunset to see the last bits of light strike the skyline, it will be a nice idea to stay in the area for dinner due to the views that many restaurants offer. As well, there are restaurants of all kinds to choose, from local Cantonese styles to Indian to Western to international. For example, a world-renowned tea time and dinner choice is Felix at the Peninsula Hong Kong Hotel or tapas at the Kowloon Shangri-La for those looking for a special night out. Otherwise, there are many other choices particularly along Chatham Road or back on Nathan Road and their side streets.
During the day
Walking south of Mong Kok down the famous Nathan Road, you will pass through the neighborhoods Jordan and then Tsim Sha Tsui on the shores of Victoria Harbor. Mong Kok is a boon for shoppers, especially females, as some of the trendiest and predictive fashion on earth can be found in its impressive shopping centers. Prices vary between extreme bargains to ultimate luxury. These 2 reasons are why Mong Kok is a world-class shopping and style district.
Jordan is an extension of Mong Kok, in many ways, but it has its own flair. Here you will find shopping centers full of the latest electronic gadgets, large scale print projects, furniture, high-end handbags and makeup, and almost anything else you can imagine.
The streets, meanwhile, are flush with both dry and wet markets, making Jordan a fascinating place for those who enjoy discovering the local food scene and observing typical daily life. Ladies Market, Flower Market, Goldfish Market, Bird Market, and Apliu Street are among the best places to poke around. Also as you gaze upwards, you will see rusty, old apartment buildings alongside some of the most expensive condos and properties in the world. Jordan is a neighborhood of contrasts.
Finally, make your way to the "end of the road" as it may be, to Tsim Sha Tsui. This is perhaps the most visited area in Hong Kong on the whole with its endless array of shops and restaurants that are targeted towards visitors.
There are also museums such as the Hong Kong Space Museum, Hong Kong Museum of History, Hong Kong Science Museum, Hong Kong Museum of Art, and the Hong Kong Cultural Center (admission fees vary).
But the main draw is the Avenue of Stars which is the Hong Kong version of the Hollywood Walk of Fame. Here you will find handprints from some of Hong Kong's most famous celebrities during the day (it is also a great place for people watching) and a colored laser lights show across the city's iconic skyscraper-filled skyline at night, rising above the gleaming waters of Victoria Harbor.
At Tsim Sha Tsui, you may also take the affordable Star Ferry across the harbor to reach Hong Kong Island.
One thing is for sure, is that one day in these districts of the southern Kowloon Peninsula, you will never be for a lack of things to see or do!
Should you wish to take the MTR metro, you may also access these areas by accessing the stations Jordan, Tsim Sha Tsui, and Tsim Sha Tsui East, respectively.
Night activities
Although you will have had a long day of shopping and sightseeing, it is fascinating to explore Hong Kong's nocturnal side. The night hours are the best time to return to the markets of Jordan, most particularly the Temple Street Market.
In the darkness lit up with a million lights, you will see teenagers enjoying the adventurous air of evening, businessmen in suits sharing large plates of seafood dinners, children in hand with their parents seeking new toys, tourists exploring knick knacks and souvenirs, and fortune tellers offering their special eye to passersby.
Feel free to walk around and discover since the area is very safe, but all the same, do watch your personal items as you would in any large city at night. The closest MTR station is Yau Ma Tei.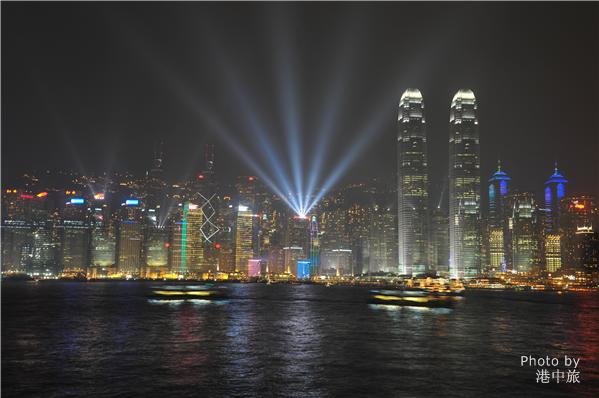 Day 2 Experience Hong Kong culture
Having spent your first day in Hong Kong on Kowloon Peninsula learning about the different aspects of daily life in this city of contrasts, your second day will be well spent on Hong Kong Island itself. This is where you will see old Hong Kong blended seamlessly with new Hong Kong; British influences can still be seen, while the most dynamic
Suggested route:
Star Ferry from Tsim Sha Tsui to reach Hong Kong Island
ICF building to reaching new heights
Take a ride on a "ding ding" tram
Victoria Peak for views of the city
Ride the outdoor escalators between Central and the Mid-Levels
Shopping in Central
Breakfast
An interesting way to start the day is to pop into a restaurant that serves Western style Cantonese food. What does this mean? Over a century of occupation, the British left their mark especially in the food scene. Today, you can find Chinese vegetable soups filled with short macaroni pasta, omelets with sides of white rice and typical meats, and much more. Café de Coral, Fairwood, and Maxim are all very popular restaurant chains that serve favorite dishes as these.
Lunch
On Hong Kong Island, you will have the best chance to try Hong Kong's world class restaurants especially in the Central and Wan Chai neighborhoods which are among the most exclusive and in-demand in the world. At some properties, reservations must be made months in advance. And in an immensely large and populated city such as Hong Kong, competition and the desire to overturn the new with the even newer means that competition is fierce and the next best thing is always just around the corner. Because of this, it is hard to find a bad meal!
Dinner
Grab something to eat in the Mid-Levels or Central! Whether you're craving a taste of home or the best Chinese food that Hong Kong has to offer, this is definitely the place to find it. As far as budget goes, as elsewhere in Hong Kong, you will find options that cater to all levels.
During the day
Picking up from where you left off the day before, take the 11-minute Star Ferry ride from Tsim Sha Tsui across the calm waters of Victoria Harbor and arrive to Hong Kong Island. The ferry itself is an icon of Hong Kong heritage and has carried passengers for over 120 years. Tickets prices depend on the deck you choose to enjoy: upper deck seats are $2.50 on weekdays and $3.40 on weekends, lower deck seats cost $2.80 on weekdays and $2 on weekends. Both offer incredible views of the city skyline.
Once on Hong Kong Island, skip over to the IFC, or the International Finance Centre which is made of 2 towers, one for shopping and one for commerce. A must-do is to visit the Hong Kong Monetary Authority and Currency Museum, not only for its fascinating exhibits about the history of the city's currency and economy, but also for the unbeatable 360-degree views of the harbor and developed island. To reach the IFC by MTR metro, disembark at Hong Kong station. Entrance to the museum is free, but be sure to bring an official photo ID in order to enter (for security reasons); allow at least 30 minutes to enjoy your visit.
Get moving again and just outside of the IFC, there are stations for riding the "ding ding" trams that are so iconic to the Hong Kong urban landscape on this island. They have been taking passengers for over 100 years and are both vital forms of transportation to this day as well as tourist attractions. Today, the trams have the outer appearance of their vintage designs but the interiors are as modern as they get. If you're feeling free, enjoy the ride especially towards the eastern end of the island; the tram runs altogether from Shau Kei Wan to Kennedy Town. A lower level seat lets you see the city up close and personal, while an upper level seat gives you a bird's eye view of the activity below. Tickets are 2.30 for adults and $1.20 for children under 12.
If the views from the Currency Museum do not satisfy you, continue on to Victoria Peak, also just known to locals as The Peak. From the shopping center and observation platforms, you will be granted sweeping panoramas of Central, Victoria Harbor, and Lamma Island among other highlights of the greater Hong Kong region. This is one of the most famous and popular sites in Hong Kong and on weekends it can get especially busy.
To reach Victoria Peak, take the Peak Tram from Central on Old Peak Road just south of the Hong Kong Zoological and Botanical Gardens, or a quick bus, which is lower in cost and in some ways more visually exciting. Tram tickets are $28 one way or $40 roundtrip for adults, $11 one way or $18 roundtrip for children and seniors. To enjoy the facilities at Peak Tower is free of charge.
Afterwards, make your way back down to Central and do some shopping as you wish. This is one of the most premier shopping areas on the planet, and you will find the world's top and exclusive brands all around.
For one last adventure for the day, take the outdoor escalators from Queen's Road Central in Central up to the Mid-Levels area of Hong Kong Island. Not only is this a unique way to see the island, the transportation system itself is a wonder: this is the longest outdoor covered escalator system in the world, taking 20 minutes nonstop for the entire one-way journey, and more than 55,000 people utilize them daily to get from home to work and beyond. And of course, along the way, you will see the wealthy side of Hong Kong particularly once you reach the Soho area.
Night activities
Go for a drink or attend a party in one of the most elite nightlife districts in the world, Lan Kwai Fong. Found in Central, Lan Kwai Fong is where the young, the beautiful, and the rich gather to see and be seen. However, don't be intimidated because there are just as many bars and clubs with more casual vibes (and prices). The same goes for the Wan Chai area which comes alive at night. A drink with a view may also be up your alley; if you're looking to splurge, head to the bars found at the Ritz-Carlton Hotel, Upper House Hotel, East Hotel, Pacific Place, or the Peninsula Hong Kong Hotel!
For those looking for a cultural experience, it is worth it to attend a horse race at Happy Valley Racecourse especially on Wednesday race nights. Horseracing (and betting) is an institution in Hong Kong and even for those who are not usually interested in racing or horses, a night at Happy Valley will still surely entertain. Ticket prices vary depending on the category of seats. To reach Happy Valley, take a tram to Happy Valley Station, or take the MTR metro to Causeway Bay station.
Day 3 Beyond the ordinary 
Day 3 is ideal for seeing outer Hong Kong. That is, a visit to one of the outer islands or parks is a great way to pass your third day in the city.
Suggested destinations:
Lantau Island to visit Tai-O village and the Tian Tan Buddha (Big Buddha): Lantau is where you will find Hong Kong's international airport. However, the largest outer island in the region also offers unparalleled natural beauty due to the mountains and the forests, a cable car that provides breathtaking views of the Pacific islands group, traditional Tai-O village which sits on stilts and is a favorite for seafood lovers, and the immense golden Tian Tan Buddha (Big Buddha) and temple on top of a peak. This option is ideal for those who love to learn about the local culture, religion, and landscapes. Take a Lantau Island ferry from Tsim Sha Tsui to arrive.
Aberdeen to eat the freshest seafood: Since Hong Kong is a gem in the sea, it is no wonder it yields some of the freshest and most flavorful seafood of any country. There are many restaurants that have live sea creatures, some more exotic than others, in tanks outside of their main door; diners are welcome to choose what they want prepared for their meal. An international favorite is Jumbo Kingdom, a floating restaurant which has served top seafood meals for many decades. Bus Route 973 from Tsim Sha Tsui East Bus Terminus is the most convenient way to reach Aberdeen.
Dragon's Back Trail and other hikes: Despite Hong Kong being a world-ranked metropolis, the majority of its lands are actually pure, undisturbed nature. The Dragon's Back Trail at the eastern end of Hong Kong Island is regarded as one of the most beautiful urban hikes that exist; on a clear and sunny day, you will appreciate the mountain views along with the contours of the sandy beaches down below. Also, there are hikes along the Maclehose Trail, Lantau Trail, Hong Kong Trail, Wilson Trail, and more. Almost all of these are accessible for beginners and intermediate hikers.
Useful travel tips
Language: Due to the British occupation, the younger generation mostly speaks both English and Chinese. Older generations tend to only speak Chinese. For the most part, English speakers will have no problem getting around Hong Kong since most major signage are presented in both languages.
Tipping: It is not customary to tip for basic daily services such as at casual or basic restaurants, taxis, or salons as examples. However, at finer restaurants, it is customary to give a 10-15% tip, or an amount that best fits the service you were provided.
Best time to visit: The best time to visit Hong Kong is during the milder months of September to November. In summer, the city gets steamy and humid, and in winter, it is cold and humid. As well, typhoon season begins in May and ends in November, which yields much rain.
Transportation: The easiest way to maneuver around Hong Kong is to take the MTR metro. Buses are also convenient but the routes can be confusing for the short term visitor. To pay for most methods of transport, purchase an Octopus Card, a touchface payment card which can be replenished at convenience stores and transport stations. The card can also be used to pay for taxis, trams, and store purchases.