No matter you enter the capital by air, train or bus, transportation and accommodation are something that needs figured out before you actually arrive. It never goes wrong to choose a place near as many as possible attractions that you want to visit. Connecting the dots, transportation between sites requires some google-ing.
I arranged my 3-day trips as below: arriving in Beijing on day 1, visit the old Beijing on the second day and end up my trip with visiting wonders in Beijing on day 3.
Day-1 Arrive in Beijing
I arrive by train in the morning, which is good timing for two reasons: firstly easier to get transfer to hotel and secondly I get much time to get familiar with the city. Beijing has one of the most effective subway systems and 2RMB-one-way ticket cuts my long journey to the hostel into just 30 minutes.
I booked Leo Hostel in a Hutong area near Dashilan (大栅栏), in hope to uncover the Hutong life at a causal pace. After everything's settled, I started studying the city map, especially on the part where I live, Xicheng District. The study is done in a small deli, where I also get some help from the locals.
Time is 1pm when I set off for a half-day discovery, routing as: Dashilan Commercial Street – Tian'anmen Square – Jingshan Park – Hutongs – Nanluoguxiang.
Dashilan Commercial Street (大栅栏商业街) is right at the hostel's gate. Renovated Qing-style houses are lined up on both sides, red flags are flaunting about the merchandises ranging from embroidered shoes to traditional herbal medicine.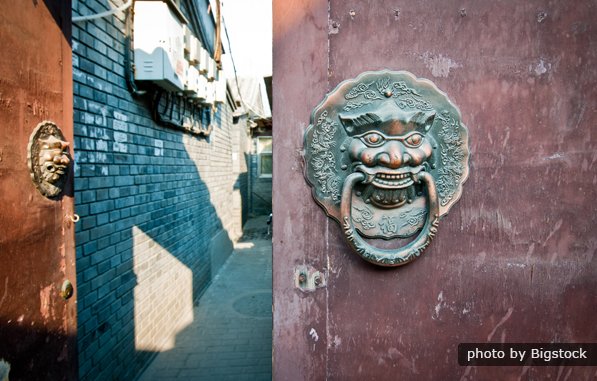 Laoshe Tea House (老舍茶馆) is a surprise to encounter when I try to find my way to Tian'anmen Square along narrow Hutongs. Inside a modest grey-stone house, the gentle melody of Peking Opera creates a time-traveling feel that throws me back to last century. This feeling is later enhanced by a bowl of traditional Black Sauce Noodles (炸酱面).
Heading eastwards and making a few turns, I find myself standing at a corner of the vast Tian'anmen Square. Covering up to 44 hectares (108.7 acres), Chinese people are always proud to introduce it as the world's biggest public square. Running from south to north, it is impossible to take panoramic photo if not viewing from the sky.
Zhengyang Gate (正阳门), Chairman Mao Memorial Hall (毛主席纪念堂), Monument to the Heroes of the People (人民英雄纪念碑) and Tian'anmen Tower (天安门城楼) across Chang'an Street are the iconic sites of the square. As it has not much to see per se, the interesting part is to observe people with different agendas.
At the north end, I get on Bus No.5 and head to Jingshan Park (景山公园). If you look at the map, it seems it is doable to walk from Tian'anmen Square to Jingshan Park. However, in reality, it means you have to get across the Dong Chang'an Street (东长安街) and walk around the wall of the Forbidden City for another 40 – 60 minutes before you finally get to the park. A 20-minute bus drive is an easier way.
According to Chinese Fengshui, only by the co-existence of water and mountains can excellent fortunate be created. Thus the build of Jingshan Mountain. The artificial mountain provides the king with assurance of firm authority and protection against the evils.
Entering the park from its south gate, successively a visit takes in Qiwang Tower (绮望楼), mountainous trail to the top and finally Wanchun Pavilion (万春亭). Panoramic photos of the Forbidden City are mostly taken at Wanchun Pavilion. Lovely colors of the russet roofs and red walls of the imperial palace are brought out on sunrise or sunset.
Descending from the top at the east side, you can take a break at Guanmiao Pavilion (观妙亭) hidden in the pine forest. At the hillfoot, there is a locust tree where the last emperor of the Ming Dynasty, Chongzhen, hung himself when the rebellion broke out. The park is also a good place for people-watching: locals come here in the early morning and after work to play keepies-uppies with giant shuttlecocks, others are singing and dancing while a group of Peking Opera fans sharing their passion.
Outside the gate, there are some lovely Hutongs that are just great for walk and dinner. Shatan Houjie (沙滩后街), Sanyanjing Hutong (三眼井胡同), Hengzhalan Hutong (横栅栏胡同), Nafu Hutong (纳福胡同), Lianziku Hutong (帘子库胡同), Dongbanqiao Street (东板桥街) and more. Rickshaw rider invites me for a drive for 40-minute, which is later proved as a well-spent 80RMB
The driver is also the guide and he explains the history of the Hutongs as paddle through. Dongbanqiao Street is originally the place for court ladies (宫女), who left home at their 12-14th.  They learnt court rules until got called to enter the Forbidden City and became one of the king's concubines. Hence, this street is known among the Beijingers as Niuniufang Hutong (妞妞房胡同).
The ride ends at the entrance of Nanluoguxiang (南锣鼓巷). Nighttime seems to be the best time to discover this renewed Hutong as neon lights turned on and bar music lures you in. Despite its popularity among the young generation, this 2.5km (1.5-mile) street sells more shopping zeal than traditional Hutong flavor.
By changing subway twice, I manage to get back to my hostel before 9pm. Get ready for tomorrow's exploration, I take some notes of the target sites: the Forbidden City, Summer Palace and other sites for improvisation.
Attraction Information
1. Dashilan Commercial Street (大栅栏商业街)
Highlights: Archaistic buildings of the Qing Dynasty and Republic of China, time-honored brands such as
Ruifuxiang Silk Store(瑞蚨祥绸布店), Neiliansheng Shoe Store(内联升鞋店), Liubiju Pickle Store
(六必居酱菜店), Rongbaozhai Four Treasures of the Study(荣宝斋文房四宝) and Tongrentang
Pharmacy (同仁堂药店).
Address: Dashilan Commercial Street, Xicheng District, Beijing
Opening Hours: All-day
Suggested Visiting Time: 1 hour or less
Admission: Free
Getting There: Bus NO.2, 20, 203, 626, 729, Special 11 and Special 7 to Dashilan Station
2. Tian'anmen Square (天安门广场)
Highlights: The largest public square filled with vast views and insight of China's revolution history. A
Pay Chairman Mao at visit at his permanent residence at Chairman Mao's Memorial Hall. Climb
up to the Tian'anmen Tower (天安门城楼) to look over the whole ground. Early morning flag rise
and afternoon flag down are good chances to blend in with the locals.
Address: West Changan Street, Dongcheng District, Beijing
Opening Hours: All-day
Suggested Visiting Time: 1 hour
Admission: Free, 15RMB/person for Tian'anmen Tower
Getting There: Bus NO.2, 5, 120 to Tian'anmen Square Station; Subway 1 to Tian'anmen Square East
3. Jingshan Park (景山公园)
Highlights: Learn about the Fengshui significance of Jingshan Mountain plus an excellent view over the
Forbidden City.
Address: No.44 Jingshanxi Street, Xicheng District, Beijing 
Opening Hours: 6:30am – 9:00pm
Suggested Visiting Time: 1 hour
Admission: 2RMB/person
Getting There: To East Gate: Bus NO. 111 and 124; to West Gate: Bus NO.5 and 609; to South Gate: Bus
NO. 101, 103, 109, 124, 609, 614, 619 and 685 to Gugong Station (Forbidden City Station)
and walk to the gate.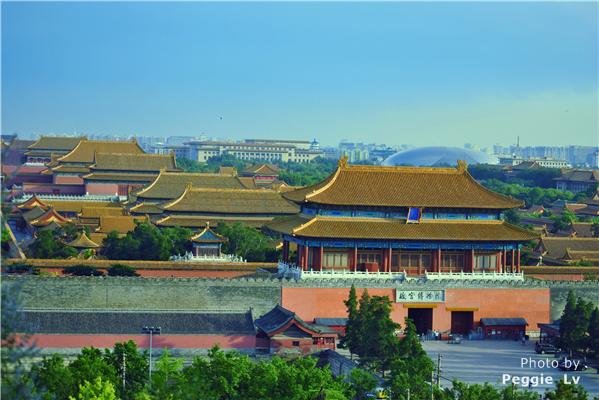 4. Hutong Visit in Xicheng District
Highlights: A mobile seeing of daily life in Beijing and learn about interesting history and anecdotes about
the neighborhood. Also it is a helpful act to the local driver.
Address: Xicheng District, Beijing
Opening Hours: All-day
Suggested Visiting Time: 1 hour
Admission: RMB80-120/rickshaw for 30minutes to 1 hour. One rickshaw can hold 2 people.
Getting There: starting point at Shatanhoujie (沙滩后街), Bus NO. 2, 60, 103, 109, 111, 112 and 846 to
Shatan Station.
5. Nanluoguxiang (南锣鼓巷)
Highlights: A renewed Hutong that is perfect for trendy shopping, eating and bar lounging. Nearby Hutongs like Heizhima Hutong (黑芝麻胡同, Black Sesame Hutong), Mao'er Hutong (帽儿胡同), Ju'er Hutong (菊儿胡同) and even further Yandaixiejie (烟袋斜街, Skewed Tobacco Pouch Street) are worthy a sway.
Address: Nanluoguo Xiang, Dongcheng District, Beijing
Opening Hours: All-day
Suggested Visiting Time: 1 hour
Admission: Free
Getting There: Bus NO.107 and 124 to Baochao Hutong Station (宝钞胡同站); Subway 6 to Nanluoguxiang Station
Transportation between Sites
1. Hostel to Dashilan Commercial Street: Walk westward for 500 meters
2. Dashilan Commercial Street to Tian'anmen Square: Walk along Qianmen East Street (前门东街)
northward for 2km, 30 minutes at easy pace.
3. Tian'anmen Square to Jingshan Park: Take Bus NO.5 (or Zhuan 5) at Tian'anmen West Station (天安门
西站), 20-30 minutes ride (4 stops) to the south gate of Jingshan Park.
4. Jingshan Park to Shatanhoujie: Exit the park at the east gate and walk 200 meters to Shatanhoujie
5. Nanluoguxiang back to hostel: Take Subway 6 at Nanluoguxiang Station and ride for 2 stops to
Chaoyangmen Station, change to Subway 2 and ride for 4 stops to Qianmen Station. Exit at C Gate and
walk 500 meters back to the hostel.
Recommended Dining Places
1. Old Peking Bean Paste Noodles (老北京炸酱面)
Notable Dishes: Old Peking Bean Paste Noodles (老北京炸酱面), Fried Pork Tripe (爆肚), Ma Tofu (麻豆腐) and Sour Soup (酸梅汤)
Price: RMB 20-35/person
Address: No.143, Qianmen Pedestrian, Dongcheng District, Beijing. (Nearby there is a McDonald's)
Tel: +86 010-52463833
2. Black Sesame Kitchen (黑芝麻厨房)
Notable Dishes: Braised Pork (红烧肉), Peking Roasted Duck (北京烤鸭), Fried Beef and Black Beans (豆豉牛肉), Wok Fired String Beans (干煸豆角), Spicy Chicken (辣子鸡丁) and Fried Shiitake with Mushrooms (素炒鳝丝)
Price: RMB 100-200/person
Address: The branch at Heizhima Hutong is temporarily closed
Tel: +86 13691474408
Website: http://www.blacksesamekitchen.com/
Note: Temporarily closed from June, 2014, reopen time is to be advised on their official website.
Travel Tips
1. Best time to come
Spring and autumn are considered the best time to travel to Beijing. You will have an absolute blast if you successes in avoiding some major national holidays such as the Spring Festival, Labor's Day (1st May), National Day (1st October) and summer holiday for students.
As for specific sites, take the Forbidden City for example, try to avoid weekends and its public closed day (Mondays) and you are good to go.
As for certain hours in one day, early morning and the evening are good for walk and sightseeing. The sun at noon is not only unbearable and unfriendly for photographers.
2. Walk or ride
Ask around for direction, locals will tell you "head north/south/west/east" instead of "walk straight and turn left". This is when you show them the map if you cannot tell from south and north.
Whatever the map is marked as more than 1km, you shall take transportation instead of walking. Luckily for budget travelers, subway costs only 2 Yuan for single-trip ride (until 2014) and bus charges you less than 3 Yuan for less than 20 stops. Taxi charges from 10 Yuan; and 2 Yuan for every additional kilometer.
3. Sample local food
Besides the fancy Peking Roast Duck, local snacks require some nerve to sample. Notable Beijing snacks include Douzhi'er (豆汁儿, fermented soybean milk), Chaogan (炒肝, fried liver soup), Baodu'er (爆肚, fried pork tripe) and Guanchang'er (灌肠, stuffed pig chitlin). A smart way to sample without discomfort is to ask what it is made of before ordering.
If you are traveling with a tour guide, ask about interesting facts about these scary-looking snacks.

4. Read the bus stops carefully
Most of time, one location can have up to 4 different bus stations. It happens that you find the station according to your map or guidebook, in hope to catch a bus and only to find the right bus station is another 1km away.
Direction for dummies is to ask for it with the locals. Or mark the stations, both in English and Chinese on your map or book ahead of time and double check it with the bus driver.
5. Clothing tips
For spring and autumn travels, you need a long-sleeve and a light coat. If you come in an early spring or late autumn, it might be snowy, so heavy coats and glasses (for snow blindness) will be necessary.
Beijing's summer is almost unbearable but it is dry so you won't have to worry about sweaty shirts. Sunblock, sun glasses, short sleeve T-shirts (3-5 for change), short pants and skirts are good essentials.
In winter, you need heavy overcoat, gloves, snow boots, hats and scarf and an umbrella. 
Continue to read on
Day-2 Beijing Back in Yesterdays