Day-3 Wander and Wonder in Beijing
As usual, I get up early this morning and a 5-Yuan breakfast kicks me a good start. The first target for today is the Temple of Heaven. Words on the street that an early morning visit is rewarding. It takes about 30 minutes by bus to reach its entrance.
Apparently I get here too early. I take my seat under a tree and watch the locals, mainly elderly, do their morning practices. No matter it is sword dancing, Ping-Pong playing, Tai Chi or ballroom dancing, they seem to enjoy it. 
Compared to the Forbidden City, Temple of Heaven is an easy piece of cake to cover. A map is needed. Entering at the South Gate, successively find my way to the Circular Mound Altar (圜丘), Imperial Heavenly Vault (皇穹宇) and walk on the Danbi Bridge (丹陛桥) to the Hall of Prayer for a Good Harvest (祈年殿). The straight line of walking is also a regular introduction of the royal ritual.
This site doesn't take much hard work to appreciate its beauty, especially when the weather is great. Now I face a rough task: to get to Mutianyu Great Wall from city center.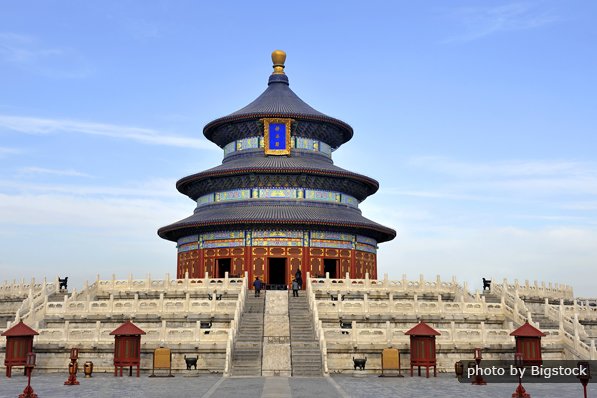 Some travel agencies sell packages of Mutianyu Great Wall with Dingling Mausoleum. I just focus on the Great Wall, though. As planned, I get to Dongzhimen Bus Station for Bus NO.916 after a quick lunch. The 2-hour drive gives me a nap resorting energy for the climb. Arrive in Huairou County at about 1pm, I change to Bus NO.936 to the site of Mutuanyu Great Wall. 
The most famous section of the Great Wall must be Badaling Section, which is also the first public open section. However, Mutianyu's isolation and naturalness are better draws for me. This decision is later proved as perfection especially with great weather.
This section was built on the mountain ridge of Xianyu Mountain. It meets the Juyongguan Pass at the west and Gubeikou Section at the east, thus a favorite choice for Great Wall hikers. 2,250 meters (1.4 miles) of the whole section is open to tourists, boasting for battlements built on the both sides of the wall. Its west point, which sees the Jiankou Section afar, is believed to be the best essence of the Great Wal.
The bus parks at the hill foot and I walk up to the ticket office for 10 minutes, passing countless vendors selling "I've been to the Great Wall" T-shirts. If traveling on limited time, like I do, a round-way cable car is a better way to go. Or one-way cable car teamed with a downhill toboggan.
The cable car takes me to the waist where the climb starts at an easy pace. Heading west, I encounter a watchtower that seems above others. It gives me an open view of the continuously snaking wall along the ridgeline. My hike lasts for an hour before I walk back to the start point and take the cable car.
It is almost 6pm that I finally back to the hostel. I left my luggage at the front desk as I checked out in the morning. Head to the airport right away and it seems like it's time to say Goodbye.
Beijing is a fascinating city with a lot to offer. 3 days seems a bit far-stretched if one would like to cover it all. For this trip, I leave myself something that worthy a return. It will be soon, I'll say.
Attraction Information
1. The Temple of Heaven Park (天坛公园)
Highlights: Royal temple of annual rituals. Classic speakers of traditional Chinese temple and oozes with
everlasting beauty.
Address: Tiantan Road, Dongcheng District, Beijing
Opening Hours: 6:00am - 10:00pm for the main entrance, 8:00am - 5:30pm for inside attractions. Ticket
offices close one hour before the closing time.
Suggested Visiting Time: 1-2 hours
Admission: RMB35/person (1st April to 31st October), RMB20/person(1st November to 31st March)
Getting There: Bus NO.2, 17, 20, 35, 69, 71, 504, 626, 707, 729, Special 11 and Zhuan 30 to the west gate; Bus NO.25, 34, 35, 41, 43, 60, 116, 208, 525, 610, 614, 684, 685, 687, 707 and 723 to the east gate; Bus NO. 36, 53, 120, 122, 208, 525, 610, 614, 958, Special 11 and Special 12 to the south gate; Bus NO.6, 34, 35, 36, 106, 110, 687 and 707 to the north gate; Subway 5 to Tiantan Dongmen Station (天坛东门站)
Website: http://www.tiantanpark.com/cn/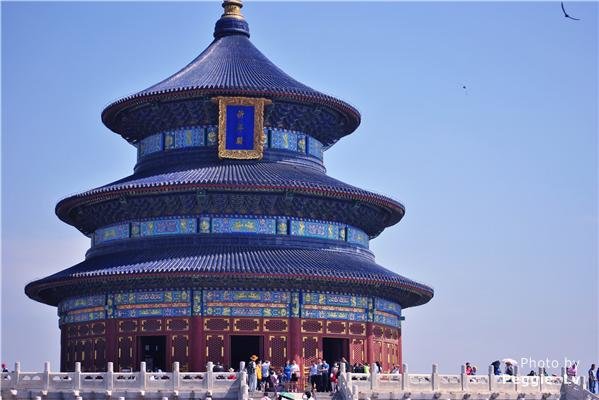 2. Mutianyu Section of the Great Wall (慕田峪长城)
Highlights: Less touristy section compared to Badaling Section and Juyongguan Pass, with far better views
of the mountains and dense groves
Address: Mutianyu Road, Huairou County, Beijing
Opening Hours: 7:00am - 6:30pm in summer. 7:30am - 5:30pm in winter
Suggested Visiting Time: 2-3 hours
Admission: RMB45/person, Cable car RMB80 for round-way, RMB45 for one-way; Toboggan ride
RMB40/person (not recommended for kids under 6)
Getting There: Bus NO.916 at Dongzhimen Bus Station to Huairou County and change to Bus NO.936 to
Mutianyu Great Wall
Website: http://www.mutianyugreatwall.com/
Note: Toboggan ride will be closed on rainy, windy or snowy days for safety matter   
Transportation between Sites
1. Hostel to the Temple of Heaven: Walk 200m to Qianmen Station (前门站) and take Bus NO.93 (or 120 and Special 11), get to Tiantan Ximen Station (天坛西门站) after 4 stops and walk 150m to the west gate of the site.
2. The Temple of Heaven to Mutianyu Section of the Great Wall: Walk 150m to Tiantan Beimen Station (天坛北门站) and take Bus NO.106 and arrive at Dongzhimen Transport Hub after 14 stops, take Bus NO.916 to Huairou Bei Avenue in Huairou County and change to Bus NO.936 to the site.
3. Mutianyu Section of the Great Wall to the hostel: Back to Dongzhimen Transport Hub and walk 700m to Dongzhimen Subway Station to take Subway 2 to Qianmen Subway Station and get out at C Exit, walk 500m to the hostel.
Recommended Dinning Places
1. Donglaishun Hot Pot Restaurant (东来顺饭店)
Notable Dishes: Mutton-based buffet hot pot restaurant with the most authentic Beijing hot pot flavors.
Address: NO.91, Tiantan Road, Dongcheng District, Beijing (near the east gate of the Temple of Heaven)
Price: RMB 50-100/person
Tel: +86 010-67016992
2. Fish Master/Yu Shifu (鱼师傅)
Notable Dishes: Braised Pork with Chestnuts (板栗红烧肉), Smoked Rainbow Trout (烤虹鳟鱼), Egg Pancake (柴摊鸡蛋), Fried Red Chill Shoots (炸花椒芽) and Stewed Chicken with Mushrooms (柴鸡炖蘑菇)
Address: Weidian Village, Bohai Country, Huairou County, Beijing
Price: RMB 50-80/person
Tel: +86 010 61621024
Travel Tips
1. Food and water for the climb  
No matter how much time you plan on spending on the wall, two bottles of water and some chocolate bars (bananas, cookies and energy bars will also be sufficient) should be in your pack. There is a Subway (the restaurant not the transportation) at the hill feet, grab a sandwich for the trip.
2. Book late flight/train
It takes about 2 hours for one-way to get to the Great Wall from downtown Beijing. One hour at the wall is basic if you won't go for further vistas. If you plan a morning trip, you will probably be back to Beijing at 3pm. 6-7pm for a Great Wall trip starting after lunch.
Booking a late flight or train, say after 8pm, will leave you much room and freedom. There is no need to carry the luggage with you. If you plan the trip wisely enough, there will be enough time for you to swing back to your hotel before heading to the airport / train station.
3. One dollar for a T-shirt?
Before you get to the ticket office, you will see a lot of vendors selling T-shirts, caps and other survivors. One dollar T-shirt, appealing? If you actually stop and would like a look-see, this gimmick becomes a long battle of haggling. Walk straight and avoid eye or word contact, that way you can save some time for the real appeal: the Great Wall. 
4. Best time for the Great Wall
For Mutianyu Section, it is perfect to visit at all time of the year. Autumn days with clear weather will provide you clear, far-reaching and colorful vistas. It requires some skills and protection for trip in winter days as it will be cold and slipper.
Continue to Read On