My 2-Day Xian Trip (Day 2)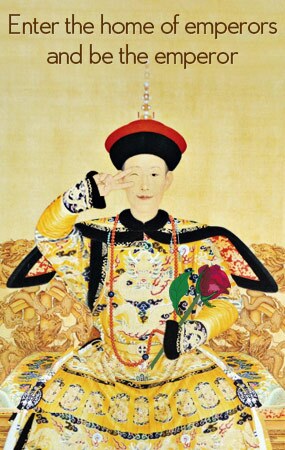 Day-2 Timeless Charm
During the first day, I have gained a common sense of modern life in Xi'an and how it balances with its long history. I leave a whole day for exploration at its wonder: the Terracotta Warriors and Horses.
I take an one-hour bus trip to Tonglin District, passing the famous site Huaqing Hot Spring (华清池). Proud to be one of the first arrivals at its ticket office. The vast site has a beautiful forest-like surrounding. A small buggy takes us navigate to the entrance after 5 minutes. Containing 3 main pits and one display hall, I know I am going to have a fulfilled day today.
The NO.1 Pit (一号坑) is the largest pit and also most-photographed one. This excavation pit has 4 major sites deep about 7 meters (23 feet) and houses a veritable army of over 1,000 warriors. The clay warriors are of live-size, yet tall up to 2 meters (6.6 feet). There is a big viewing platform offering a full view of the pit. At the north end, it is the archaeological site where the archaeologists are working on their findings (no photo taking here).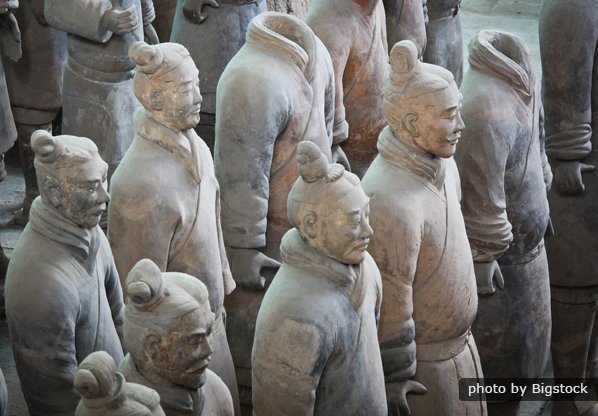 There's not much to see at the vast pit of the NO.2 Pit (二号坑), except for these 5 glass cases holding the soldiers. Kneeling Archer (跪射俑), Middle-ranking Officer (中级军吏佣), High-ranking Officer (高级军吏佣), Cavalryman with His Saddled War-horse (鞍马骑兵俑) and Standing Archer (立射俑) are the biggest showcases attracting many tourists.
The smallest pit, NO.3 Pit (三号坑) is believed to be the commanding office of the army. Inside the pit, there are high-ranking officers and strong horses stand permanently waiting for Qinshihuang Emperor to give the words. In a small chamber, tourists can take photos with the replica. Another chamber is a photo workshop, where RMB100 can get your face to a terracotta warrior.
Chariots and smaller objects of the unearthed pits are on display at Chariot Exhibition Hall (铜车马展厅). Along with them, there's elaborate introduction of details and function of the tomb complex.
I have lunch near the site and take the return bus back to Xi'an. I still have a couple of hours to kill before my flight. So I decide to visit Shaanxi History Museum (陕西历史博物馆). The museum boasts for various and interesting collection of the Terracotta Army, Silk Road, Buddhism cultures, Han and Tang Dynasty arts and ancient history of Shaanxi Province. The general three halls are listed by time: ancient times, the Han Dynasty and Tang Dynasty. My favorite part is the fresco hall of the Tang Dynasty.
2 days in Xi'an rewards me with everlasting etched memories of its timeless charm. Yet there's still more to discover, such as Mountain Huashan (华山), Famen Temple (法门寺), Hukou Waterfall of the Yellow River (黄河壶口瀑布), Cave Dwellings (窑洞), Banpo Museum (半坡博物馆). I am already planning my next trip here on my departure flight.                                        
Attraction Information
1. The Terracotta Warriors and Horses Museum (兵马俑博物馆)
Highlights: Well-deserving the name of World Wonder, the clay arts unravel the marvelous work of the
ancient times. 
Address: Linlan Road, Lintong District, Xi'an
Opening Hours: 8:30am – 5:30pm
Suggested Visiting Time: 2-3 hours
Admission: RMB150/person
Getting There: Bus NO. 914, 915 and Tourist Line 5 at Xi'an Railway Station (西安火车站) to the site
Website: http://www.bmy.com.cn/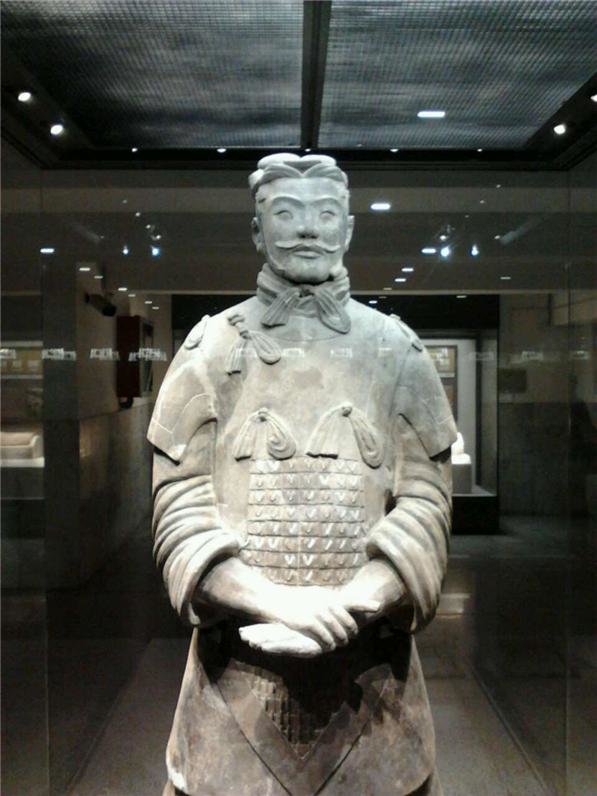 2.Shaanxi History Museum (陕西历史博物馆)
Highlights: More than three display halls providing informative views of history, cultures and arts
uncovered in Xi'an and parts of Shaanxi Province.
Address: NO.91, Xiaozhai Dong Road, Yanta District, Xi'an
Opening Hours: 8:30am – 6:00pm (summer), 9:00am – 4:30pm (winter), ticket-issuing stops one hour
before closing time. Closed on Mondays.  
Suggested Visiting Time: 1 - 2 hours
Admission: 4,000 free tickets every day and RMB50/person if the tickets run out
Getting There: Bus NO. 19, 24, 26, 27, 30 and 34 to Cuihua Road Station (翠华路站)
Website: http://www.sxhm.com/web/index.asp   
Transportation between Sites
1. Melody Hotel to the Terracotta Army: Walk 150m to Zhonglou Station (钟楼站) and take Bus NO. 201(or 251, 603 and Tourist Line 7) to Xi'an Railway Station (西安火车站), take Bus NO.914 (or 916 and Tourist Line 5) to the Terracotta Warriors and Horses Museum.
2. The Terracotta Army to Shaanxi History Museum: Take a bus back to Xi'an Railway Station, take Bus NO.5 or 30 to Cuihua Road Station (翠华路站) and walk 150m to the museum.
Recommended Dining Places
1. Guohua Ligongfang (国花骊宫坊)
Notable Dishes: Pumpkin Eight Treasure (南瓜八宝饭), Yuanyang Shrimp Balls (鸳鸯虾球), Bacon and Abalone Fried Rice (鲍鱼腊味炒饭) and Silver Pancake (银丝饼)
Price: RMB 80-150/person
Address: Southeast corner of the Central Square on Huaqing Road, Lintong District, Xi'an
Tel: +86 029-81374111
2. Grandma's Kitchen (祖母的厨房)
Notable Dishes: Roast Sweet Potatoes, Grandma's Hamburger, Mexican Tacos and Lemon Cheesecake
Price: RMB 50-100/person
Address: Saga Mall, Chang'an Zhong Road, Yanta District, Xi'an
Tel: +86 029-89327927  
Travel Tips
1. Do your homework
Traveling alone means you will have to learn about everything of the Terracotta Army. Effort is worthwhile. While you learn, you can plan out a way to and from the site, possibly the most budget-friendly one.
Also, if you do the homework by searching online, you will probably learn there is another attraction, Huaqing Hot Spring, on the way to the Terracotta. Most Chinese tourists make stop here and continue to the warriors after an hour. Admission for the hot spring is RMB200/person.
With the full ticket of the Terracotta Army, you can enjoy a free tour to Lishan Garden (骊山园), the remaining site of Qinshihuang Emperor's underground tomb.

2. Things that you may not know about the Terracotta Army
You will see lots of vendors both before and after visiting the site. Try to resist the temptation of 10-Yuan terracotta soldiers because you have something better and more important to see.
If you don't have a tour guide, some workers at the entrance will be happy to offer you the services (RMB90 for Chinese-speaking guide, RMB200 for English-speaking guide). A good way to save is to stand closely to a big guided-group and enjoy the guide's narration as you go.
The 5-minute buggy cart from the entrance to NO.1 Pit can be skipped if you don't mind walking through the garden. It is 5-Yuan for one-way, not included in the ticket.
3. Travel light and depart late
It takes one hour to get to the Terracotta Army from Xi'an Railway Station, one-way. If you donate this whole day to the warriors, you'd better leave a time window of 3 hours before your departure flight.
No need to carry around your suitcase. And it is wise to book your departure flight or train after 8pm.
Continue to read on