Long before Shanghai's become an international trading spot, it used to lead a quieter life by the water. If one wants to unravel this face of Shanghai, there's no place better than Zhujiajiao Ancient Town (朱家角古镇).
Just as other water towns located at the down basin of the Yangtze Delta, Zhujiajiao is established around a canal system. Water is both used for irrigation and transportation, and now a part of the attractions. Admission is charged depending on the number of sites that you are going to visit. A Chinese-English map for 15Yuan shows good guidance since I am without a tour guide.
As dotted on the map, there are a number of charging sites within the water town: Kezhi Garden (课植园), Ah Po's Tea House(阿婆茶楼), Han Lin Stele Museum(翰林匾额博物馆), Yuanjin Buddhist Temple (圆津禅寺), Great Qing Post Office (大清邮局), Shanghai Handicraft Zhujiajiao Exhibition Hall (上海手工艺展示馆), City God Temple (城隍庙), Tong Tianhe Pharmacy (童天和药号) and Yanyitang Experience Hall (延艺堂体验馆).
Free sites include 5-some bridges, Zhuxi Garden (珠溪园), Han Dalong Pickle & Sauce Workshop (函大隆酱园), Bell Tower (钟楼), Jingqing Hall (镜清堂) and some big and small pavilions.
It is pleasant to boat through the waterway as people strolling around by you on the stone pavement. As the boat arrives at Fangsheng Bridge (放生桥), I see lots of people setting fish, turtles and doves free by the water. This is a Buddhist ritual for hopes to gain some merits. While interesting enough, restaurants not far away have their menu signs saying "Freshly caught and cooked fish".
Walking inside the narrow lanes, I try to spot the details of old Qing Dynasty buildings yet most of the town has been renovated. The town's lucrative trading days can be traced, in the Post Office and the pharmacy. Enjoy the taste of a coffee that is a bliss from the modern century.
I get back to Shanghai after lunch and head to what's left from yesterday: Dongtai Road Antique Market. The short market is an interesting place to hunt for strange stuff. The stuff that you never find in a boutique shop. Rugged books of Chairman Mao's quotes, vintage toy cars, second-hand purses, figures of Mao and his Culture Revolution soldiers and old picture-story books.
Streets around Dongtai Road make me awed. They are dirty, clogged, noisy and shabby. Getting inside those Shikumen (Stone-framed Gates, 石库门), I walk by housewives cooking in the hallway, grandmas picking cans from trash and blue-collar workers fighting over the Chinese chess. This is another side of Shanghai behind all its glamour.
With memories and aftertaste of Shanghai, I fly out to my next destination. Oldness and newness, hassles and sincerity of the city are etched in my mind.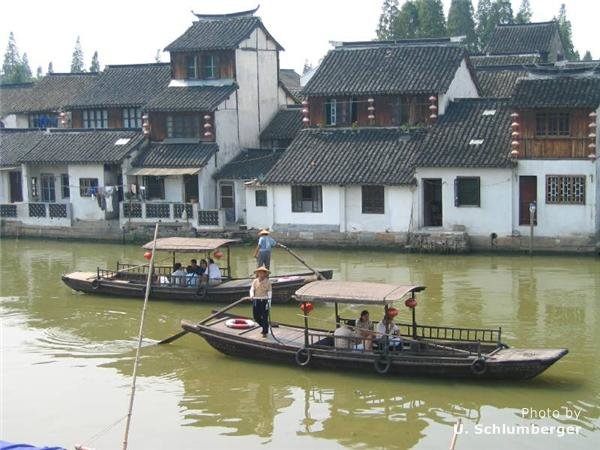 Attraction Information
1.Zhujiajiao Ancient Town (朱家角古镇)
Highlights: An old waterside town dating back to thousands of years ago, numbers of small attractions fill
up an half-day visit. Boating is an essential way.
Address: NO.36, Meizhou Road, Zhujiajiao Ancient Town, Qingpu District, Shanghai
Opening Hours: All-day, some sites close at 4:00pm
Suggested Visiting Time: 2-4 hours
Admission: RMB60/person for full ticket, RMB120 for one boat (for 6 people)
Getting There: Bus Zhuxu Line (朱徐线), Songzhu Line (松朱线) and Huzhu Line (沪朱线)

2. Dongtai Road Antique Market (东台路古玩市场)
Highlights: Small street for sauntering and treasure seeking. The neighbor is also lively to check out.
Address: Dongtai Road, Huangpu District, Shanghai
Opening Hours: All-day, shops open from 10am - 7pm.
Suggested Visiting Time: 1 hour
Admission: Free
Getting There: Bus NO. 17, 18, 23, 318, 324, 581, 864 and 911; Metro Line 8 and 10 to Laoximen Station (老西门站).
Transportation between Sites
Hotel to Zhujiajiao Ancient Town: Walk 1km to Nanjing Dong Road Station (南京东路站) and take Metro Line 2 to Shiji Dadao Station (世纪大道站), change to Metro Line 9 to Dongjing Station (洞泾站), get out at Exit 3 and walk 110m to Tangqiao Station (塘桥站) and take Songzhu Line(松朱线) to Zhujiajiao Secondary Education School Station (朱家角职校站) and walk 650m to the ancient town.
Zhujiajiao Ancient Town to Dongtai Road Antique Market: Walk 820m to Zhujiajiao Bus Station (朱家角汽车站) and take Huzhu Line (沪朱线), arrive in Pu'an Road Yan'an Dong Road (普安路延安东路) after 2 hours, walk 830m to Dongtai Road.
Recommended Dinning Places
1. Shuiyunge Restaurant (水云阁饭店)
Notable Dishes: Braised Pork wrapped-up in Leaves (扎肉), Fried Eggplants (油焖茄子), Salt Water Shrimps (盐水虾), Fried River Snails (炒螺丝) and Wine-scented Veggies (酒香草头)
Address: NO.100, Xijing Street, Zhujiajiao Ancient Town, Qingpu District, Shanghai
Price: RMB 50-100/person
2. Ding Tai Fung (鼎泰丰)
Notable Dishes: Crab Xiaolong (蟹粉小笼), Shrimp Wontons (虾仁馄饨), Fried Pork Steak (炸猪排), Vegetarian Steamed Dumplings (素蒸饺) and other Shanghai or Cantonese dim sums. 
Address: 11A, 2F, Nanli Mall, Xintiandi Square, NO.123 Long, Xingye Road, Luwan District, Shanghai
Price: RMB 80-150/person
Tel: +86 021-63858378
Website: http://www.dintaifung.com.cn/
Travel Tips
1. Other ancient towns in and around Shanghai
  
Besides Zhujiajiao Ancient Town, tourists can easily get nostalgia by other options. Qibao Ancient Town or Seven Treasure Ancient Town (七宝古镇), Fengjin Ancient Town (枫泾古镇), Luzhi Ancient Town (甪直古镇) and Zhouzhuang Ancient Town (周庄) are within one-day journey.
Extending your leg beyond Shanghai, you will find Xitang (西塘), Nanxun (南浔), Wuzhen (乌镇), Qiandeng (千灯) and Tongli (同里). Despite the cookie-cutter draws, these waterside towns are still good place to kill some time.
2. Check the timetable and map 
Planning on an excursion out of Shanghai, you need to check the map to get a rough idea of how much time you will need. In that case, you won't miss your departure flight or train.
Some regional buses run on fixed timetable and you should know the time for the very last bus. 
3. The ancient town is great if you...
If you come in weekdays, there will be less tourists and prices for dining and shopping are delightful. If you don't have time to get to Suzhou or other water towns, Zhujiajiao serves you a bit feeling of water towns.
Strolling up and down the town by yourself, it is easy to get lost. Better go with a map or some simple Chinese for direction-asking.