My 4-day Beijng Trip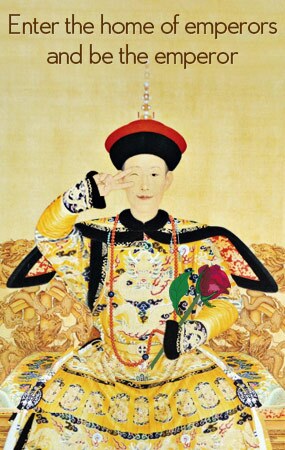 I, with my colleagues, took a 9-day tour of Beijing & Pingyao & Xian in November 2014. Our tour guides were very nice and knowledgeable. They were able to answer my questions during the tour and always had an interesting things share with me that made the tour even more memorable.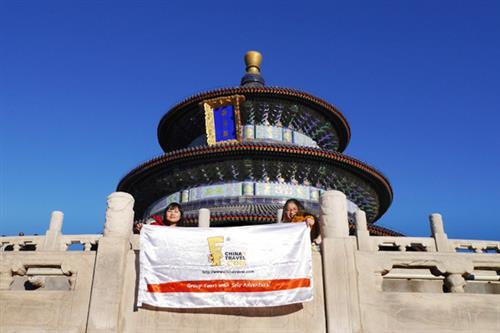 Day 01: Arrival at Beijing
We took an over-night train from Guilin to Beijing. We arrived in the afternoon. Our guide meet us in the train station and he looked very kind. He helped us to drop off our luggage and put into our car. He told us something about Beijing. Then we arrive at our Hotel—Sunworld Hotel. We arranged our dinner by ourselves. We had hot pot on the first night in Beijing Haidilao---super service!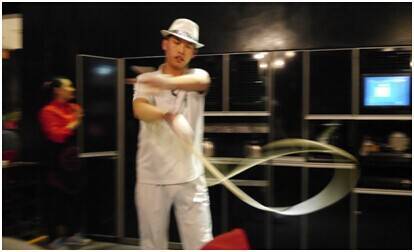 (He was performing making noodles.)
Day 02: Beijing
Forbidden City, Tiananmen Square, Watch Museum and Jingshan Park, Hutong tour.
we have to say Forbidden City is an amazing work of Chinese. It is so big, so splendid. We can image the glorious times of Qing & Ming Dynasty.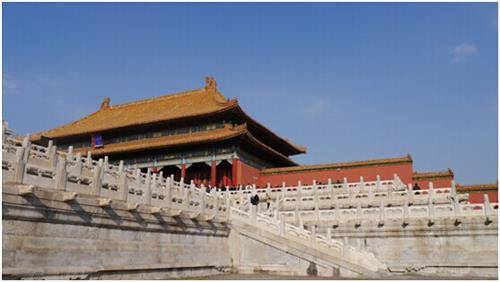 Climbing up Jingshan Park, we had a bird's eye view of Forbidden city. It is pity that we failed to take a good photo because of the sunshine.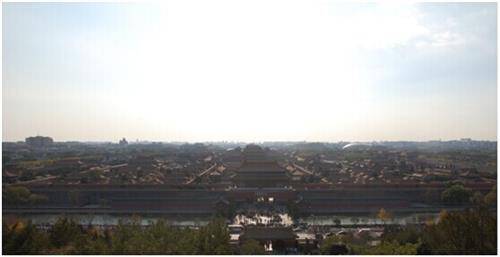 Hutong tour
We visited West District Hutong. We took a pedicab and our driver was very nice. He gave a good description of Hutong's history. Hutong is cultural heritage in Beijing.
We passed by Shichahai bar area. Shichahai Area is a centraly preserved zone showcasing the life of old Beijing. It is comprised of three-lake area: Qian Hai Lake (Front Sea); Hou Hai Lake (Back Sea) and Xi Hai Lake(Western Sea). Lots of bars are clustered in the Shichahai area or along the Shichahai lakeshore.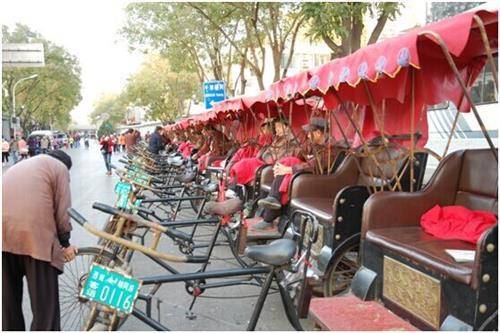 Day 03: Temple of Heaven - Ming Tombs and Mutianyu Great Wall
Temple of Heaven was actually a park, a big park. We arrived there very early so we were lucky to see many retired people who come here in the morning to hang out with friends and do morning exercises, dancing or singing. We saw a old man were playing Taichi ball. He taught us how to play Taichi ball.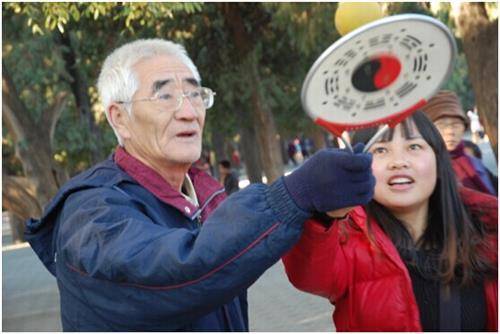 The Temple of Heaven was constructed in 1420 AD during the Ming Dynasty as a site for the emperors to offer sacrifices to heaven. Many elements of the temple have symbolic meaning.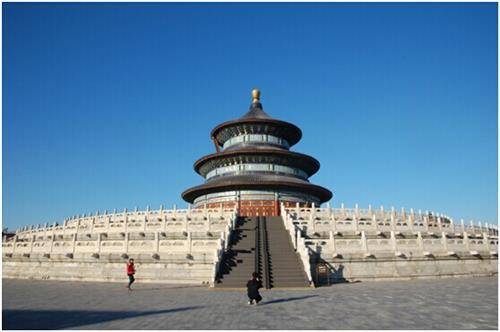 Ming Tombs
The Ming Dynasty Tombs are located 50 km north of Beijing. Thirteen Ming Dynasty emperors were buried in this area.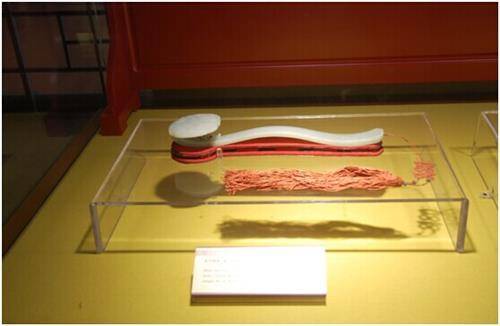 Xinshuangquan Lunch.
Lunch is very nice! I like the environment of restaurant, like a garden, very enjoyable. Sorry I could not find my photos about this restaurant now. Maybe later I will find them. J

Great Wall at Mutianyu
The Great Wall has five sections have been rebuilt and repaved for tourist. They are Badaling Great Wall, Juyongguan Great Wall, Mutainyu Great Wall, Jinshanling Great Wall and Simatai Great Wall. We went to the section at Mutianyu. This part is really nice, good experience, less crowded. We took a cable car up and slideway down. Slideway is more exciting!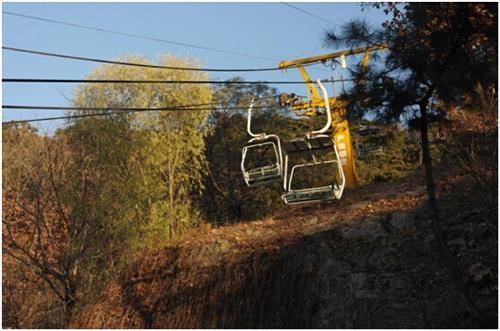 Great Wall is amazing. We could not imagine how hard the word was.Most of it was built in Qin Dynasty, it was built on the high mount!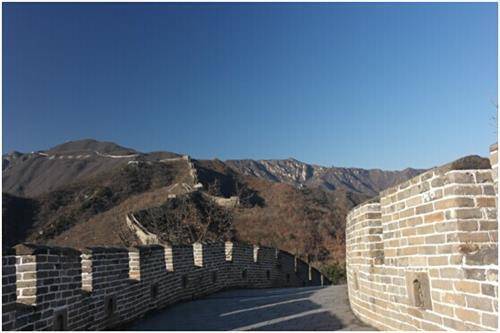 Beijing Roast Duck
We have Beijing Roast Duck as dinner tonight! Crispy enough! I would like try again when I come to Beijing in the future.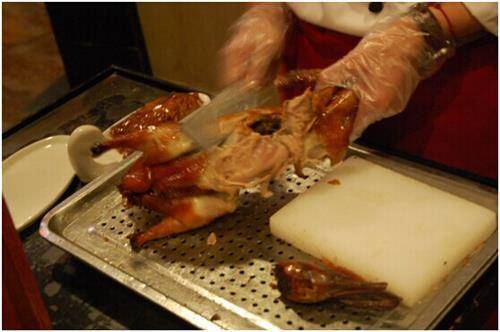 Day 04: Summer Palace.

The Summer Palace was a place was built in late Qing Dynasty. It was nice enough. The Summer Palace was originally a royal garden. The guide told us that its predecessor was the Garden of Clear Ripples (Qingyiyuan) started in 1750 and burned down by the British and French allied troops in 1860. It is cooler than other part of Beijing. We took a boat ride across the lake in Summer Palace. Great!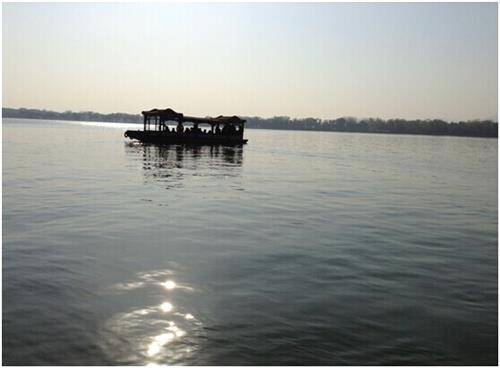 We walked across the corridor of Summer Palace. It is said that the corridor is the longest one in the world.
Till today, I finished my days in Beijing, I must say it was very memorable. I like all spots in Beijing, I like Beijing local people, Beijing Food, I like our guide and travel agency--China Travel. Wonderful service!
I will write my experience in Xian when I have free time in the future.