Located in the northeast of Guangxi, Guilin is famous for its scenery and culture. It is one of the most important tourist cities in China, even in the whole world. As the saying goes, Guilin's landscape is one of the most charming sites in China. So I would like to talk about my trip in Guilin these days.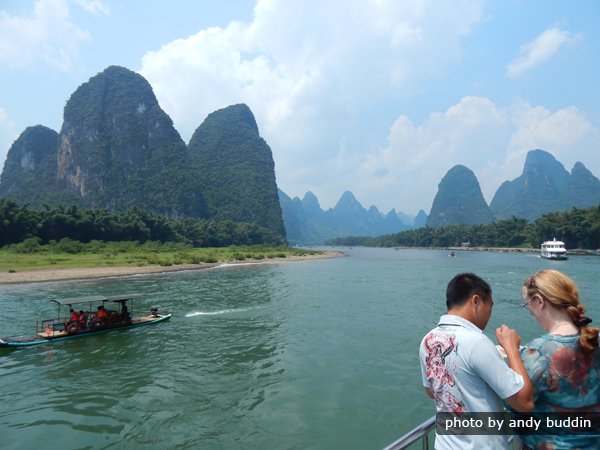 Day1. The Elephant Trunk Hill Park Seven Stars Park
The Elephant Trunk Hill
Site: BinJiang road
Entrance ticket: 75 yuan
The Elephant Trunk Mountain Park locates on the joint of Taohua River and Li River with an area of 11.80 hectares. It looks like an elephant and attracts a plenty of visitors from all around world.
The Park is made up of Shuiyue Dong, the elephant trunk mountain, Puxian pagoda and Yunfeng temple. All the sites in this park rely on the elephant trunk mountain which is an emblem of Guilin city. When I came here, the picture is presented vividly that an elephant was drinking water and from that I could see a real and illusive of time. Through the ages, it witnesses the changes of this city.
Standing on a good viewpoint, visitors can have a better view. In the park, the first good viewpoint is in Guanxiang pavilion which situates on the west of the elephant trunk mountain. Another view point is the elephant trunk mountain ground. Walking in this park, it may cost you 30mins to 1hour. Besides, you can also drift on Li River to enjoy the beauty of night of the elephant trunk hill.
Seven Stars Park
Site: Seven Stars Road; entrance ticket: 75yuan
Seven Stars Park, which is the largest and comprehensive park, consists Putuo Mountain and Yueyang Mountain. This park named for the arrangement of those mountain that resemble the Big Dipper. It is very convenient to get there. And it also offers paid tour bus for the tourists.
In Seven Stars Park, the sight of natural limestone cave deserves a look where you may spend 45mins for visiting, or you can visit Qixia pagoda which is the biggest building of Tang style to touch the aging craved stone, thinking of the pasts.
I know the two parks are not in a line, but they are the most representative parks in Guilin city. Thus, I chose them for my first day?s itinerary. And the best time of a day to visit the park is in the morning just for the fresh air.
Day2 Li River--Yangshou
Route: Jingping Mountain bridge--Liangfeng Jiang--fuzi rock--Mopan Mountain--Zujiang wharf--Yang Dam--Wangfu Mountain--Xingping ancient town--Yangshuo
Visiting hours: 4.5h
Speaking of Guilin, Lijiang River must be mentioned. Liiang River, the length of which is estimated at 170km, originates from Maoer Mountain, the highest mountain of southern China, standing for typical karst landform. Based on the different landscapes, the Li River can be divided into three scenic spots. The first, Guilin city to Huangniu gorge, the second, Huangniu gorge to Shuiluo Village and the last one is Shuiluo Village to Yangshuo. Those three scenic spots can be called the picturesque Li River.
Drifting on the Li River, you can enjoy the landscapes without time limit, weather variations because every moment in here, the scenery you visited is changing. Just relax yourself and everything will be different. You can put your feet into the water, following the rhythm of water to feel a real life. Floating downstream, you can see many scenic spots such as the reflection of yellow cliff which is one of pictures of RMB, the scenery of the eight immortals crossing the sea. After visiting the beautiful landscapes of Li River, you will reach Yangshuo, the scenery of Yangshuo tops that of Guilin.
Day3 Yangshou
West of Li River of Guilin city
Way: drifting in Li River; by bus
As an administering county of Guilin city in Guangxi, Yangshuo is called travelers? paradise with its landscape. Thinking about what you will do before getting to Yangshou. At daytime, you may ride a bicycle around the fields along footpaths. I think that feeling will be excellent. Or you may raft everywhere to release your soul, enjoy yourself between hills and rivers. At night, you will immerse in noisy bars to see another face of Yangshou, or you can watch the performance of impression Liu Sanjie which is a large perform of real landscape of Guilin, feeling different style of the zhuang nationality.
And also you can see many foreign tourists here. You can talk with them, sharing your travel experience or feelings. And it is a chance for you to learn more different cultures. And those things are not just in your mind, they can be realized. Of course I have already done on my journey.
By the way, if you don't want to drift to Yangshuo, you can get there by bus at Guilin bus station. It may cost 25 yuan per person.