With the history of more than 3000 years, Xi'an was also called Chang'an in ancient time, which is the capital of several dynasties, such as Western Zhou, Western Han, Qin, Tang and so on. An old saying in China tells the unique position of Xi'an: "If you want to see China of 100 years ago, visit Shanghai; China of 500 years ago, Beijing; China of 2000 years ago, Xi'an." Now it is the biggest city in the northwest of China, and it is also a famous tour-city for visitors to feel Chinese culture.
Except its long history, you can also find the other side of Xi'an in the nightlife. Combining Chinese traditional culture and modern civilization, Xi'an is more attractive for you, especially its nightlife. You will be fascinated by its colorful scenery in the evening. There are lots of bars, cinemas and restaurants opening in the evening. When you stroll on the street of Xi'an, you can enter into the bars to have a drink. If you are hungry, you can enjoy the delicious food in the restaurants. If you want to relax yourself, foreign and Chinese films will be also available for you in the cinemas.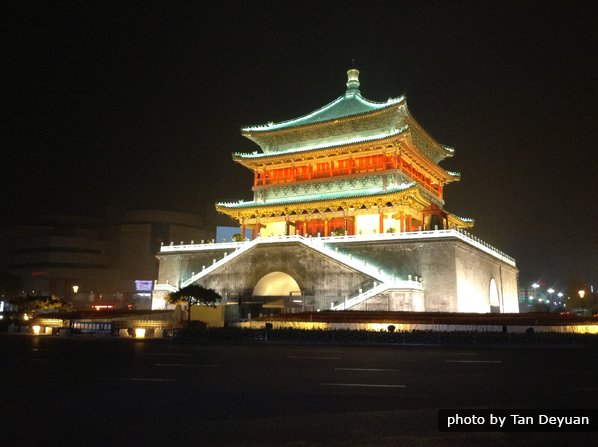 Watching a night show
Night shows are a good way for foreign travelers to feel Chinese traditional culture. The most popular night shows for foreign travelers are Tang Dynasty Dinner Show and the Shadow Show.
Tang Dynasty Dinner Show
Tang Dynasty Dinner Show is so attractive that you couldn't miss it in the Xi'an tour. The show itself incorporates the costumes, dancing and music from the Tang Dynasty (618 - 907) - an era said to be China's 'Golden Age'. And its music and dance symbolize the glory and splendor of Chinese ancient civilization. Before the show begins, you will enjoy the famous Dumpling Dinner. As a result, it is the combination of show and food. In this way, it will be better for you to complete your Tang Dynasty experience.
Add: Tang Dynasty Palace, 75 Chang'an Road, Xi'an (西安市长安路75号唐乐宫)
Time: 18:50-20:10 (Dumpling dinner), 20:30-21:40 (Show)
Price: 220 Yuan / Person (show only, dumpling dinner not included); 370 Yuan / Person (Show and dumpling dinner included)
Getting There: 1. Bus: Take the bus No. 603, No. 215, No. 239 get off at Caochangpo Stop. 2. Subway: Take Line 2 and get off at Nanshaomen Station
The Shadow Show
The Shadow Show is also called Piying Drama in Chinese, which is an old folk art of China. It is familiar with the early cartoons, because the characters in the shadow show are made from leather puppets which are very cute. Under the light, the man controls the leather puppets behind the screen to perform various ancient historical stories. And the audiences can only see the shadows of the leather puppets moving on the screen. As a result, the leather puppets are vivid and lovely, and the performance is very interesting.
Add: Qinzhiyun Piying Drama Theatre, Pedestrian Street of the Bell Tower, Xi'an.(西安鼓楼步行街秦之韵皮影戏馆)
Opening Hours: 10:30-21:00
Price: 20 Yuan
Getting There:1. Take the subway line 2 get off at the Bell Tower Station. 2. Take the bus No.7, No.611, No.215, No.601 get off at the Bell Tower Station.

Shaanxi Opera (Chinqiang)
Shaanxi Opera is a local opera in China, which is popular in the northwest of China. It is also a good way to understand Chinese traditional culture. Compared with Peking Opera, the performance of Shaanxi Opera is also rich and colorful including fire blow-out, trampling, flame spitting and jumping performance. If you are interested in Chinese opera, it is a great opportunity for you to enjoy it in Xi'an.
Add: Yisu Grand Theatre, Xiyi Road, Xi'an (西安西一路易俗大剧院)
Getting There: It is better for you to get there by taxi.
Musical Fountain
As the largest musical fountain in Asia, Musical Fountain is very wonderful in the evening with various styles. With the mixture of music, lights and water, the Musical Fountain is so beautiful at night. As a result, it is worth visiting in the evening.
Add: North Square of the Big Wild Goose Pagoda, Xiying Road, Yanta District, Xi'an(西安市雁塔区西影路大雁塔北广场)
Time: 1.Every 12:00 and 21:00 from Monday to Friday; 2. Every 12:00、14:00、16:00、18:00、21:00 in weekends; 3. 20:30 from November to January in the next year.
Price: Free
Getting There: Take the bus No. 5、No.19、No.21、No.22、No.23、No.24、No.27、No.30、No.34、No.41、No.44、No.224、No.237、No.242, get off at the Big Wild Goose Pagoda Station.

Exploring Night Markets
Night markets are full of delicious food and all kinds of shops and bars. As a result, exploring night markets is a good way to see a city and experience local life. The night markets are usually local food streets and grocery streets.
The famous local food street in Xi'an is Muslim Snack Street, which is composed of Beiyuanmen Night Market(北院门夜市), Beiguangjijie Night Market(北广济街夜市), Xiyangshi Night Market(西羊市夜市)and Dapiyuan Night Market(大皮院夜市). When you stroll on the street, you will be addicted to the northwest style. You can enjoy various delicious foods of Xi'an, such as Mutton and Bread Pieces in Soup, Chinese hamburger, Cold noodle and Dumpling Dinner.
Add: North of the Bell Tower, Xi'an.(西安鼓楼北侧)
Getting There:Take the bus No. 4, No.7, No.15, No.32, No.43, No.45, No.201, No.205, No.206, No.215, No.218, No.221, No.222, No.251, No.300, No.604, No.611 and No.612 get off at the Bell Tower Station.
Opening Hours: 18:00- wee hours

Bars and Cafes in Xi'an
There are lots of bars and cafes in Defu Lane, just like Beijing's Sanlitun, which is also a well-known recreational place for travelers. Strolling along the lane, you will find that there are lots of bars, cafes and teahouses with distinct style. If you want to enjoy some hot music and dance, 1+1 Bar is a good place for you to choose. It is the most popular bar among the foreign travelers. Besides, with the international standards of lighting and acoustics, you will feel unlimited fun and entertainment here.
Add: North of the Xiangzi Temple Street, South Gate of Beilin District, Xi'an.( 西安市碑林区南门湘子庙街北)
Getting There: Take the bus No.501, No.706, No.707, get off at Lufen Lane