Top 10 Things with Kids to do in Guilin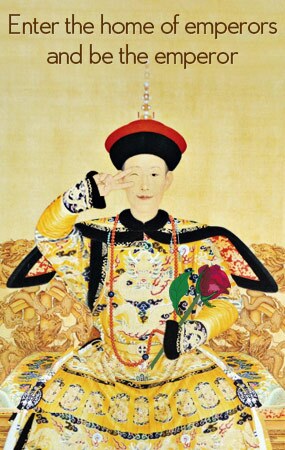 Guilin is one of the most scenic areas in China. Families to Guilin will enjoy its sheer visual beauty, local cuisine and a series of activities featuring local characteristics such as Li River Cruise and rock climbing. For those parents and kids who want to get closer to the nature or are looking for adventure , Guilin will be a very nice choice. It will meet your needs beyond your expectation.
1. See Caves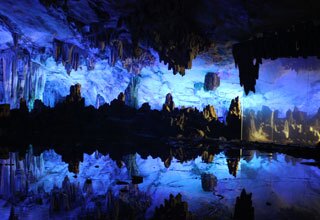 Of all scenic spots in Guilin, the main attraction is the Karst terrain, which provides many caves and many cliffs suitable for rock climbing. Children will always be curious about what they have never seen before. Reed Flute Cave with impressive stalactite and stalagmite formations is worth a visit if you have not seen such caves ever. During the trip,the guide will take you around the various lit formations supposedly resembling lion, monkeys, old men etc. When you see the caves the brief laser light and music show is also waiting for you.
2. Cruise on the Lijiang River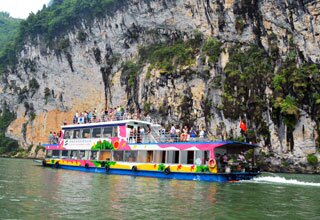 Cruise on Li River is another local activity. The Li River flows 83 kilometers from Guilin to Yangshuo (a very picturesque smaller town downstream of Guilin), where the karst mountains and river sights highlight the famous Li River cruise. The boats are organized by the hotels. A slow trip will take a whole day but if you are using the luxury cruise, a couple of extra hours will be reserved to see the Cormorant Bird Fishing, which is bound to arouse the interests of both adults and kids.
Click Classical Guilin Tour to experience family cruise on the Li River.
3. Enjoy the Landscape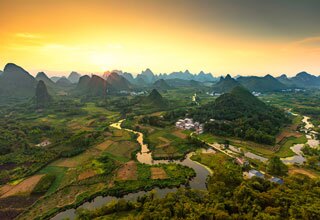 East or west, Guilin landscape is best! Both domestic tourists and International backpackers are intoxicated by its verdant mountains and crystal clear waters. Since the tourism is the main industry in this city the landscape is free from pollution. It's such a place where visitors could get rid of pressure and enjoy the gifts of God. Famous mountains including Diecai Mountain, Fubo Hill and Elephant Trunk Hill are worth a visit. Among all rivers, Peach Blossom River goes through the western parts of the town and is a beautiful and relaxing area. Here you can see the peach blossom in spring and the red leavers in autumn.
4. Eat Local Cuisine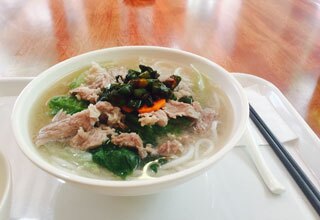 As many other Chinese cities, Guilin has its own snacks. Guilin cuisine is a combination of Cantonese and Hunanese styles, but with more use of fish and spices. Rice Noodles is the most famous one. Traditionally the noodle and the topping are first eaten without soup, and once the topping has run out there is usually a pot of soup to add flavour to the rest noodles. If you do not like spicy food the restaurant will make your food bland and you can try other local delicacies such as Horse hoof cake, sweet tofu and Rice with Mug Bean Paste. There are a lot to eat and restaurant can be found everywhere! Food will be available whenever it is wanted!
5. Go to the Parks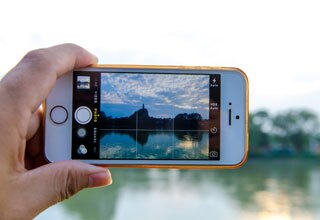 For children, the park and the zoo are paradise. Then what about the combination of both? Seven Star Park in Guilin is such a marvelous one which will satisfy your needs. It is a large park with a zoo area on the east side with the main attraction being country's lovable mascots, the giant panda and even the red panda! Kids will scream for them!
In addition, a small show with monkeys, bear, tigers and lion at the scheduled hours is equally attractive. In West Hill Park, you can see a lake, temples and hundreds of Buddhist statues and in Xiongsen Bear and Tiger Mountain Village, you can see the wild animals being much more active than in a zoo. Here, kids can also witness research, breeding and entertainment of these animals. They could have more fun in parks of Guilin and acquire meaningful knowledge meanwhile!
6. Visit the Museums and Galleries
Visiting the local museums and galleries are usually the best way to help the kids as well as the parents learn more acknowledge about the history and customs, which will lead to a better understanding of local culture . Li River Folk Custom Center is such a great place in Guilin. It exhibits folk art, handicraft, architecture, food and culture of various local ethnic groups. It will make the trip full of educational significance.
7. Visit West Street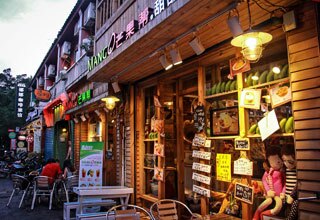 Tourists who have been wandering around China for a while will probably want to take the chance to break from oily stir-fried vegetables and grab a cup of good coffee or have muesli for breakfast. If it is also true of you , West Street is designed for you. Here ,Travelers' can eat food from many different countries at very reasonable prices. West Street ,alive with cafes offering interesting Chinese and Western food, attracts a large number of younger international travelers.
It is filled with small shops and vendor's stands selling all kinds of souvenirs and snacks. Chinese teenagers mingle with young Western bicyclists and backpackers. International tourists feel at home here because everyone speaks fluent English and restaurants and bars provide menus in several languages. Why not kick back here for a few days? Take the chance to recharge your batteries and connect with your friends and relatives around the world in one of the internet cafes. The accommodation is very reasonable.
Wanna join in our Guilin and Yangshuo Memories Tour to wander through West Street?
8. Li River Pebbles Art Experience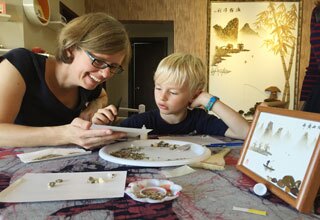 In the course of a 1.5-hour long class, you will learn how to embellish a Chinese landscape painting with Li River pebbles:
You select a picture from among those presented in the classroom.
You'll receive a sheet of paper from the teacher with your selected picture, and some pebbles collected from the Li River. Later the teacher will explain what to do.
You will complete your work of art and keep it after the class.
Note: This experience is suitable for kids over 5 years of age.
9. Chinese Learning Class
You can take a Chinese class at the Chinese Language Institute (CLI), one of China's leading centers for Chinese language and cultural studies, and learn how to read pinyin – the official Romanization system for standard Mandarin Chinese.
In this two- to three-hour class you'll learn basic survival Chinese, especially some phrases useful in restaurants and markets. Before or after the class you can also chat with the school's foreign staff and students, getting to know how they work and study in China. For both parents and kids, this is a fantastic experience.
10. Learn Chinese Painting and Calligraphy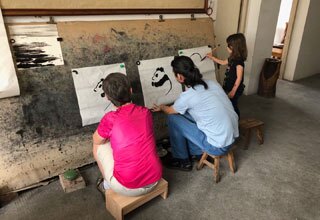 There is a professional platform in Guilin for you to learn Chinese painting and Chinese calligraphy.
In Chinese calligraphy, you start with discussing the items traditionally used by calligraphers, including writing brush and ink, rice paper and ink stone. Teachers demonstrate step by step how to make the motions and strokes for some Chinese characters, before you perform this elegant artwork in your own fair hand.
Alternatively, you can choose to take an introductory course in traditional Chinese painting.
You will first get to know the two classic painting varieties of gongbi 工笔画 (the refined, meticulous style) and shuimo 水墨画 (the freehand, expressionist style), as well as the techniques traditionally used by artists. Then you can pick up a brush and create your own Chinese painting!
Family Activities
In addition to the parent-child activities mentioned above, there are many other activities in Guilin that the whole family can do together.
1. Tai Chi in Yangshuo
Tai chi is an internal martial arts system which places emphasis on the development and control of chi (consciousness) energy within the body.
When in Yangshuo, you will be able to practice tai chi in a park with a mountain backdrop. Your teacher will share some basic skills as an introduction to the art. You will be invited to participate in a tai chi competition. The exercise is surely good for the health of people of all ages.
Click Kungfu Discovery to start your tai chi tour!
2. Chinese Cooking Class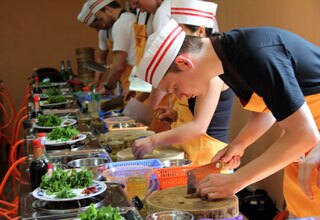 You will first meet your teacher in the cooking school in Yangshuo and choose four dishes from the menu. Then you will need to walk to the local market, where you will pick up ingredients for your dishes.
Back at the school, the whole family can join in the cooking. After cleaning, chopping, frying and seasoning, you will enjoy the fruits of your labor.
3. Learn to Make Painted Paper Fans
Fuli Ancient Town is known as the "Hometown of Chinese Painted Fans". The fans here are all handmade with locally-produced materials, such as bamboo from beside the Li River and local rice paper.
These exquisite fans feature landscapes of Guilin and Yangshuo, flowers and birds, and classical Chinese poems. Visit a workshop and learn from locals how to make the painted paper fans. The painting will be an unforgettable part of your family tour!
4. Minority Family Visit – Learn How to Make Bamboo Stuffed Rice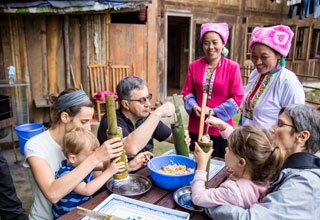 Making Bamboo Stuffed Rice
Bamboo stuffed rice is a famous food in Longji, with a sticky and fresh bamboo flavor. Local people will show you step-by-step how to make it.
While cooking rice in a smart and tasty way over about 40 minutes, you'll have a chance to chat with the family and walk around their 50-year-old wooden house. It will be a feast for your eyes as well as your stomach.
Click Guilin Minority Tour to to enjoy family time with the locals.
Guilin enjoys the best landscape under heaven. The rich plant, various wild animals and stunning scenery all distinguish itself from other scenic spots. Certainly, the whole family will enjoy a good time here!
Maybe you'll be interested in the Most Popular Family Tours.