The capital city, Beijing, is the favorite destination of most China tourists.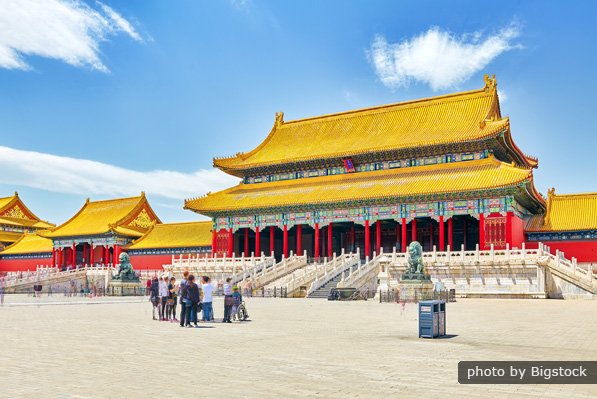 Introduction
Beijing, known as Peking in the past, is one of the most populous cities in the world. The People's Republic of China's capital city's history started over 3,000 years ago. It has remained the political nucleus of China for most of the last 800 years. There are countless attractions to visit in Beijing. Among them, the seven UNESCO World Heritages Sites stand out: the Forbidden City, the Temple of Heaven, the Summer Palace, the Ming Tombs, Zhoukoudian, the Great Wall, and the Grand Canal.
When to Go
Beijing is a hectic city where the citizens remain very active throughout the whole year. There are plenty of destinations to visit, cultural events to attend and attractions at your disposal 24/7. However, if you prefer a certain kind of weather, you should read this section to find out the most appropriate season.
Spring (April-May)
This season is one of the best times to visit the city in the year for a couple of strong reasons. First of all, you will avoid the extreme temperatures that show up in summer and winter. Second, you will get there just in time for the Cherry Blossom Festival. Although the nights are rather chilly, you will be good to go with light clothes most of the day.
Summer (June-August)
Even though the average temperature in the city is not too high – about 72 °F, there are hot peaks that easily reach 104 °F within the day in this season. Therefore, you'd better travel really light.
Just to make things a bit less comfortable, there is a considerable amount of humidity in the air. On the bright side, most places have air conditioning. The main activities for tourists involve hiking on the countryside where the air is fresher.
Autumn (September-October)
This is arguably another great moment to come to Beijing. The temperature is around 77 °F. Most importantly, autumn is the harvest season in the capital. Thus, you will find vivid colours in the form of plants and flowers around the city.
Do not forget the jumpers, though! Air becomes cool after the sunset. Having an umbrella at hand is always useful in this season unless you highly prefer waterproof clothing.
Winter (November-March)
During the winter, the average temperature drops to around 32 °F. Therefore, be wary about the sub-zero landscape. You may combine fur-lined boots or even thermal underwear with your warm clothes. One of the most amazing sights in this season is the frozen lake by the Summer Palace where people ice skate regularly.
High season
High season in China comprises the following dates:
Labour Day (May 1st, 3-day duration bank holiday)
National Day (October 1st, 7-day duration bank holiday)
University holidays. Summer holiday from June to September and winter holiday from January to February.
If you visit Beijing during high season, you'd better book in advance and be prepare to spend more money. You will overcome most difficulties by signing up for guided tours. 
Low season
Travelling in low season allows you to have a more relaxed experience in this destination. In such a bustling city as Beijing, this should never be underestimated. Moreover, you will save some money in your trip. If you like being in a quite environment, this is your best choice.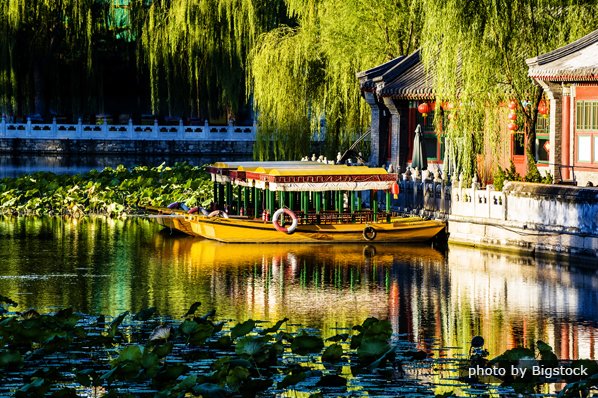 Attractions & destinations to visit
China is one of the richest countries in the world regarding culture and natural beauty. The following destinations are recommended for tourists.
Summer
Mountains Resort of Chengde was built during the Qing Dynasty and was meant to be the shelter for the royal family in these warmer months.
The Miyun Reservoir is the largest of its kind in northern China.
The Miyun County is a great destination to visit in this season. There are 5 waterfalls and 13 ponds in this tiny area that provide a fresher sensation. 
Autumn
Fragrant Hills Park is a recommended destination for tourists who like to walk around red maples. These trees create a colourful leave-made carpet on this season.
Widgeon Lake in Yudu Mountain is a beautiful destination.
Hongluo Temple in Huanrou District, which has been the largest Buddhism shrine in the zone for thousands of years.
Wuling Mountain, known as the Frog Mountain.
Winter
Badaling Great Wall. Arguably the most famous – and non-arguably the largest – monument in China. This is the most iconic part of the Great Wall, which is supported as a national relic and remains open to the tourists. 
The largest skiing resort is Yuyang International Ski Resort located in Pinggu District.
However, Jundu Ski Resort is the closest of its kind to downtown.
Huaibei International Ski Resort, north Yanxi Lake, is a recommended destination for couples.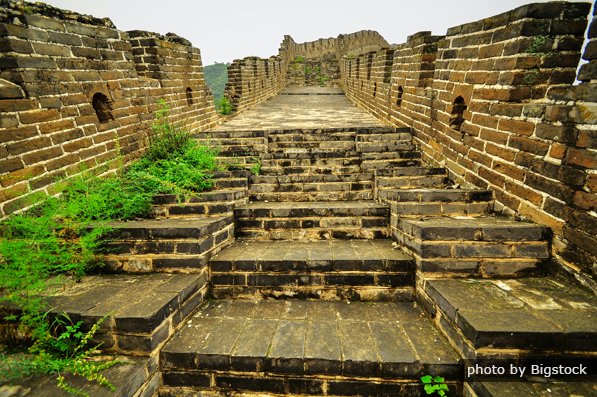 Must-see destinations
Badaling Great Wall in Yanqing County. The Great Wall is a must-see relic that any most tourists visit in their trip to China.
The Forbidden City, which is located in the centre of Beijing, is one of the most famous destinations for tourists in this city.
The Summer Palace, which consists of a large set of gardens, lakes and palaces; it's a top destinations to hang out outdoors in the capital.
Zhoukoudian. The Zhoukoudian Museum contains a lot of the archaeological discoveries that have taken place in this area.
The Yellow Mountains in Huangshan.
Destinations from Beijing
Huangshan City
There is a small airport just next to the town that connects with Beijing and other large cities. There are also several buses and trains connections that will let you move from and to this location.
Main destinations: Tunxi Ancient Street, Hong Village, Xidi Village, the Tangyue Memorial Arches and Tachian Village. Other destinations worth considering near this city: Wuyuan Village and Jingdezhen.
3-day Huangshang tour: Huangshan arrival Yellow Mountains  Hong Village and Tunxi Ancient Street.
What to Prepare 
Beijing is a unique destination that mixes centuries of history with a vibrant culture. This city receives thousands of tourists every year but not all of them are correctly suited for what awaits them.
For instance, the currency is a bit of an issue but there are solutions for everyone. First of all, make sure that your credit card can be used in China prior to departing. Many establishments accept the most common cards. Don't get any surprises with the cash dispensers!
Next, get some amount of local currency (the yuan) once you arrive at the airport in Beijing. You may also be able to change currencies before your depart in the banks located in your home town airport. Nowadays, there are quite a few options for tourists regarding payment methods, such as traveller's checks. However, not every establishment accepts checks. Therefore, having some cash is always handy. Regarding clothing, you should consult the section When to Go above.
How to Get There
Most of the tourists arrive by plane to this city; Beijing Capital International Airport is the busiest regarding passenger traffic in Asia and the second worldwide.
By plane
In the airport
Intra-terminal transportation service (Terminals 3 C and E) and inter-terminal transportation service.
Shuttle buses.
Airport - Beijing
Bus service to the main stations in Beijing: Beijing South Station, Beijing West Station, etc. This is the cheapest option, 16 yuan one-way trip.
Airport Express train: from T3 to T2 then to Sanyuanqiao Station (metro line 10) in Beijing and Dongzhimen Station (metro lines 2 and 13). One trip costs 25 yuan.
Taxi (70 to 120 yuan).
By train
Beijing Railway Station is downtown in metro line 2. This station connects with most cities in China and many destinations abroad.
The other major train stations are: Beijing West Railway Station, Beijing South Railway Station, Beijing North Railway Station, Beijing East Railway Station and Huangcun Railway Station. Most of these stations connect with the subway.
By bus
You will arrive to one of the 6 Long-distance bus stations in Beijing. This is by far the cheapest means of transport (average cost is 100 yuan) but it is very slowly. A trip can last more than one day. Meals are not included in the ticket.
Within the city
Subway is the most flexible means of transport in Beijing, as you can walk to most destinations from the closest metro station. Moreover, taxis are not expensive; the average trip costs 25 yuan in daytime. Bicycles are also recommended to avoid traffic jams.
Where to Stay
The Wangfujing area is one of the best choices because it is located near Tian'anmen and the Forbidden City.
Other smart choices are Nanluoguxiang and Houhai, where you will get the taste of Chinese food.
Those who like sightseeing should consider staying in Qianmen, from where you can explore some interesting destinations.
Xi'dan area is one of the best places to go shopping.
Hotels
New World Beijing Hotel. A top-notch hotel located downtown, in Dongcheng Disctrict. Highly-rated location, recommended for tourism.
Double Happiness Beijing Courtyard Hotel. This is another excellent option for tourists willing to walk to most destinations. Located near Beihai Park and the Palace Museum.
Hotel Eclat Beijing, in Chaogyang District. This hotel offers an elegant look to the guests.
Pentahotel Beijing is located near the Temple of Heaven and Longtan Park.
Hilton Beijing Wanfujing. One of the most prestigious hotels in Beijing which offers everything you may need at a short walk from the Forbidden City.
Food: Beijing Cuisine
Chinese cuisine is splendid in mixing flavours that are uncommon in Occidental cuisines, such as salty and sweet. Most likely, Peking Roast Duck is the most well-known dish from this region. There is a snack which resembles a pancake; it's called bing and is very common in the city. In addition, you will find plenty of Tea Houses in Beijing due to the English influence.
Must-try dishes
Peking Duck. The crisp skin of the duck is very representative of this dish. You've got to try it!
Hot and sour soup. A delicious soup that will warm up your taste in the cooler seasons.
Peking Barbecue. Another typical combination of this region that is worth considering.
Instant-boiled mutton. This hot pot dish is a smart choice in winter. 
Moo shu pork consists of slices of pork combined with mushrooms and other ingredients that make this dish a really tasty experience.
Classic Tours 
The following tours are highly recommended to know the must-see destinations in Beijing. 
For more information, take a close look at this site. There are endless possibilities in Beijing.
Souvenirs
Most visitors look for items that represent the place they have been to. This is a wide-spread tradition among tourists from all over the world. You may want souvenirs for yourself or as a gift for others. Fortunately, there are lots of options in Beijing regarding souvenirs, as you may choose a very traditional object or a practical item that will be handy in your everyday's life.
Most common souvenirs in Beijing
Cloisonne items. Want a unique souvenir? Cloisonne is an art that was developed in the Yuan Dynasty, nearly 800 years ago. There are several items made in this traditional handicraft. The Silk Market and the Wangfujing St. are places to look for these objects.
Jasmine Tea. A variety of tee indigenous from China that you can buy in Zhang Yiyuan.
Shengxifu hats. Then Sheng Xifu's handmade hats are highly prestigious. You can find them in Xuanwu District.
Neilansheng cloth shoes. The highest-quality and most comfortable cloth shoes in China. Find them in Dashilan 34, Qianmen.
Ruifuxiang traditional Chinese gowns. These items are some of the most famous from China. Buy them in Wangfujing St.